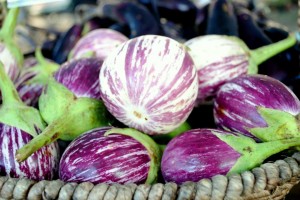 Hi, friends and happy Tuesday! I've requested an especially nice day for tomorrow. So if you are beginning to be stressed by the thought of holiday shopping, join us for a delicious lunch and let the music and the warm sunshine soothe those cares away. In fact, why not bring home a little something so you won't have to cook, such as those marvelous shrimp and cream cheese rolls, pulled pork sandwiches, crispy chicken taquitos, red cabbage salad… You may as well put in your order for next week while you're there. Now you'll have plenty of time to fix your contribution to the Thanksgiving meal and build your Black Friday shopping list/strategy.
Saturday will roll around and you'll be tempted to sleep in. Black Friday can be exhausting. RESIST THAT URGE! Sweet Jones will be in the gazebo providing great music for our post-Thanksgiving market. We have a lot to be thankful for particularly that Mr. Houston is now home. According to Terese, he is back in the garden and may even be at the market on Wednesday and Saturday. Now that makes me very, very thankful!
I know you're thinking what you'll do with all those leftovers and you are in luck! Beck and Call will be in the demo tent with samplings of what do to with Turkey Leftovers. I have a few ideas of my own (naturally) and they will involve your incredible Covington Farmers Market vendors.
Start off with a jar of Chompers BBQ Sauce – 3 Pepper Sauce, Honey BBQ, or Original. Simply pour the sauce over leftover turkey (or roast), heat in the oven and it's certainly not leftover any longer. Serve with a side of Mac N Cheese. Whether it's made by Chompers BBQ or you make your own using Herbs N Spice's Mac N Cheese mix, leftovers will never be the same. Add a couple of spoons of Robin's cranberry pecan pepper jelly to leftover broccoli, green beans or sweet potatoes and change the flavor dramatically (and deliciously).
You'll be thankful for Spanish R Us and their authentic Honduran foods and Dong's Korean food – a welcome change since you've probably eaten all the delicious food you picked up on Wednesday. If you have leftover ham (and who won't?), why not add a few eggs? Simply coat your muffin tin with Nuccio's Cajun Olive Oil, crack an egg into each muffin cup (or use those cute little paper ones), add salt, pepper, or one of the many seasonings available from Melanie or me, and pop in the oven for 12 – 14 minutes. (Thanks, Monica, for the recipe.) You can warm the ham in the oven while the eggs are baking for a relaxing Sunday brunch. Scrambled eggs and a side of creamy cheese grits (Hot Tamale Mama) – another breakfast done! Prepare a package of Herbs N Spice's cream of anything soup, then add a tablespoon of her ranch dressing mix and ½ cup of milk or mayo and combine well. In a baking dish, combine leftover turkey and freshly steamed broccoli and slowly incorporate the cream of anything mixture. Bake at 350 for 30 minutes and Bingo! – Hamburger (Turkey) Helper on steroids!
Then, just when think you'll have some breathing room, you realize we are about to enter the season of parties – Christmas parties, office parties, football parties – oh my! Now before you get your knickers in a knot, close your eyes a minute and picture planning a party and having all the hors d'oeuvres ready and all you have to do is put them out. Get out the good trays (those festive paper ones work even better). One tray for Frankie's (The Peanut Factory) cashew, pecan and peanut brittle and those little cheese straws that are party perfect. Angel's overstuffed artichoke will need a tray to itself. Surround a dish of Nur's chipotle hummus with toasted bread rounds (7Grain.) Spread some of those toasty rounds with Nur's eggplant, tomato and garlic dip and others with Spinach Artichoke Dip (Hot Tamale Mama.) Are your holidays happy yet?
Don't worry about buying dips when you can put out a bowl of avocado and/or tomato salsa (Spanish R Us), Black Bean Salsa (Hot Tamale Mama) or Ranch Dip (Herbs & Spice) with a bag of toasted tortilla chips (7Grain) for dippin'. Of course, a dish of Mauthe's cream cheese swimming in one of Robin's Rocking Cajun Pepper Jellies is always a party favorite. So many variations from which to choose – champagne, blackberry, cranberry pecan, lemon… Here's a different take on this old standby – a round of Farmhouse Dairy's Chevre cloaked in Althee's Mayhaw Jelly. The taste combination is sensational! WOW! No wonder the holidays are so happy!
You're not done yet. Dare I go there? Absolutely! You MUST have a tray of cookies. A mound of huge market cookies, chocolate chips and oatmeal raisin cookies, surrounded by a ring of wedding cookies with pumpkin Ooegy Gooeys, raspberry crumb cake or fig cookies to dance around the outside….. (give me a minute…it takes my breath away.)
We have so many things to be thankful for…Market Days, the world's best food, incredible music and family and friends to share it with. Happy Thanksgiving!
Lots of love,
Charlene LeJeune
Abundant Life Kitchen
The Covington Farmers' Market is open each Wednesday, rain or shine, from 10 a.m. to 2 p.m. at the Covington Trailhead, 419 N. New Hampshire and every Saturday from 8a.m. to 12p.m. on the side lawn of the Covington Police Station, 609 N. Columbia St. Call (985) 892-1873 for information or visit www.covingtonfarmersmarket.org