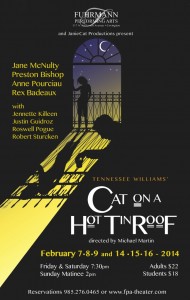 Fuhrmann Performing Arts continues its season with a ferocious revival of Tennessee Williams' most passionate play, Cat on a Hot Tin Roof, starting February 7th. His personal favorite, the Pulitzer Prize winner explores greed, decay, desire and repression on Mississippi Delta plantation home of the Pollitt family. Everyone has gathered for the birthday of their patriarch, and every one of them knows – except Big Daddy and Big Mama – that this is the last birthday the cancer-stricken Big Daddy will see. Everyone maneuvers to inherit the estate, and Big Daddy's fortune.
His older son, Gooper, and Gooper's wife Mae, seem to have the inside track, given their many children and active involvement in the family business. But Big Daddy's younger son, the ex-football hero Brick, is still the favorite, despite his deepening alcoholism since the death of his close friend, Skipper. No one is more determined to see Brick overcome his sorrow and self-destructiveness long enough to claim his inheritance than his beautiful wife Margaret, a poor but determined woman who married into wealth she's as terrified to lose as she is forlorn without her husband's love. "Maggie the Cat" – Blanche Dubois's only rival as Williams' greatest female character – will do whatever it takes to persuade a man who despises her to father a child by her…now, tonight, before it's too late.
With its hairpin turns from profound sorrow to chilling rage to wild comedy, Cat on a Hot Tin Roof is Tennessee Williams at his finest.
Cast:   Jane McNulty (Maggie), Rex Badeaux (Big Daddy), Preston Bishop (Brick), Anne Pourciau (Big Mama), Jennette Killeen (Mae), Justin Guidroz (Gooper), Roswell Pogue (Reverend Tooker), Robert Sturcken (Doc Baugh).
Directed by Michael Martin.
Cat on a Hot Tin Roof will run at the Fuhrmann Auditorium on February 7th-9th & 14th-16th, Fridays & Saturdays 7:30 pm, Sundays 2 pm. Admission is $22 for adults, $18 for students.  For tickets call (985) 276-0465 or visit www.fpa-theater.com.