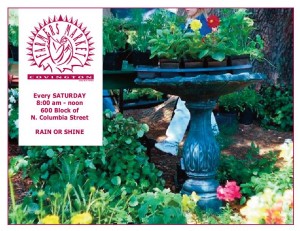 Happy, Happy Tuesday, friends! What a lovely day we're having today and I know you're all ready for another sensational week at the market. Our vendors are all ready too! Come and indulge in a wonderfully satisfying Wednesday lunch with us. BTW, I've requested a refreshing breeze for tomorrow.
Jeff will have the pit stoked up and smoking with his incredible pulled pork…he may even throw in a few turkey legs if he can find them. There will be fresh veggies and tasty, organic meal replacement bars from Sacred Earth, sausage cannelloni and eggplant capanata (on Wed and Sat).  Crunchy veggie wraps, creamy cream cheese and shrimp rolls, spicy chicken tamales invite you to partake. Frankie may have her bacon cheddar beer bread for sale, as well as fried pies. Remember to get your jelly for toast or biscuits in the morning.
You won't be singin' the blues on Saturday but Amedee Frederick will! After a long hiatus, I am thrilled that Amedee Frederick will be back in the gazebo! I surely have missed his soulful blues. And for a double dip, fantastic treat, Lola Deux will be parked at the curb ready to dispense armloads of Parmesan fries to adoring fans! I know…I know…I'll give you a minute. You can't miss this!
I soooo enjoyed being back at the market this past weekend. I know that I mentioned TWO perfectly maaaahvelous treats but to be honest, there are THREE! Figs, yes figs, are here for only a few short weeks. Fortunately, it looks like it was a bumper crop. I know both Nick and John had them but there is the possibility that more vendors have them. Get here early because you know they will go fast! If however, you miss out, there's always next week or you can get the next best thing – fig jam and preserves from Althee. You may want to pick up a jar or two to have in the pantry for later in the year when you're craving a little reminder of summer.
Our produce tables were laden this week with cucuzzas, tomatoes, peaches, purple hull peas, okra, asparagus beans, cucumbers, edamame, eggplant of all shapes and sizes, peppers, potatoes and more. It's amazing what just a stroll around the market will uncover. First of all, I had to check out J.R.'s new haircut….and shave. It took me a moment to recognize him but we still love him, no hair and all. Looking around, I discovered a new vendor – Crescent City Cannery – a delightfully colorful mix of pickled veggies. Debbie's table was loaded with unique combinations of vegetables including a "Mary Mix" with green beans, carrots, and okra, asparagus, or onions – a perfect addition to any Bloody Mary or Virgin Mary cocktail.
Just along the sidewalk on Theard Street, you'll find that Mauthe's selection of dairy products has grown to include buttermilk, cheesecake, and ice cream and Nancy will have bright, happy bouquets of sunflowers next week. Southy tells me that he will have cool and refreshing watermelon soup. So many people don't yet realize that soups are for summer too. A salad and a cold soup, such as watermelon or gazpacho, are perfect fare for our warm summer evenings. More pleasant in the kitchen, too, since it doesn't require heat to prepare. Just as easy to prepare without adding heat to your kitchen are some of Hot Tamale Mama's tamales – black bean& corn or eggplant portabella – in boil-in-bag pouches.
I had such a terrific time coming across so many new treats like watermelon or lemon basil pepper jelly (Robin) and regular watermelon jelly (Althee), whole sprouted peanuts with honey butter glaze (Sam), silky balms (Jasmine, Sweet Home Sweet Earth, and Aunt Bee), Meaux mustard from Enton Farms (green heat and Creole brown), along with some old favorites – local raw honey, fresh squeezed orange juice. I'm planning another wonderful day for this week. Set your alarm clock for fantastic; you really can't miss this!
Lots of love,
Charlene LeJeune
Abundant Life Kitchen
The Covington Farmers' Market is open each Wednesday, rain or shine, from 10 a.m. to 2 p.m. at the Covington Trailhead, 419 N. New Hampshire and every Saturday from 8a.m. to 12p.m. on the side lawn of the Covington Police Station, 609 N. Columbia St. Call (985) 892-1873 for information or visit www.covingtonfarmersmarket.org