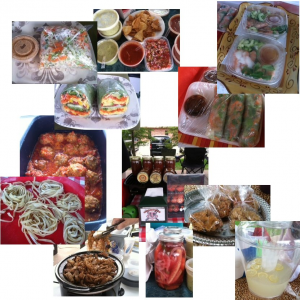 Hi, friends, it is Tuesday, right? The days are going by so fast it's hard to keep track of them. I'm sure you're all excited; after all it is almost Market Day! Get your tasty buds ready for some incredibly delicious food. What will it be this week? Shall I tempt you with a few photos?
Need I say more?
Saturday will start with a bang! Danielle Spadavecchia will be in the gazebo, so get here early, grab your coffee and do your shopping 'cause we have a special treat in the demo tent – Mauthe's Dairy! The lovely ladies from Mauthe's will delight us with their soon-to-be-famous Creole Cream Cheese Ice Cream made with their own Creole cream cheese.
Speaking of soon-to-be-famous, the Covington Farmers' Market is mentioned in the New York Daily News by Alex Palmer as one of his stops on a tour of Louisiana. Check this out:
"Another place where the region embraces both its culinary past and future, is an hour-and-a-half drive east in St. Tammany parish. The wealthiest parish in the state, is home to a rich culinary scene, including the Covington Farmer's Market, which offers great products and local characters. Shoppers can buy fresh eggs from "The Egg Ladies," kombucha and bitters from "Kombucha Girl," and Gulf shrimp from a career shrimper selling the day's catch from an ice chest in back of his truck."
Read more: http://www.nydailynews.com/life-style/southern-louisiana-adventure-food-nature-lovers-article-1.1867917#ixzz38tZNEKpq
The article goes on to mention 3 wonderful supporters of the Covington Farmers' Market – chefs Keith & Nealy Frentz (Lola's), David & Torre Solazzo (Del Porto's) and La Provence. We all know that it is a unique and wonderful market. It's just nice to know that we can WOW them as far away as New York.
We'll have plenty of tomatoes this week, so don't forget to stock up on your dressings from Lena and Gina. Lena makes a delicious herbed oil dressing that adds amazing flavor to your salads as well as being great for dipping bread. Gina's Bechac Bleu Cheese needs no description being an old family recipe that has long been a St. Tammany favorite. Her other dressings (Roasted Garlic & Tomato and Honey Mustard) spice up any vegetable or meat.
There are also lots of mushrooms to be had with chanterelles still in season and a steady offering of shiitakes and oysters. Peaches will be around for another week or two but I think the figs are done for this year; we were fortunate to have such an abundant crop. Cooking pears are going to making an appearance for the next few months.
The flowers are fantastic; the flavors abundant. How many more reasons do you need to be at the market each week? My thoughts exactly!
Lots of love
Charlene LeJeune
Abundant Life Kitchen
The Covington Farmers' Market is open each Wednesday, rain or shine, from 10 a.m. to 2 p.m. at the Covington Trailhead, 419 N. New Hampshire and every Saturday from 8a.m. to 12p.m. on the side lawn of the Covington Police Station, 609 N. Columbia St. Call (985) 892-1873 for information www.covingtonfarmersmarket.org