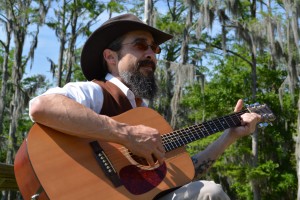 What a lovely Tuesday! We're enjoying another gorgeous day today and Wednesday is looking very inviting. So come on out…enjoy a magnificent lunch…delight in the breezes …music and veggies await you.
Timothy Gates will be in the gazebo on Saturday morning. There'll be lots of toe-tappin' music so make sure your toes are in shape. Bruce Lambert of Two Kids Farm, will prepare for tasting and selling, goose gumbo. This sounds amazing. You can't miss out on a fantastic new way to cook your goose…sorry, I couldn't resist.
I took stock of the produce tables last week and we have lots of gorgeous veggies out there. Unless Sunday's rain wiped them out, you may get lucky enough to pick up some figs. but this will probably be the last week. Sadder still is that this will be Slice of Heaven's last week at the market. Brandon and Marietta are moving and they will be sorely missed. Please join us in wishing them the best of luck in their new home.
This coming week, John will have bell peppers, potatoes and possibly even some okra. Nick's selection of hot peppers (chocolate habanero, rooster spur, lemon drop, scotch bonnet, and jalapeno) was truly amazing and I could kick myself for not getting a photo. He also has purple hull peas, lovely red potatoes and maybe even some heirloom crowder peas. Bardwell's tables were crowded with green eggplant, cucuzzas, Asian pears, tomatoes, and green onions. You'll find yellow zucchini, potatoes, eggplant, and cucumbers at Mr. Houston's table.
Since it is National Goat Cheese Month AND a lot of our vendors have eggplant and I found a delightfully easy recipe online for Eggplant & Goat Cheese spirals. Cut the top and bottom from a large eggplant and then slice it lengthwise into ¼" slices. Lay slices on a double thickness of paper towels and sprinkle generously with salt. Let stand about 20 minutes. Rinse with cold water and pat dry. Brush the eggplant with a little olive oil (Lena's herbed oil is superb!) and grill until the eggplant begins to soften. Turn and continue grilling until lightly browned.  Prepare a mixture of 3 cloves minced garlic, finely chopped green onion, lemon thyme, and parsley. Spread this mixture over the tops of the eggplant and let stand for about two hours. Then spread with your favorite goat cheese from Farmhouse Dairy. One of Norma Jean's goat cheese spreads would do nicely here as well and I believe Mauthe's makes a velvety spreadable cheese. Drizzle each with balsamic vinegar, roll into a tight spiral and secure with a toothpick. Enjoy!
Check out what's happening over at Kombucha Girls. They have wonderful summer blends of water kefir and kombucha – flavors such as Ginger Peach, Green Apple and Summer Berry kombucha, Watermelon Gingerade, and Rose Kefir. You can find them on Facebook. In fact, you can even find the Covington Farmers Market on Facebook. Visit our page and Like us!
Here are more things to keep in mind as you stroll around the market. Nur's eggplant, tomato and garlic dip is delicious as a snack on toasted bread rounds (7Grain or Windfield Farms) or try it over pasta. Amanda's fresh juices are perfect on a Saturday morning. Add a feel-good treat to your daily regimen with lavender-mint castile soap from Sweet Home Sweet Earth, a garden of fragrance from Aunt Bee, creamy goat milk soaps from Farmhouse Dairy, or uplifting natural skin care from Jasmine. Remember to get your coffee from Coast Roast, raw honey from Blood River, crunchy salad sprouts from Sam Sprouts, and one of Angel's mouthwatering stuffed artichokes. You can't miss a week. There's always something new and wonderful awaiting you. And we'll be here as well with…
Lots of love,
Charlene LeJeune
Abundant Life Kitchen
The Covington Farmers' Market is open each Wednesday, rain or shine, from 10 a.m. to 2 p.m. at the Covington Trailhead, 419 N. New Hampshire and every Saturday from 8a.m. to 12p.m. on the side lawn of the Covington Police Station, 609 N. Columbia St. Call (985) 892-1873 for information or visit www.covingtonfarmersmarket.org