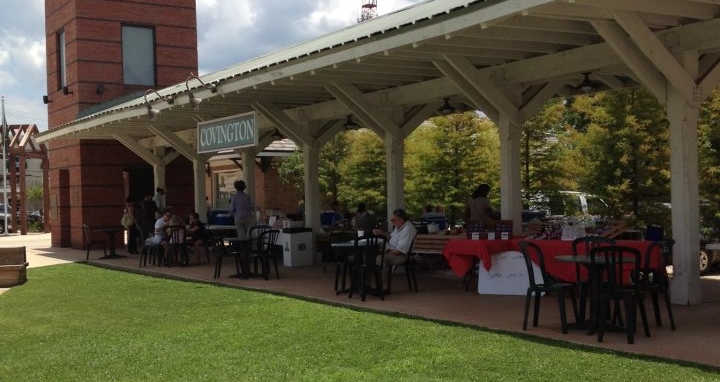 What a lovely Tuesday, friends! The sun is smiling with light breezes blowing and it will probably rain later. How typical of southern Louisiana! It won't be raining tomorrow and if you listen carefully, that's not thunder you hear, it's the sound of toe-tapping music on the breezes reminding you that tomorrow is Market Day.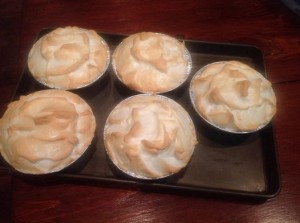 **Spoiler Alert** As I was visiting the tables last Wednesday, James told me that Sacred Earth is developing an immune-boosting meal replacement bar, all organic, and debuting in September. I can't tell you much but I can say that the bar will include elderberry and Echinacea. I may spill some other ingredients next week. I am quite sure that these bars will be available on Saturday as well. Don't ya just loooovvve Market Day? Just in case you were thinking of eating somewhere else tomorrow, take a look at these pies. Frankie says she is bakin' up a mess of 'em. One of them probably has your name on it.
Last Wednesday, while I was grabbing a pint of Nanette's soup (she made a delicious yellow squash & corn chowder) and a lovely lemongrass chicken & noodle salad from Kandi, and some meatballs for later in the week from Cynthia, I had a brainstorm!  know, but it happens at the strangest times. So I picked up half a pound of pulled pork from Jeff.
My idea, since I had already purchased a bag of yellow corn grits from Lena, was to make grits and grillades for Mr. Wonderful. First I sliced and sautéed half an onion. I put the onions to the side and made a roux. When that had browned perfectly, I added a cup of chicken broth (James' chickens produce an amazing amount of broth when roasted) and the sautéed onion and the pulled pork (which I chopped to smaller pieces) and simmered everything for about 20 minutes. In the meantime, I fixed two helpings of Lena's grits and served them with my "grillades". He actually said that it was pretty good…it brought a tear to my eye. I had a little left over for breakfast the next morning. I emptied it into a small baking dish, cracked two eggs on top, sprinkled with a little salt, pepper, and chopped green onion and baked until the yolks were just like I like them. YUM!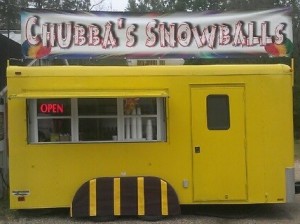 It will be another lovely Saturday at the market (I refuse to have anything else). Chris Talley will get us started with classical guitar music drifting from the gazebo. Chubba's Snowballs will park his truck on Theard Street, along the side of the Courthouse for a summer treat. It's August and you know you'll be thankful for that cooling treat.
I think Nourish Two had an amazing day on Saturday. Their sauces, dressings and soups were a big hit. I plan to use their curry sauce on my roasted chicken tonight. Don't be jealous; put it on your list. My list is usually quite full and since, Mr. W & I were going to a dance last Saturday night, I stopped by Norma Jean's to get a carton of walnut pâté. I noticed that she has added lemony lentil salad and carrot salad surprise to her table. Both were delicious.
Pam (Lolly Marie's) has her creamy white chocolate rum ginger truffles once again. Farmhouse Dairy is making cajeta (in addition to creamy goat cheeses). Tiffany explained that cajeta is a caramel-like sauce but more milky than caramel, kind of a Mexican version of Dulce de Leche. She makes hers with goat milk and I know there were flavors, such as chocolate. Oh, my…heaven in a jar! And you can have all this goodness for yourself but….you have to be here to enjoy it!
Lots of love,
Charlene LeJeune
Abundant Life Kitchen
The Covington Farmers' Market is open each Wednesday, rain or shine, from 10 a.m. to 2 p.m. at the Covington Trailhead, 419 N. New Hampshire and every Saturday from 8a.m. to 12p.m. on the side lawn of the Covington Police Station, 609 N. Columbia St. Call (985) 892-1873 for information or visit www.covingtonfarmersmarket.org