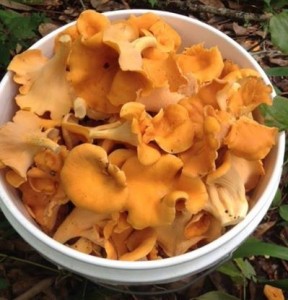 Howdy, friends! Great news! I checked the weather channel and it appears there is a glorious day of sunshine for Market Day tomorrow. We've got lots of great food for you to enjoy so come out and join us. Frankie says she will have old fashioned banana pudding this week. Jeff is offering ready-to-serve meals for your Labor Day picnic or party (or even for a day off). You may want to check with him about what's included. What the heck! Check with all our vendors to see if they offer pre-ordered meals. What can be easier than that?
Eddie Arnold and Friends will provide our musical entertainment on Saturday. So grab your coffee and stay awhile 'cause Chomper's BBQ smoker will be puttin' out some good eatin' in the demo tent. Along with that delicious pulled pork, you can choose your favorite BBQ sauce or rub for your own grillin' adventures.
OK, I haven't discussed goodies in a while so I think it's about time. You know my heart will always belong to Teresa's Orange Almond Biscotti but many times I turn to a raw alternative and enjoy one of Nanette's raw almond bars. We each have our favorites whether it's a frozen fruit Popsicle from Amanda, cream cheese ice cream from Mauthe's, or a chocolate covered banana pop from Lolly Marie. Perhaps your heart lies with Frankie's cashew brittle, one of Suzie's velvety smooth lemon bars, banana nut bread from Lena, or gluten-free Oreo sensations from Betty Rue! We have lots of goodies from which to choose. Trust me….it's a subject I am WELL versed in.
If you're ready for fall planting, Alton will have lettuces, beets, kale, Swiss chard and pole bean plants. Trudy has a frilly Brazilian petunia that the hummingbirds just love. Dennis has fig trees (some even with green fruit). There was a gorgeous selection of bromeliads at Ms. Betty's. There are a few fall veggies already hitting the tables. Mr. Houston had mustard greens and just a few bundles of kale. This week, Nick will have Evangeline sweet potatoes! YUM! So, why don't you come and spend the morning with us. It will definitely put another smile on your face.
Lots of love,
Charlene LeJeune
Abundant Life Kitchen
The Covington Farmers' Market is open each Wednesday, rain or shine, from 10 a.m. to 2 p.m. at the Covington Trailhead, 419 N. New Hampshire and every Saturday from 8a.m. to 12p.m. on the side lawn of the Covington Police Station, 609 N. Columbia St. Call (985) 892-1873 for information or visit www.covingtonfarmersmarket.org