Hi, friends. What a lovely Tuesday this is! You can feel autumn breezing in and bringing blue skies and smiles. So why not come and celebrate the first shades of fall with us. Jeff promises his famous BBQ chicken tomorrow along with baked apples and stuffed jalapeños. Frankie has baked some luscious pumpkin spiced bread. And that's not all. We'll have pan seared salmon salad, crunchy egg rolls, plump meatball sliders, whoppin' fat muffalettas, raw oatmeal bars, and more. Mr. Houston has pumpkins just in case you see pie making in your future. Pick up a jar of honey from Earl to go with your morning toast. I hope that Natalie will be back with her veggies this week.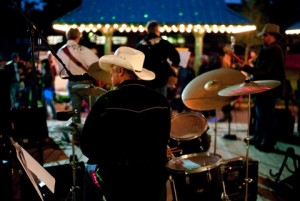 Saturday's dawn will take your breath away…that's if you get up that early. No matter, we'll do our best to keep you in tunes and tastes. For starters, we have the Abita Stumps in the gazebo beginning at 9:30 with toe tappin melodies.  And to keep things moving right along, Gina Bechac Vesper will prepare Bechac's world-famous House Salad with chicken and your choice of Bleu Cheese, Roasted Garlic & Tomato, or Honey Creole Vinaigrette.
I recently discovered that Jubilee Farms has a wonderful selection of sausages. I'm not a big fan of hot sausage so I opted for the Cajun blend which just a little kick to it. I like to brown  the sausages, then let them have a spa day in a little gravy made with the pan drippings and a little flour. Serve it with rice and a nice side salad. Mmmm Mmm. Then there's the Italian. I haven't tried this one yet but it is on my list for this weekend, as is the green onion. That Italian will go very nicely sliced in half and browned and tossed into a hot pot of my Oluve Artichoke pasta sauce. The green onion is just waitin' for a chance to show off at a tailgate party. They don't mind sizzlin' on the grill and listenin' to a sizzlin' game. Or, slice either flavor into 1" rounds and brown in a hot skillet. Add sliced onions, bell pepper, and yellow squash and sauté until tender. Serve over one of Cynthia's delightful pasta flavors or Lena's whole grain pasta.
And what would that sausage be without bread to go with it. Whether you're making a sandwich or soppin' up gravy, either Suzie or Lena will have the bread for you – freshly baked and yummy! Remember to pick up your favorite dip – salsa, spinach artichoke, hummus or tasty pickled vegetables…no tailgate party is complete without them.
Autumn usually brings more than the lighter temperatures we've been enjoying. The next weeks will be incredible as new veggies are harvested and brought to the tables. But while you're waiting for the new, stop by to see what's still available. There are a few tomatoes, eggplant, and crowder peas still available.  There's raw honey, gourmet coffee, Korean fare, overstuffed artichokes and lots and lots of cookies! We'll have music and veggies and delicious food and lots of smiles. Hopefully, we'll have you.
Lots of love,
Charlene LeJeune
Abundant Life Kitchen
The Covington Farmers' Market is open each Wednesday, rain or shine, from 10 a.m. to 2 p.m. at the Covington Trailhead, 419 N. New Hampshire and every Saturday from 8a.m. to 12p.m. on the side lawn of the Covington Police Station, 609 N. Columbia St. Call (985) 892-1873 for information or visit www.covingtonfarmersmarket.org