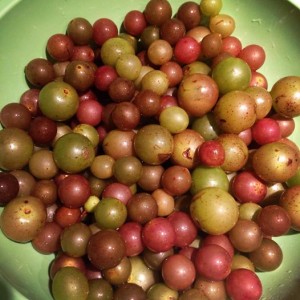 Hi, friends and Happy Tuesday!  Can you believe that by tomorrow it will be October already? Fortunately for us, the weather is mild, the sun is smiling, and the Wednesday vendors are cooking up lunchtime deliciousness. Mr. Houston and Natalie are in the fields picking veggies so they're at their peak, the musicians are tuning up their fingers and all is right with the world – at least for a few hours. We have lots of great food so come and enjoy the morning with us.
The Steve Anderson Group will energize us on Saturday morning with lots of great music. You'll want your coffee, of course, and possibly a muffin or hand pie. There are a plethora of great choices to be had. Jennifer (Bear Creek Road) is baking a convenient and delicious pumpkin crème hand pie. I got a taste last week and they are Yumm-eee! Suzie will have her famous Harvest muffins filled with oodles of goodness. Taryn's Crabcakes will be in the demo tent this week with those lovely, tasty crabcakes to sample.
It was a delightful day last Saturday with cool breezes and sunshine and I took the opportunity to walk around to see what's new and delicious. Look for duck eggs (and ducks too) at Enten Farms – great for holiday baking (yep, holidays will be here before ya know it). Enten Farms also offers homemade mustards – hot, honey mustard, creole. And right next door to them, you can get your goat milk and artisan goat cheeses from Farmhouse Dairy. Your football guests will love snacking on goat chevre, spiced up with a covering of Robin's Apple Bacon Pepper Jelly. OOOO my! Use sliced zucchini or yellow squash as chips….or you can just use chips.
While I was in that area, I got to talking with Michele (Sweet Home, Sweet Earth) about her laundry soap. She tells me that she does something top secret with it (which I cannot divulge because your clearance isn't high enough) so that it will not clump in your washer. OK, so it isn't THAT top secret; I just didn't write down the details.
Then, I made my way over to Bechac's for a taste test of her dressings. Did you know that you can use her Roasted Garlic & Tomato as a dipping sauce for chicken or fresh veggies?  Well, you can and that makes it a no-brainer for football parties, tailgating, or just sitting down with a good book and a glass of muscadine or blueberry-pomegranate kombucha.
Still have a wonderful selection of veggies out there. John has green beans, edamame, sweet peppers, and radishes. The Bardwells have tomatoes, sweet potatoes, sweet peppers, green onions, and green eggplant. Mr. Houston has flat leaf kale, pumpkins, eggplant, mustard greens, and cucumbers. Nick has a variety of colorful and spicy hot peppers, Evangeline sweet potatoes, crowder peas, and quail eggs. Natalie (Faust Farm) has large purple eggplant, a large round zucchini (great for stuffing), yellow squash, cucumbers, and traditional zucchini. Alton and Sandra have fresh herbs for the garden and for cooking – basil, dill, rosemary, garlic chives, thyme and mint. Of course, you'll never discover everything that's new and tasty without being here. You must come and enjoy the adventure with us. We've ordered beautiful weather for you.
Lots of love,
Charlene LeJeune
Abundant Life Kitchen
The Covington Farmers' Market is open each Wednesday, rain or shine, from 10 a.m. to 2 p.m. at the Covington Trailhead, 419 N. New Hampshire and every Saturday from 8a.m. to 12p.m. on the side lawn of the Covington Police Station, 609 N. Columbia St. Call (985) 892-1873 for information or visit www.covingtonfarmersmarket.org