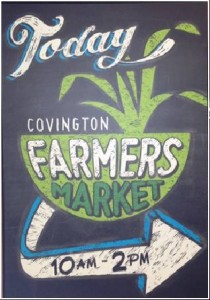 Hi, friends and Happy Tuesday! What a contrast to last night's storm and we get to enjoy this beauty all week long! So, where will you be tomorrow? Surely not stuck in some dreary office…not with gorgeous blue skies and sunshine smiling down? Surely not with Nanette's sweet potato, white bean and kale soup awaiting you? Or Kandi's tempting shrimp & cream cheese rolls OR Jeff's pulled pork & potato salad OR Nuccio's hot-from-the-oven muffaletta. Can you really forego a bag of Frankie's nut brittle? What will you do on Thursday without an Immunity Booster oatmeal bar from Sacred Earth for breakfast? Anticipating a rough day? Get a Stress Release bar as well. Can you get through until Saturday with the fresh veggies you have? Well then, you and Shirley need to get to the Market tomorrow! Oh, what the heck! Bring her along on Saturday too.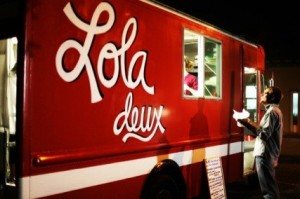 The music has been truly wonderful at the Market over the past few weeks and this Saturday will be no different with Joe Manuel in the gazebo! So grab a delicious cup of coffee and mosey on over to the Lola Deux Food Truck to see what incredible morsel they've prepared for us this week. You may as well get some Parmesan White Truffle French Fries while you're there; if not, you know you'll be back later.
As I sit here at the computer, composing and typing, I am enjoying the remnants of a stew I made last Friday. Now, I use the phrase "I made" quite loosely because in reality I just threw the ingredients together. First I put the green onion sausage (Jubilee Farms) in the oven to bake while I chopped my kale. Into the crock pot it went along with about a cup of water and I just let it simmer for a few hours. Then, I cut the cooked sausage into bite-sized pieces and into the crockpot they went, joined by a container of Nur's white bean salad. I let it simmer for another hour (I think. I sorta lost track of the time since I didn't have to do anything) and then sat down to a nice bowl of stew. Yes, it was just me; Mr. Wonderful is not into greens. And now the flavors have been melding for a few days and I warmed it up to enjoy for lunch. Before eating I added a few spoons of Nur's chipotle hummus and OMGwhiz! The flavors are amazing. I may have to add hummus to a few more of my dishes.
Speaking of flavors, I noticed that Robin has a new taste in pepper jellies – Lemon Basil – perfect over fried fish or as a vinaigrette. Yes, jelly does make a wonderful vinaigrette – a couple of tbsp of jelly, 2 tbsp of vinegar, 2 tbsp of light olive oil (Nuccio's Lemon is sure to go nicely) and a dash of Dijon mustard, whip it together and Voila! You're in luck; the veggies are beginning to line up on the produce tables ready to take their turn in your salad – arugula, tat soi, sprouts, tomatoes, green onions. You can also include fresh zucchini and squash in your salad or just sauté them and serve with a drizzle of Nanette's Lemon Feta dressing or Gina's Bleu Cheese dressing. The sharp flavors contrast nicely with the mild taste of the squash.
Ishmael is back with pasture raised pork. You'll find him at the back of the market next to Farmhouse Dairy where you can pick up beef, lamb, or goat meats (and tangy goat cheeses) and just a few paces away from Enten Farms and duck meat! You can find all kinds of meats here. James and John both have chicken. Paul at Jubilee Farms also has pork and beef. Mr. Two is over by the gazebo with shrimp. Isn't our market wonderful?
We're seeing lots of pumpkins at the market just in time for a Halloween decorating. Mr. Houston, Greg and Suzie all have them. Oh…wait…Suzie has pumpkin Ooey Gooeys and you can decorate them with faces if you want. She will also have carrot cake muffins this week. I think that means you'll need milk, 'cause how you can have such treats without milk? And we have all kinds of milk – cow's milk from Mauthe's, goat's milk from Farmhouse Dairy, and now freshly made almond milk from Sam's Sprouts. WOW! How can you and Shirley resist? We'll see you there.
Lots of love,
Charlene LeJeune
Abundant Life Kitchen
The Covington Farmers' Market is open each Wednesday, rain or shine, from 10 a.m. to 2 p.m. at the Covington Trailhead, 419 N. New Hampshire and every Saturday from 8a.m. to 12p.m. on the side lawn of the Covington Police Station, 609 N. Columbia St. Call (985) 892-1873 for information or visit www.covingtonfarmersmarket.org