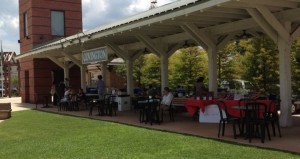 Hi, friends and a happy Tuesday it is! And I, for one, am looking forward to a lively and lovely Wednesday. Last week vendor tables were brimming with delicious food and picnickers were scattered across the lawn under the awning enjoying that food and the pleasant melodies that flowed from the gazebo. Take advantage of another day like that and come out to join us!
Let's get a little crazy this week and start with dessert first! (I think we all know my feelings on that subject.) A jar of Earl's honey is perfect on a breakfast muffin or toast. Nanette's raw cookies are wonderful! My favorite is the almond date bar but she also has chocolate coconut balls to feed the chocolate lover in you. And Frankie's apple pie or old fashioned banana pudding – incredible flavor! Your next step could be one of Rebecca's (Spanish R Us) delicious chicken tamales. Jeff says he will have a few smoked turkey legs along with the pulled pork and his amazing cole slaw. If you don't have room for a muffaletta right now, pick one up for supper or later in the week. Elizabeth also has those cute little bottles in gift sets of two with a small dish for bread dippin'. If you're not ready for the holidays yet, pick one up for someone special to enjoy today (just make sure you act surprised when you open it.) Kandi's crunchy eggrolls are a great picnic food along with a glass of jasmine tea. Jasmine tea is said to promote relaxation and reduce stress. Nanette is preparing a tummy warming butternut squash soup and chicken salad wraps. Yummm!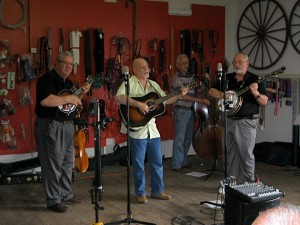 The weatherman promises clear skies and cooler temps on Saturday and the magnificent Pot Luck String Band will kick us into gear with some lively tunes from the gazebo. Grab your coffee and start your shopping so you'll be ready when Market vendors, Frieda and Pierce Bauder of Enten Farm offer for sampling and sale a delicious duck gumbo. You'll also be able to get your duck meat, eggs, and gourmet mustards.
Mount Herman Pork is here with all cuts of pork and will soon have sausage as well. All their meat is pasture raised Duroc pork which, as everyone knows, is the Black Angus of pork. Remember to pick up a couple of pounds of shrimp from Mr. Two. Barbecue some with my Shrimp on the Barbie seasoning or simmer in Nanette's Artichoke & Mushroom Sauce.
Our tea vendor is back with a delightfully fragrant selection of herbal teas. I picked up an invigorating blend of hibiscus and spearmint which I am enjoying in one of my fancy teacups (because that's how Aunt Carroll says to do it). Of course that is not the cup I use for coffee. Coast Roast gourmet coffees must be savored in a mug because a dainty little teacup will not stand up to the bold flavors. Emily Post may not agree but there are also rules for dipping. Teresa's Italian seed cookies are a perfect accompaniment for your tea but for coffee the Orange Almond Biscotti or Anise Cookies are a must!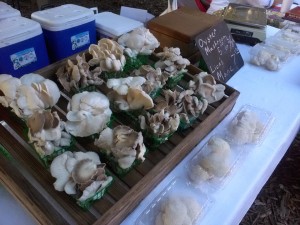 Since I've already ventured out into the realm of goodies, Betty Rue's double chocolate muffins are incredibly decadent, especially with that luscious buttercream frosting on top. But last weekend those little devils were topped with a swirl of blue and white buttercream that I swear had pixie dust in it. Anyway….it tasted like pixie dust and I was fairly floating all the rest of the day. Jennifer (Bear Creek Road) tells me that she will no longer have Apple Cheddar Pie or the Peaches n Cream Deep Dish Cookies. Now, before you get all weepy on me, her replacements sound scrumptious: Pear Frangipane Pie and Cranberry Cream Cookies. No sad faces here!
Now that you have your Nuccio's flavored olive oils and dipping saucer, you'll need something to dip. No….not cookies BUT we have a tasty assortment of breads available. Visit our bakers and choose an artisan loaf from Suzie (Windfield Farms) or one of Lena's (7Grain) 7-grain baguettes or sprouted wheat breads. For an added flavor boost to your oil, add a spoon of Nur's pesto – basil or sun dried tomato depending on the oil you have. Lena also has a multi-grain granola which has organic oats and eight other grains including barley, rye, and triticale berries – certified organic and non-GMO.
We're planning on two perfect mornings. Won't you join us?
Lots of love,
Charlene LeJeune
Abundant Life Kitchen
The Covington Farmers' Market is open each Wednesday, rain or shine, from 10 a.m. to 2 p.m. at the Covington Trailhead, 419 N. New Hampshire and every Saturday from 8a.m. to 12p.m. on the side lawn of the Covington Police Station, 609 N. Columbia St. Call (985) 892-1873 for information or visit www.covingtonfarmersmarket.org