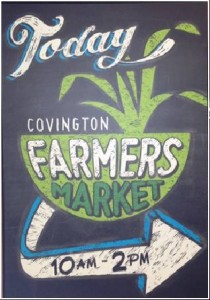 Happy, happy Tuesday! I am looking forward to a lovely day tomorrow with blue skies smilin' at me (and you, too.) Why not join us for a delicious turkey and cheddar wrap with a nice steamy bowl of Hot & Sour soup from Nanette? Or perhaps you may enjoy a serving of crunchy egg rolls from Kandi. Jeff and Kristen will not be at either market this week, but we will see them here next week. Frankie will have mini pies and fruit breads and crunchy nut brittle – that's, if you're good. Natalie will be here with fresh strawberries and Mr. Houston will have yard eggs, red & green cabbages, broccoli, turnips, and greens.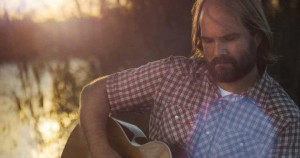 Those blue skies will be smilin' again come Saturday morning and the melodic tunes of Crispen Schroeder will shine out from the gazebo. I know most of you have tasted Dong's scrumptious Korean pancakes ('cause I've seen them floating around the market like they were Lola's parmesan fries). Well, Dong will sample and sell Korean BBQ this coming week. Can't wait to taste it!
Crystal (Betty Rue Gluten-Free) is now offering finishing salts. I wasn't sure what a finishing salt was so I looked it up and found that they enhance the depth of natural flavors in your meal. "As you eat, food and salt combine—first a flash of salt… then the food… a flicker of salt and now fuller food flavors, and then a faint spark of salt catches at the richest and most complex flavors of the food. With finishing salt, the relationship of salt and food evolves with every bite. The rewards are increased intensity of flavor, greater flavor complexity, exciting new textures and even aromas, and a heightened awareness of the very process of tasting food." I couldn't have said it better myself.
Rosalie Apothecary has many different tea blends to suit your tastes. I tried one this weekend called Carob Café and found the flavors of roasted carob and cacao, dandelion root and clove very soothing. You can even make a coffee substitute by brewing this blend stronger. Try her other blends, such as Hibiscus & Spearmint, Gypsy Cold Care, or Mulling Spice. Since they are loose teas, she even has cute little muslin bags to brew with. Perfect!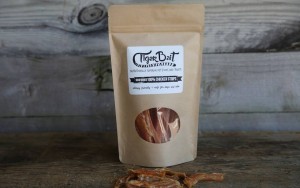 You can't forget your little four legged buddies. Tiger Bait raw pet foods now offers dried chicken strips for your furry friend. I'm sure your pet will LOVE the raw foods they have. Hopefully, Andy and Tiffany will be back at the market this week. Right now they have their hands full as their nanny goats are beginning to have their kids. Ishmael of Mt. Hermon Pork tells me that they will have both green onion and Italian sausage available this week. He also told me of plans he has to make some gourmet type sausages which sound amazing!
I had a chance to taste some of Lena's biscotti this past weekend; it was deeelish! She makes them with whole grains and almonds and they are crispy and perfect for dipping into a steamy cup of coffee. She also has those magnificent toasted bread rounds which are great instead of chips for dipping into Nur's roasted red pepper or chipotle hummus or Hot Tamale Mama's spinach artichoke dip.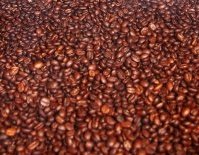 We have lots and lots and lots of great things here at the Covington Farmers' Market such as fabulous lip and skin balm from Michele (Sweet Home, Sweet Earth), or homemade marshmallows from Betty Rue, or a great gourmet coffee from Coast Roast, but you won't find them if you're not here. Come join us for a great start to your day!
Lots of love,
Charlene LeJeune
Abundant Life Kitchen
The Covington Farmers' Market is open each Wednesday, rain or shine, from 10 a.m. to 2 p.m. at the Covington Trailhead, 419 N. New Hampshire and every Saturday from 8a.m. to 12p.m. on the side lawn of the Covington Police Station, 609 N. Columbia St. Call (985) 892-1873 for information or visit www.covingtonfarmersmarket.org