Happy Tuesday, friends! I know the weather doesn't look promising but don't let that keep you from dashing in for a great meal. Take it to go. Veggie Meals 2 Go is offering sautéed vegetables with rice to warm your soul. They also have frozen meals that are perfect for lunch or dinner later in the week. Can you stand to pass up dessert? Frankie is fixing New York style cream cheese pies (OMG!!) and you can choose either blueberry or cherry topping. Spanish R Us promises to be back at the market on Wednesdays with spicy chicken tacos, chips and salsa. We welcome a newcomer to our Wednesday market. Jan Tassin and Todd Ekinia offer luxuriously creamy and lightly fragranced soaps and skin creams.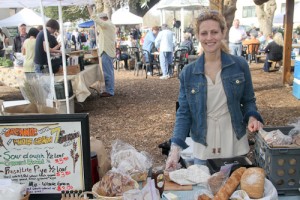 Just a blink and Saturday will be here with sunshine and blue skies and Zac Maris' delightful tunes twinkling out from the gazebo. In the cooking tent, Lena (7 Grain) will serve samples of her whole grain pizzas. She will have all her usual goodies for sale as well – pizza rounds, corn grits, pancake mix, an assortment of artisan breads and more!
Right across from the cooking tent, is Sam's Sprouts. He's been delighting us with his coconut chips lately, and he tells me that he is trying out a few more savory flavors like onion-garlic and salt & vinegar and hopes to have them this weekend. You'll want to stop by all the tables because you never know what delectable goodness you'll find.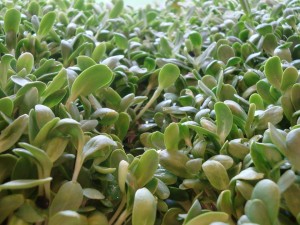 Norma Jean's latest creation is a Japanese soba noodle dish with broccoli topped with sesame seeds. It goes wonderfully with her wakame seaweed salad. Yum! Robin's new flavor is peach bourbon pepper jelly which sounds like it would add a delicious kick to any fruit salad – or even just a spoon. Just think how tasty that would be with Farmhouse Dairy's chevre.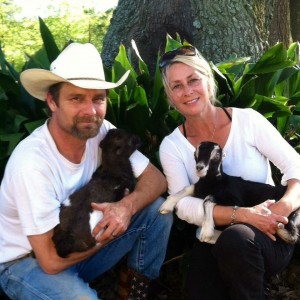 Speaking of, Tiffany and Andy's goats have had their kids and are producing goat's milk like crazy. So Tiffany has been very busy making her awesome feta cheese but that's not all. She also has aged raw feta and aged Folsom Fog. Now, they're not aged as long as I am but long enough for the full flavor you've come to expect in their cheeses.
Stone Creek Nursery is a newcomer to the Saturday Market and they bring the promise of spring in the form of blueberry, blackberry, and raspberry plants and even their very own blueberry soil mix to give your bushes a treat. And with that promise of spring comes the desire to get out and get planting. Make sure you prepare your soil well with The Egg Ladies' precious chicken poop in a bag. Healthy dirt means healthy plants and Alton and Sandra have lots to get you started. Begin with herbs such as tarragon, chocolate, orange, or regular mint, rosemary, marjoram, and thyme. Then add butter crunch lettuce, broccoli, sugar beets, green onions or a tangy salad mix.
There are so many interesting and wonderful products here at the Market. Walk around. See what strikes your fancy…what makes your heart sing…what makes your tummy happy. We're always happy to see you.
Lots of love,
Charlene LeJeune
Abundant Life Kitchen
The Covington Farmers' Market is open each Wednesday, rain or shine, from 10 a.m. to 2 p.m. at the Covington Trailhead, 419 N. New Hampshire and every Saturday from 8a.m. to 12p.m. on the side lawn of the Covington Police Station, 609 N. Columbia St. Call (985) 892-1873 for information or visit www.covingtonfarmersmarket.org