Happy Tuesday, friends!
Blue skies smilin' at me…nothin' but blue skies do I see. Yes, I'm about as sick of this rain as you are. I hope you all weathered Monday's fierce storms with no damage.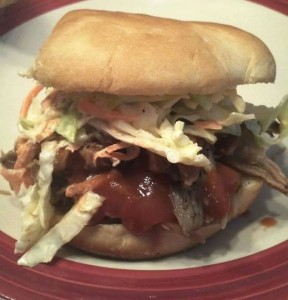 We will have an incredible line-up of deliciousness on Wednesday – smoky pulled pork and potato salad from Chompers, a hearty minestrone soup from Nanette, Kandi & Joe's exotic pan seared salmon salad, Frankie's amazing banana pudding, or a tasty tamale from Rebecca, and toe-tapping music from the Wednesday Market Gang. Is it any wonder why those blue skies are smilin'?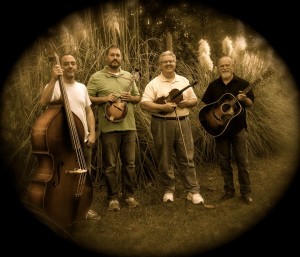 The sun will be out in full force this Saturday and so will your Farmers' Market Vendors. And with that sunshine will come the lively tunes of the Pot Luck String Band singing out from the gazebo. Jeff and Kristen with Chompers BBQ will park their smoker on Columbia Street and start dishing out incredible pulled pork. You can sample all of their delightful BBQ sauces (even the new Cajun Carolina sauce) to see which you like the best. So, what are ya waitin' for? Oh yeah, there's still a few days left till Saturday.
Even if you missed out on Wellness Day last weekend, we still have all of our regular vendors and they have lots of good things in store for you. Sam has been offering fresh coconut milk (really fresh…he cracks the coconuts right there!) You can even enjoy the by-product in the form of crunchy coconut chips. Johnadale Farms is not only offering strawberries but strawberry jelly and jam plus blackberries and blueberries.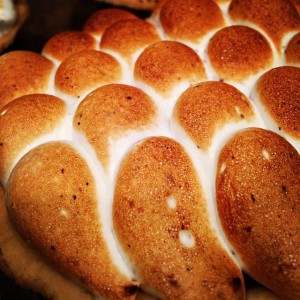 Jennifer (Bear Creek Rd) makes a tasty tart of tomato, eggplant and mozzarella and who can resist her little clouds of rainbow meringue – lavender vanilla bean, chocolate mocha? Brighten up your morning with Sacred Earth's very popular Spring Detox granola bar. Stop by Kombucha Girls for an uplifting drink. Susan and Liz have many flavors available – both kombucha and water kefir. Right next door are the ever-popular Popsicles in summery flavors from strawberry to pineapple to avocado or coconut. They sure are a favorite on a sunny day. Snowballs are here! Yes, Stephanie shaves ice with a hand cranked snowball machine for a cool, satisfying treat.
Now that the sunshine is back, you're probably in the mood to get out and grill. Well, this is the place for it. You'll have to try out Chomper's BBQ's new Cajun Carolina BBQ sauce, quite the change from their tomato based blends. I'm thinking it will be great on grilled pork chops or sausage (Jubilee Farms). You might want to check out their hogshead cheese. Delish! Don't wait; they won't have it for long. A spoonful of my delicious sauerkraut (cultured veggies) would go nicely with those grilled sausages too. Ground beef, lamb, or goat (Farmhouse Dairy) makes perfect burgers for the grill. Try mixing in a little of Bechac's Bleu Cheese dressing. Spicy Lady makes a snappy BBQ seasoning that's perfect on meats or veggies.
Speaking of snappy, Dee has crunchy dilled green beans, mildly spicy pickled garlic, and tangy pickled asparagus for your snackin' pleasure – gotta have something to munch on while you're grillin'. While you're over that way, treat yourself to some of Spanish R Us' refried beans, salsa, guacamole, and chips. Now that's snackin'!
Lots of yummy veggies for the grill as well, such as heirloom yellow squash, red potatoes, and bell peppers, and we will be seeing lots more coming soon. In fact, the Bardwells should be back this week or next. Cynthia is back, too, with fresh homemade pasta, assorted baked pasta dishes, and (of course) her wonderful meat sauces. Oh, man. There's soooo much here to enjoy. Come by and spend the morning with us. You can sleep in on Sunday.
Lots of love,
Charlene LeJeune
Abundant Life Kitchen
The Covington Farmers' Market is open each Wednesday, rain or shine, from 10 a.m. to 2 p.m. at the Covington Trailhead, 419 N. New Hampshire and every Saturday from 8a.m. to 12p.m. on the side lawn of the Covington Police Station, 609 N. Columbia St. Call (985) 892-1873 for information or visit www.covingtonfarmersmarket.org