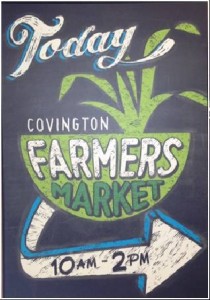 Happy Tuesday, friends! We're looking forward to a great day tomorrow full of music and fresh veggies and good food.  Mr. Houston's garden has been bloomin' with cucumbers (eatin' and picklin'), green potatoes, squash, bell peppers, and he may even have some tomatoes and eggplant. Come and join us for a relaxing lunch. Kandi's pan seared salmon salad and a glass of sweet jasmine tea make a perfect lunch. Bring home dinner with a pound of Jeff's pulled pork, cole slaw, Mac N Cheese, and baked beans. Or try Nanette's refreshing cucumber yogurt soup which will go very nicely with her summery Mediterranean salad. A Honduran hot tamale (they are pretty big), salsa and chips and you have lunch for Thursday or even Friday. And, of course, you can't be without dessert and Frankie's gotcha covered with strawberry dream pie or her incredible Marguerita pie. Ooh my!
Make plans to come out on Saturday and enjoy the toe-tappin' melodies of Chris Talley coming from the gazebo. So grab your coffee or one of Sacred Earth's new caffeine bars and enjoy the music while you do your shopping. Oh, you heard me right. Enough caffeine for a full cup of coffee, balanced with fresh herbs and oats in a scrumptious breakfast bar. Then, get ready for some barbecue because VooDoo Foods will have their rig parked on Columbia Street, ready to dish out some great BBQ. They will also have homemade Worcestershire Sauce and Twangy sauce. Not sure what Twangy sauce is but it does sound tasty doesn't it?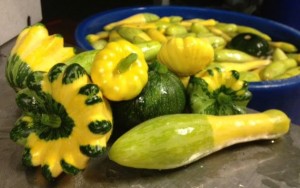 I took a slow walk around the market last week and it surely has blossomed this past week. I guess it's all the rain we've been having. But even a quick stroll around will reveal a treasure trove of veggies. Eddie's Veggies table was filled with golden wax beans, Maxibell green beans, yellow zukes and banana peppers (soooo good sautéed with onions and Italian sausage and served over spaghetti – easy peasey). The Clecklers not only had tomatoes but peaches as well. I cut up a peach to add to my tea for a flavor boast. Mr. Houston told me he would have tomatoes and possibly eggplant for this week along with squash and. J.R. said he will have cherry tomatoes, potatoes, rattlesnake snap beans, zucchini, yellow & white squash, and cucumbers.  John promised bell peppers, eggplant, red and Yukon Gold potatoes, great juicing carrots, and , if you get there early, some heirloom tomatoes.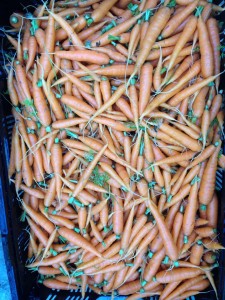 Don't forget about grilling! We've got a smorgasbord of meats and veggies that are ready and waiting for a few grill marks. Marinate your chicken in Bechac's Roasted Garlic & Tomato Dressing for an hour or so before grilling for tender tasty chicken. YUM! Careful, a dab of goat cheese in the middle of your burgers will have you crowned Master Griller and you will be in charge of the pit from then on.
I had a chance to try Spicy Lady's Wasabe Seasoning on Saturday and I'll admit to a bit of trepidation since I always associated wasabe with lots of heat. It was delicious, not too hot, and I thought that it would be really great mixed with a little of Cheryl's oils and tossed on grilled veggies, potatoes, mushrooms, shrimp, or what have you.
Breads love it on the grill. Suzie will have Spinach Feta this week which probably won't work too well on the pit but her Health Grain bread or French baguettes toast up wonderfully, especially with a little of Vincent & Mauricio's Skordalia spread over it. Lena's home ground wheat breads just dying to get toasted and Crystal's gluten free sourdough breads are sure to please even those who are not concerned about gluten. Spread some of Bear Creek's garlic and herb butter on several slices and pop those babies on the grill. Or just toast 'em plain and add a little Meaux Mustard for a jazzy sandwich. With four flavors – Local Honey, Creole, Green Heat, or Blueberry – you may have a tough time choosing.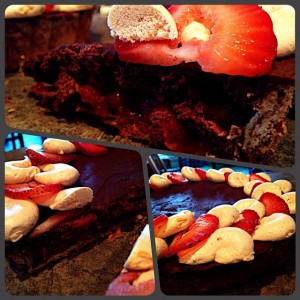 You won't want to stop there. After all, Lolly Marie is boasting those yummy caramels, white ginger truffles, and chocolate raspberry truffles plus caramel apples. There's so much more out here – a beautiful spring breeze, delightful music, great food. What more can you ask for?
Lots of love,
Charlene LeJeune
Abundant Life Kitchen
The Covington Farmers' Market is open each Wednesday, rain or shine, from 10 a.m. to 2 p.m. at the Covington Trailhead, 419 N. New Hampshire and every Saturday from 8a.m. to 12p.m. on the side lawn of the Covington Police Station, 609 N. Columbia St. Call (985) 892-1873 for information or visit www.covingtonfarmersmarket.org