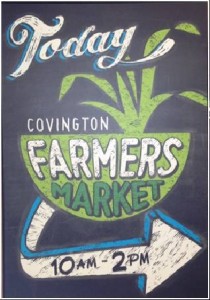 Happy Tuesday, friends! There's a lovely day at the market for you tomorrow, full of music and fresh veggies and wonderful food. Take some time to have lunch with us. Feast on a new creation from Kandi – a shredded cabbage salad with shredded carrots, chicken, red onions, cilantro, mint, and Chinese cilantro all lightly seasoned with a side of fish sauce. And so tasty too! Nanette is making a refreshing watermelon gazpacho to lighten your meal. Add one of her remarkable chicken salad wraps to go. Jeff is preparing that crunchy broccoli salad that's so delicious to go with his smoky pulled pork. Maybe a few chicken tamales would be more to your liking. Finish with a slice of lemon blueberry bread from Frankie (and save the rest for during the week). And then I suppose you do have to get back to work…heavy sigh. But wait! Don't forget your veggies! Pick up some new potatoes and bell peppers from Mr. Houston or a few Creoles and peaches from Greg Miller. Natalie will be back next Wednesday with zucchini, cucumbers, bell peppers, and yellow squash.
I am planning for a lucky Saturday with the Lucky Dogs bouncing out their tunes from the gazebo while gentle breezes and friendly smiles sprinkle your morning. Grab your coffee and stay awhile. Norma Jean Marcon of Norma Jean's Cuisine will demonstrate how to make the perfect Salade Nicosia using the bounty of the Covington Farmers' Market.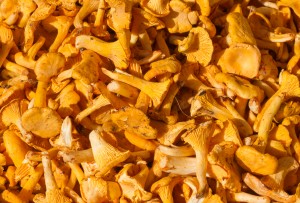 And bounty we do have! Last week, Nick put out baskets of heirloom tomatoes – tiny orbs of yellow, pink, red, and chocolate all sharing their pint of space. There are tomatoes a plenty from JR Bardwell, John Bartlett, the Clecklers, and Greg Miller. Yes, Greg is back and he also has peaches and Chanterelles. Yippee! But he's not the only one. Chanterelles also joined James' lions mane, oyster, and shiitake mushrooms and I found them on Nick's and John's tables as well. I'll have a new seasoning on Saturday that will take those mushrooms on a magical mushroom tour (or somewhere close to there). Or, you can try one of Spicy Lady's seasonings. Cheryl is sure to have one to go with any veggie at the market and still keep your taste buds hoppin'.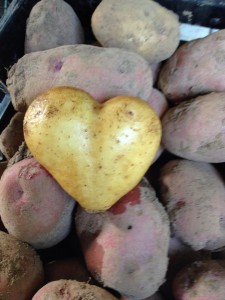 You will find many varieties of squash around the tables and I'm sure you're looking for unique ways to prepare them. I came across a couple of sandwiches that would fit the bill perfectly. I'll post the photos below. The first one comes from our terribly missed friends at Slice of Heaven (now inconveniently located in Oregon). Brandon and Marietta used sautéed greens, which may be a little hard to find at our market these days but sprouts (Sam) or shoots (Nick) will be a wonderful substitute. He then added cheese (Mauthe's or Farmhouse Dairy), onions, pesto, red peppers and grilled for a very tasty veggie sandwich. Nur sautéed tomatoes and zucchini and spread her bread with hummus. You know that we have the best bread around so no matter which you choose, you will come out a winner. Each sounds so delicious and simple and you can vary the veggies to suit your tastes.
Those aren't the only veggies gracing the tables. Mr Houston has purple bell peppers, JR has eggplant, John Bartlett has Yukon Gold potatoes (and the red ones too), Eddie has fresh garlic, Nick has cute little heirloom squash, and Natalie is back with zucchini, cucumbers, squash and more.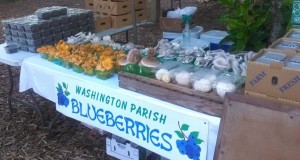 What will make your market merry? Mushrooms, raw honey, avocado salsa, Japanese maples, fresh juices, Kombucha, special treats for your pets, muffins, fresh bread, and cookies all wrapped up in a glorious Saturday morning!  I know, I know…I can hardly believe it myself. If you're not there, you're gonna miss out.
Lots of love,
Charlene LeJeune
Abundant Life Kitchen
The Covington Farmers' Market is open each Wednesday, rain or shine, from 10 a.m. to 2 p.m. at the Covington Trailhead, 419 N. New Hampshire and every Saturday from 8a.m. to 12p.m. on the side lawn of the Covington Police Station, 609 N. Columbia St. Call (985) 892-1873 for information or visit www.covingtonfarmersmarket.org