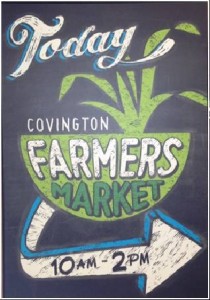 Howdy, friends!  It's Tuesday again. Wrangle them tastebuds in and get ready to head on over to the Covington Farmers' Market for a mighty tasty lunch. OK, I jumped the gun a bit; there's 20 more hours before you can bask in swift breezes, lots of sunshine, finger-snappin', toe-tappin' music and lots of great food. Can't wait, can you?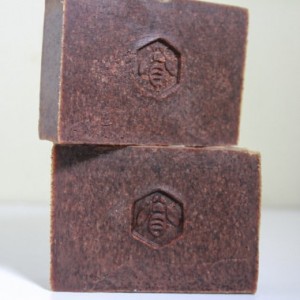 Nanette will be there with her crunchy delicious veggie wraps and tomato basil soup. Enjoy one of Rebecca's remarkable chicken tamales or wrap yourself around a smoky pulled pork sandwich and fixins' from Jeff. Kandi has the most incredible salmon salad (not to mention the crispy egg rolls) your mouth will ever bite into. Pace yourself, now, 'cause you'll need to save room for a slice of Frankie's remarkable brownies! She has Hershey chocolate and walnut brownies tomorrow. What a way to finish a summertime meal! Don't forget cleanup. Big Branch Soaps is now at the Wednesday market with laundry and dish detergents and lovely lotions for the hands no matter what kind of work you do. Cleanup on the veggies, too, with potatoes, tomatoes, squash, and cucumbers and Greg may even have some peaches and blueberries.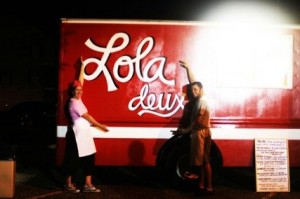 Bring Dad along on Saturday to enjoy an early Father's Day. We'll all be enjoying Michael Millet in the gazebo. Keith and Nealy Frentz will add pizzazz to the morning when Lola Deux Food Truck pulls up to the curb. WOW! I know…just take a deep breath, go get your coffee (Kevin's got a great lineup of fancy coffees, lattes, etc. at the Coast Roast tent) and get in line for those delightful Parmesan fries. Can ya handle it, Dad?
If you're really not in the mood for coffee, how about an uplifting juice from Simply Pure or Amanda? If you haven't tried beet juices, you don't know what you're missing. There's this great little thing about beet juices like the power to increase blood flow through the blood vessels. But if beet just isn't your thing, there's a whole passel of fresh juices ripe for the choosing.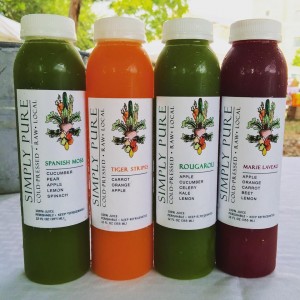 Hot Tamale Mama is your go-to place when you don't feel like cooking. She has a delicious selection of prepared foods, such as chicken pot pie, vegetarian lasagne, stuffed noodles, and hot tamales. While you're over there, let Dad indulge in a bag of Theresa's lemon crunch cookies or almond macaroons. Or bring home one of Angel's flavorful stuffed artichokes. That's a meal in itself. On the lighter side, one of Nur's Turkish salads such as green lentil and quinoa or tabouli is sure to please.
The Clecklers have fresh beans and peas ready for the pot. JR has the onions and bell peppers to chop up in them and Spicy Lady and I have all kinds of different seasoning to add life and love to 'em. Pass by Jubilee Farms to see if he has Andouille sausage to throw in them beans. If not, green onion sausage will work right well. Pick up a few ears of fresh corn while you're there. What are you waiting for? Lasso your calendar and hog tie the date! We'll see you there!
Lots of love,
Charlene LeJeune
Abundant Life Kitchen
The Covington Farmers' Market is open each Wednesday, rain or shine, from 10 a.m. to 2 p.m. at the Covington Trailhead, 419 N. New Hampshire and every Saturday from 8a.m. to 12p.m. on the side lawn of the Covington Police Station, 609 N. Columbia St. Call (985) 892-1873 for information or visit www.covingtonfarmersmarket.org