Toasty Tuesday to you, friends! Boy, the weeks are absolutely flying by; school will be back in session before you know it. Not that that has anything to do with the Covington Farmers' Market, 'cause we are here rain or shine, July or December, and we have lots of good meals and treats for you. Check out the attached menu and plan ahead.

Bright and early Saturday (cause that's when the veggie selection is best) grab your iced latte from Coast Roast and get your veggies while the gettin's good. The delightful music of Jerry Hess will be drifting up through the leaves of the old oak tree (what's left of them) and there will be merriment in the air. A market first – it's Vendor Demo Day – a time for our vendors to showcase their product.
So last Saturday I had this idea that I would do a goodie letter featuring all the wonderful goodies from our market. This would require intensive research.  I hope you all appreciate the things I have to suffer through on your behalf. (I know, I know…I couldn't even type it with a straight face.) Well, I needed a starting point and Teresa's Italian is a great place to start. Whether it's Teresa's biscotti or Lena's, I am a big fan. I love a great cup of coffee and a hefty package of biscotti for dippin'. It's kind of a Calgon moment for me without the bathwater. Check out Teresa's mini mixed bags of cookies. Not mentioning any names but praline, lemon crunch and collocate are involved. May as well get 2 bags; friends love them too!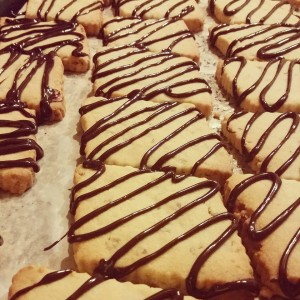 When I got to Windfield Farms, I noticed that Suzie had the grandkiddies with her. Who else would I ask for a reference (like I actually needed guidance)? They proceeded to point out just about everything on the table and I have to admit to getting lost in the Ooey Gooeys, the Fuddy Duddies, and the lemon bars – sweet creamy squares of lemony goodness – and the raspberry crumble, and the pecan squares. (I don't know about you but I need a minute).
Next, I travelled to Frankie's table with her incredible mini fruit pies and crunchy nut brittle. Frankie's brittle is unlike that hard, chunky, tooth-crackin' stuff that passes for candy. This is delicate and nutty and absolutely delicious. Then she tells me what her special is for this Saturday (and Wednesday too) – peaches and cream cake and cream cheese icing!!! I think I need another birthday.  After that, it's over to Althee's for some blackberry jelly. Technically, this isn't considered a "goodie" but who hasn't gone in for a spoon of jelly when you just need a little sweet and Mr. Wonderful ate all the cookies.
I mentioned Lena's biscotti before which is lovingly made from whole grains and is delicious even without the coffee (but where's the fun in that?). She also makes an amazing cinnamon roll and toasted bread rounds. I hear ya, but don't discount the tasty goodness of a buttery, crunchy slice on which to spread Sam's chocolate sprouted almond butter.
It's very difficult for me most Saturdays, setting up shop right across from Lena and right next to Betty Rue. Those luscious grain free brownies just scream for a bite, or maybe it's the chocolate mint cookies, or the peanut butter chocolate chip or the blueberry muffins – it's hard to tell which one yells the loudest. I'd tell you that I don't listen but you wouldn't believe me. The cacophony continues from the Spicy Lady's table where resides creamy, extra chocolatey bites of incredible that have you satisfied and calling for more at the same time.
I'm also conveniently located between Stephanie's hand-cranked snow cones and Amanda's fruity Popsicles. What wonderful place to be! What better on these toasty summer days than a refreshing cup of shaved ice with sweet syrup poured over the top? Some would argue that one of Amanda's Popsicles is far better but most would have a hard decision to make (unless you opt for both). Fortunately, Bear Creek is a little further down from me but not far enough that I haven't been lured by the exotic creations Jennifer has to offer. This past Saturday (and probably next as well) she built a gorgeous tart generously topped with peaches and cherries and all manner of sweetness that you could very easily get lost in. You'll also find a box of special creation candies – lemon meringue fudge; coffee-flavored, chocolate covered marshmallows; milk caramels; a chocolate mint; and caramelized orange rind covered in chocolate. I think I need a cold shower.
Of course, I had to stop by Robin's pepper jellies cause there's always a wonderful new taste adventure  (like pineapple rum) and I wasn't disappointed. A little Mauthe's cream cheese topped with a smidgen  of pepper jelly on a toasted cracker just hits the spot. I also don't feel like I've cheated on my "diet" because everyone knows that the capsaicin in the jelly burns off any calories that you've consumed.
Whether you're here for the veggies or the goodies or the gorgeous plants, you won't find a better place to be than the Covington Farmers' Market. See ya there!
Lots of love
Charlene LeJeune
Abundant Life Kitchen
The Covington Farmers' Market is open each Wednesday, rain or shine, from 10 a.m. to 2 p.m. at the Covington Trailhead, 419 N. New Hampshire and every Saturday from 8a.m. to 12p.m. on the side lawn of the Covington Police Station, 609 N. Columbia St. Call (985) 892-1873 for information or visit www.covingtonfarmersmarket.org