Hi, friends, and an absolutely amazing Tuesday to you! Just looking out the window you can feel those cool breezes. Of course, it would be so much better to be out there delighting in bright blue skies, familiar melodies drifting from the gazebo, and loads of smiles and good food. And the only place to get all of those is at the Wednesday Covington Farmers' Market.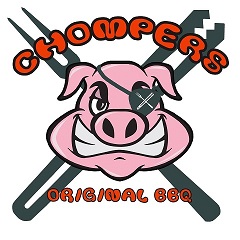 Jeff promises his famous BBQ pulled pork tomorrow along with cheese grits, cole slaw, and broccoli salad. Kandy will have wonderful Vietnamese style salads and crunchy egg rolls (which #3 granddaughter has requested). Nanette is stirring up a pot of pumpkin soup which go deliciously with her chicken salad or tuna salad wraps. Frankie is baking everyone's favorite bread pudding with rum sauce. Earl's honeybees have been working overtime for golden sweetness to add to your morning coffee. Mr. Houston's table will be filled with end of summer/beginning of fall veggies and all is right with the world.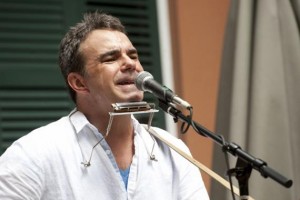 Saturday's dawn will take your breath away…that's if you get up that early. No matter, we'll do our best to keep you in tunes and tastes. For starters, we have Reed Alleman in the gazebo beginning at 9:30 with lots of toe tappin melodies.  And to keep things moving right along, Chomper's will have the smoker parked on the curb dishing up his world-famous pulled pork and fixings.
This may be the last week that Jubilee Farms has a selection of smoked sausages. Their uncooked sausages are great too. I browned a couple of links of Italian and added it to a crockpot along with chopped onion, bell pepper, garlic, and peeled tomatoes (JR still has some) and just let it cook its little heart out. I added some salt and seasoning for a real delicious pasta "sauce".  With the leftover links (it's only me and Mr. Wonderful) I stuffed bell peppers. Don't tell Paul but I had to take the meat out of the casing to do this. But it was so easy. I just browned the sausage, added chopped onion and cooked rice (you could also add shredded squash – yellow, butternut, zucchini). I stuffed Nick's colorful mini sweet peppers and they made perfect bite sized nuggets of deliciousness. If you don't want the meat, try stuffing with Norma Jean's Spring Cheese or Nur's Tabouli. The peppers are thin-skinned so they only take a few minutes under the broiler and WOW! what flavor!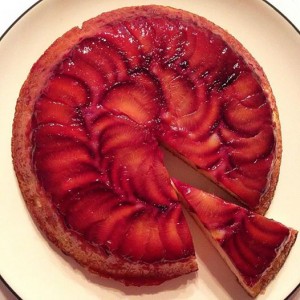 Fall is definitely in the air and we are seeing it on the tables. John has radishes, baby kale, and arugula, and Nancy had to give her sunflowers an extra week to grow. JR's green onions are making their fall debut. And if you see pie making in your future, JR has Asian pears and Mr. Houston has perfect pie pumpkins. See Spicy Lady for a little cinnamon, nutmeg or pumpkin pie spice. Robin's making her Cranberry Pecan pepper jelly again and it makes a terrific glaze for roasted pumpkin, butternut squash, or sweet potatoes.
Hot Tamale Mama will have vegetable or chicken pot pies this Saturday but get there early. Norma Jean's wraps have been a big hit, especially her spinach wraps with fresh spinach, avocado, tomato, chopped egg  and garlic mayo. Lemongrass stalks (Nick) and whole head of garlic give an amazing flavor to one of James' chickens – just fill the inside and roast as usual.
The next weeks will be incredible as new veggies are harvested and brought to the tables. Alton will have a wide assortment of plants for you to start your garden (if you haven't already). We'll have music and veggies and delicious food and lots of smiles. Hopefully, we'll have you.
Lots of love,
Charlene LeJeune
Abundant Life Kitchen
The Covington Farmers' Market is open each Wednesday, rain or shine, from 10 a.m. to 2 p.m. at the Covington Trailhead, 419 N. New Hampshire and every Saturday from 8a.m. to 12p.m. on the side lawn of the Covington Police Station, 609 N. Columbia St. Call (985) 892-1873 for information or visit www.covingtonfarmersmarket.org.