Chief Tim Lentz announces that the Covington Police Department will be participating in the National Night Out Against Crime on Tuesday, October 13th. Each year the Covington Police Department partners with local neighborhood associations to host this nationwide crime prevention event.
The National Night Out Against Crime began in 1984 as a community effort to promote involvement in crime prevention activities, police-community partnerships, neighborhood fellowship and to send a message to criminals that their communities are fighting back. Traditionally, this event is held on the second Tuesday of August. For the last two years, communities in southern Louisiana have held the event in October to avoid the summer heat.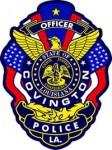 The Covington Police Department asks that any neighborhoods inside the city limits of Covington wishing to participate in the event contact Officer Trey Mahon at (985)892-8500 or tmahon@covla.com .