Ho, ho, ho, friends, and a very merry Tuesday! Sorry about the lost emails; I believe I have the problem fixed. Good thing because there is so little time left before Christmas and I think you deserve a break – I know I do. Let me tempt you with a hot bowl of ginger carrot soup and/or a tasty turkey wrap. What about a crunchy shredded cabbage salad or creamy shrimp rolls or both (there is the rest of the week, after all.) Take home a smoky pulled pork dinner or just the pulled pork (it is sooo delicious served over grits). Don't forget honey for your morning tea and tea cakes to go with your after dinner coffee. Or perhaps, a few almond, blueberry, cranberry cookies will draw your attention. Natalie will have strawberries. You'll have to hide them so that you don't snack your way through the rest of the day.
Holy Night, Batman! This is the last Saturday before Christmas and we'll be celebrating with Olga Wilhelmine wrapping us in song from the gazebo. So grab a steamy, delicious cup of java and enjoy the morning with us. Keith and Nealy Frentz will be there in the Lola Deux food truck with all kinds of deliciousness. Trays of Parmesan Fries (and dippin' sauce) deck the path in front of my tent on their way to putting a smile on someone's face like it's Christmas morning.
Maybe all they want for Christmas is a little bag (or big) with an assortment Sacred Earth's granola bars…a selection of bath and body products from Blue L Essentials…a jar of creamed Blood River honey…a fragrant bouquet of Aunt Bee's soaps…a pound of Coast Roast gourmet coffee beans… a bag of oranges, satsumas, or kumquats from Ken… It doesn't take much to make wishes come true.
What would you give for a basket of decadent munchies as Windfield's Pumpkin Ooey Gooeys, Lemon Bars, Raspberry Crumble and Chocolaty Brownies? Surprise someone with an oh-so-wonderful mixed bag of Teresa's Italian cookies (oh, go on, surprise yourself, too.) Create a treasure box of gluten-free cookies and muffins from Betty Rue with peanut butter chocolate chip, gingerbread, chocolate crinkle, oatmeal raisin, pumpkin and lemon blueberry.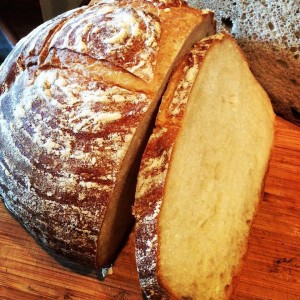 You'll get lots of smiles from a basket of breads, grits, and pancake mix from 7Grain. Jennifer of Bear Creek Road has already prepared little baskets of her scrumptious breads. You'll hear those sleigh bells ringling with a gift of locally grown grains, beans, and legumes from LA Gourmet. The problem will be which to include – Indian corn grits, Lady cream peas, yellow corn meal, long grain rice, red beans, black eyed peas, baby limas…..
They won't be calling you Mr. Grinch when they receive favorite jams and jellies in their stockings. Choose from Althee's fruity selection including my faves – blackberry, kumquat marmalade, mayhaw and many more. On the spicier side, Robin's Rockin' pepper jellies like lemon basil, cranberry pecan or the ever popular apple bacon are sure to please. If we're lucky, she'll have that amazing King Cake pepper jelly ready in time for holiday gift giving.
There's something great on every table. We're just jam-packed with great gift ideas…great food…great music…great people – yourself included! Join us; it wouldn't be the same without you!
Lots of love,
Charlene LeJeune
Abundant Life Kitchen

The Covington Farmers' Market is open each Wednesday, rain or shine, from 10 a.m. to 2 p.m. at the Covington Trailhead, 419 N. New Hampshire and every Saturday from 8a.m. to 12p.m. on the side lawn of the Covington Police Station, 609 N. Columbia St. Call (985) 892-1873 for information or visit www.covingtonfarmersmarket.org