Happy Tuesday, friends! It may be a little chilly tomorrow but I've ordered lots of sunshine and blue skies to keep you warm. If that's doesn't do it, Nanette is fixing her awesome white bean and kale soup. Oh, boy! Bring home a Pho kit to make Kandy's yummy, down-to-your-toes nourishing noodle soup at home. I know Jeff's firecracker au gratin potatoes will keep you toasty and you can get pulled pork with that. Try a piece of Frankie's chocolate cake with chocolate frosting and raspberry topping for dessert. It won't warm you up but it will put a smile on your face!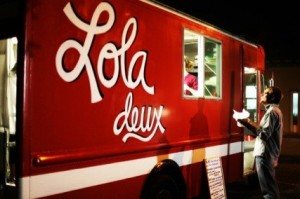 Saturday will dawn bright and beautiful with Zac Maris makin' music in the gazebo. 'Bout that time, the Lola Deux Food Truck and the Fabulous Fries will pull up to the curb on Columbia Street for all to enjoy. Market days are really great, aren't they?
Windfield Farms has a special treat as well, only we don't know what to call them. Heirloom tomatoes and feta cheese blended into scrambled eggs, with garlic sauteed baby spinach, diced baby portabellas, and diced red onion stuffed in the middle and topped with a slice of fresh mozzarella and baked off in mushroom top muffin pans. Y'all wanna help us name them?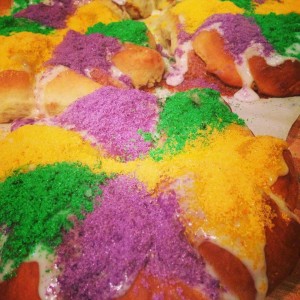 King cakes are back on the menu at Bear Creek Road. Jennifer has both the traditional N.O. cinnamon and traditional French gateau des rois king cakes. Wow! King cake is everywhere you look these days. Robin's king cake pepper jelly – complete with baby – is back as well. We also have a new vendor, Cocktail & Sons, with their amazing line of syrups. Max doesn't create ordinary syrups and, as you may have guessed, there is a king cake syrup – complete with baby! He has several other flavors that are perfect to brighten up not only your cocktail but your coffee, tea, milk, or club soda. Picture this… a steamy cup of coffee with a dash or three of king cake syrup and a slice of Norma Jean's carrot bread (or possibly cranberry). Can you imagine what you could create by adding a generous splash of syrup to plain old brownie or cake mix? Pizzazz!
Hot Tamale Mama will have gumbo next week so get there early before it sells out! Kombucha Girl has several new flavas like Elderberry Echinacea and Sassy Apple. Susan also has the Master Tonic to help keep your resolutions on track.
Make a New Year's resolution to join us each week. With tables full of honey, pickles, gourmet coffee, stuffed artichokes, oranges, cauliflower, merliton, strawberries, cabbage, beets, tomatoes, greens, herbs and all manner of sweetness, you'll be glad you did.
Lots of love,
Charlene LeJeune
Abundant Life Kitchen
The Covington Farmers' Market is open each Wednesday, rain or shine, from 10 a.m. to 2 p.m. at the Covington Trailhead, 419 N. New Hampshire and every Saturday from 8a.m. to 12p.m. on the side lawn of the Covington Police Station, 609 N. Columbia St. Call (985) 892-1873 for information or visitwww.covingtonfarmersmarket.org