Howdy, friends, and happy Tuesday! A trip to the Farmers' Market on market day is one of those simple pleasures in life that shouldn't be taken for granted and especially not when there is such fine music and wonderful dishes awaiting you. Jeff is smoking turkey legs for tomorrow and serving them with baked beans and cheesy grits. (Don't worry, he'll have pulled pork as well.) I really enjoyed Kandy's chicken porridge this week – for breakfast. It's warm and creamy and filling and absolutely wonderful! Nanette's potato leek soup is a heavenly lunch meal especially with a Mediterranean salad as a side dish. That may be a little too much food but you can always save half the salad for dinner. And then…and then… a slice of Frankie's Chocolate Lasagne – a devilishly sinful creation with layers of Oreo cookie, Cool Whip, cream cheese, chocolate pudding, and chocolate chips. WOW!
The rest of the week will drift lazily by because Saturday is never in a hurry to get here unless, of course, you're scheduled to work. But we hope you not 'cause then you'd miss the vibrant tunes of James Killeen wafting from the gazebo and the healthy goodness of select menu items from Columbia Street Natural Foods. Can't wait to see what they'll fix!
I'd like to introduce a new vendor to the Saturday market, Not Yo' Mama's Milk. Kristen offers several raw, organic, non-dairy milks that are really delicious. I tried several of them last week and will have a tough time deciding which to get first. I'm used to using almond milk so I decided to taste the others. The Oat Milk had a lovely, comforting flavor and the Hemp milk was delightfully different with it's slightly nutty appeal. Check it out this week; I think you'll be pleasantly surprised.
Well, this odd weather we've been having has had a remarkable effect on the farmers' crops and we are the fortunate beneficiaries. Tomato harvest has been perfect and Ann's table is filled with yellow Lorenzos, green and red heirlooms, and beefy green tomatoes that are begging to be fried. Variations of green abound on John's table with fresh parsley, Swiss chard, mixed lettuce greens, spinach and tat soi with colorful piles of carrots and turnips to add variety. You'll find Red Sails lettuce sailing among the Siberian kale, red cabbage, turnips, green onions and Brussels sprouts on Mr. Houston's table.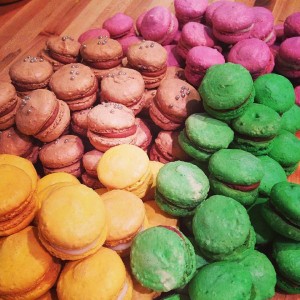 Ken's table, known for it's navels, grapefruit, and satsumas, is also sporting broccoli, beets, fennel, kohlrabi, spinach, mustards and kale. Nick's collection of heirloom lettuces include Merlot, Bronze Butterhead, and Ice Queen (a lovely butterhead variety that would hold up nicely under your chicken salad). There's also more of that tasty Tronshuda kale, Daikon radishes, carrots and Swiss chard.  Not to be outdone, Eddie's table is brimming over with red and yellow onions, collards, mustard, carrots and turnips. Natalie has been experimenting with hydroponics and has beautiful Romaine, Red Oak and Green Oak lettuces available. They even have the roots still attached which helps them last a little longer.
Now for the sad news… this coming week will be the last week Theresa's Italian Cookies will be available at the Market. I know, I know, I can hardly believe it myself. They have been an icon here at the Covington Farmers' Market longer than I can remember. But, there is still an amazing selection of cookies and treats here not to mention an incredible variety of foods and beverages of all kinds. So make your list; get here early. We'll have music and laughter in abundance. Don't even think about sleeping in!
Lots of love,
Charlene LeJeune
Abundant Life Kitchen

The Covington Farmers' Market is open each Wednesday, rain or shine, from 10 a.m. to 2 p.m. at the Covington Trailhead, 419 N. New Hampshire and every Saturday from 8a.m. to 12p.m. on the side lawn of the Covington Police Station, 609 N. Columbia St. Call (985) 892-1873 for information or visit www.covingtonfarmersmarket.org