Greetings and facilitations, friends! With Wednesday almost a reality, make plans to take your tastebuds on an culinary excursion that will carry you through the end of the week!
Begin your delicious experience with Frankie & Johnny's beef tostados topped with fresh lettuce and tomatoes. Then take home a hearty Chomper's dinner of pulled pork with Firecracker au gratin potatoes, greens beans and slaw. Chicken salad with crunchy bits of celery, wrapped in a tortilla and dressed with fresh green spinach leaves from Nanette will put pizzazz into Thursday's lunch. Celebrate the noon meal on Friday with Kandy's classic noodle salad featuring lemongrass chicken, cucumbers, fresh cilantro and Nuoc Mam dressing. You have a mighty selection of desserts available such as Lillie's teacakes, Duke's old fashioned fudge or trail mix and Frankie is preparing chocolate ganache morsels with creamy peanut butter centers. Let the adventure begin!
The sun will be out in full force this Saturday and so will your Farmers' Market Vendors. And with that sunshine will come the lively tunes of the Three Rivers Cooperative. Becky Cortez and Lisa Pate of The Purple Seed will show us how to make the special avocado dressing to go with their Mediterranean Quinoa salad (for tasting and sale).
A long walk (I do a lot of visiting on Saturdays) around the market always manages to produce surprises. LA Gourmet, usually known for their wonderful beans, rice, and corn grits, has the unique distinction of having the first blueberries of the season. Not to be outdone, though, Bonnie Blue Farms (apple trees) had both dewberries and lusciously sweet mulberries. There aren't very many so make sure you get here early.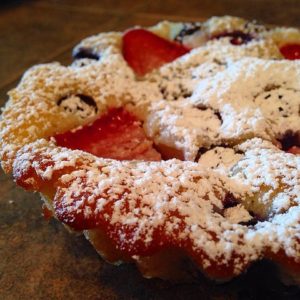 I checked in with Tiffany (Farmhouse Dairy) to see how things are in the goat farming world. She has an artisanal goat cheese called Deja Vu that I know that you've seen before. It is a gorgeous goat cheese that is aged with vegetable ash and has beautiful streaks of gray running through it. Wouldn't that be amazing on some toasted bread rounds (Lena) or topping the new potatoes that showed up on Nick's and Mr. Houston's tables?
Over at the Bartlett's, Nancy's flowers melded in a chorus of color. Bright yellow sunflowers, soft peach lilies, the reds and oranges of the zinnias interspersed with delicate blues flowers collaborated for perfect bouquet status. John also had a unique Asian kale that has reddish stalks with pale green leaves and sprigs of yellow blossoms growing throughout.
I am so familiar with Nur's cuisine that I didn't even see the latest new pesto – cilantro – until the market was almost over. Now I know you're thinking that cilantro can be overpowering but this was not. It was tasty and delicious and addicting. There's soooo much here to enjoy like Spicy Lady's new toppings – one for pizza and another for popcorn. Oh, man. There is nothing at the Covington Farmers' Market that is ordinary! Come by and see for yourself.
Lots of love,
Charlene LeJeune
Abundant Life Kitchen
The Covington Farmers' Market is open each Wednesday, rain or shine, from 10 a.m. to 2 p.m. at the Covington Trailhead, 419 N. New Hampshire and every Saturday from 8a.m. to  1p.m. on the side lawn of the Covington Police Station, 609 N. Columbia St. Call (985) 892-1873 for information or visit www.covingtonfarmersmarket.org