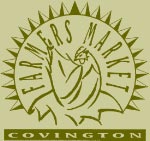 I hope you're having a happy happy Tuesday, friends! Have we got a Wednesday for you at the Covington Farmers' Market! Lots of great music from the gazebo and plenty of delicious food. Jeff, Chomper's BBQ, has a delicious lineup of smoky pulled pork with baked beans or cheese grits and cole slaw. Kandy will join us with an incredible selection of salads from which to choose – noodle salad or shredded cabbage and chicken or pan-seared salmon. WOW! The problem will be making a choice!
Frankie's Soup-of-the-Week is creamy bacon corn chowder. She'll also have her phenomenal old-fashioned banana pudding as well. Susan, of Kombucha Girl fame, will be joining us at the Wednesday market. She has recently taken over the management of Columbia Street Natural Foods and will bring us an assortment of deli salads, scrumptious wraps and sandwiches – and she promised she would have that amazing roasted sweet potato salad for which Columbia Street is famous. Be sure to try Erica's probiotic-rich, raw fermented vegetables. Fermented veggies repopulate your gut with healthy bacteria and digestive enzymes which helps you absorb more of the nutrients in the foods you eat. So you really won't want to forget fresh veggies from Mr. Houston and Double F Farm's eggs. Peggy makes sure her hens get the best nutrition and NO GMO feed!
I'm thinkin' we should start off Saturday with the lively tunes of Joe Manuel streaming out from the gazebo and drifting throughout the market. Sound good to you? Then, join us as we welcome Mama Lea to the demo tent. Lea is moving from Wednesday to our Saturday market and will feature the same delicious foods you've come to love.
We also want to shout out a "Welcome Back!" to Norma Jean who joins us once again with those amazing quiches, soups, and her undeniably fantastic cranberry bread and carrot bread. You'll be pleased to know that her son is also joining our Saturday family. Gabriel's chair massages are a sure way to help remove those awful kinks from your neck and shoulders.
My new pork chop recipe was a rip-roaring success last week and Mr. Wonderful even remarked how tasty and tender they were. I'm going in a different direction this week with Cashew Chicken featuring James' chicken breast. Yes, in addition to whole chickens, James also has leg quarters and boneless chicken breast. I cut the breasts into bite sized pieces, then dusted them with a little cornstarch & pepper and browned them. In the meantime, I combined 2 tbsp chili sauce, 4 tbsp ketchup, 1/2 cup soy sauce (low sodium), 2 tbsp brown sugar and 4 tbsp rice wine vinegar (I had to use balsamic since I wasn't going to the store just for that.) Put that all in a slow cooker, added my browned chicken and let it cook for a few hours, then added a cup of roasted cashews. I've sneaked a taste or two and it will rival last week. I'll serve it over white rice.
There's so much more here – mushrooms, salad sprouts, jams and jellies, kombucha, water kefir, scrumptious stuffed artichokes, hot & spicy beef jerky, sweet treats, and golden delicious honey. If you sleep in, you'll miss out on all the goodness to be had here.
Lots of love,
Charlene LeJeune
Abundant Life Kitchen
The Covington Farmers' Market is open each Wednesday, rain or shine, from 10 a.m. to 2 p.m. at the Covington Trailhead, 419 N. New Hampshire and every Saturday from 8a.m. to 12p.m. on the side lawn of the Covington Police Station, 609 N. Columbia St. Call (985) 892-1873 for information or visit http://www.covingtonfarmersmarket.org/