What a wonderful Tuesday, friends! I hope you're enjoying your day today and are making plans to take advantage of these spring-like temperatures and join us for lunch tomorrow. Frankie is busy preparing a southern-style smothered chicken dish with rice, green beans and cornbread. Yum! Kandy and the girls are also bustling about the kitchen lovingly creating those amazing salads, wrapping sensational spring rolls and traditional egg rolls. OOOHHH! what shall I choose??? One of each, please. Double K Farms hens are hopefully producing more and Kristen will be able to join us on Wednesday again. Greens will grace Mr. Houston's table and Jerry's bees have been very diligent in the honey department. Ah! Aren't Wednesdays wonderful?
Join us as The In-Laws sing us into Saturday from the gazebo. That touch of spring last Saturday promises to be just as wonderful this week. I know, I know. I'm just as thrilled; it really makes me want to get my garden ready for planting. You, too? Great! Naturally, your first stop should be to Matt with Northshore Natural Solutions. Try out some worm tea to get your seeds off to a great start! Matt will have composted horse manure as well. Perfect to get that garden going! You can also talk to the Master Gardeners' vegucators on the first and third weeks of the month about your specific needs. Check with Double K Farms for composted chicken manure.
Your next step is Alton & Sandra. They were back this week with merliton plants and blueberry bushes and a huge variety of herbs — catnip, rosemary, oregano, thyme, chives and more. Alton promises yellow cherry tomatoes, chard, and lettuces for next week.
Neptune's Garden offers hydroponically grown herbs and lettuces. Just take a bunch home and pop it in a short vase on the counter and you can "pick" your salad/herbs as needed. Lots of nutrient-rich vegetables crowded Nick's table including Lucullus chard, Rainbow chard, Tuscan kale, green onion, spring lettuce mix, turnips and next week, he promises Italian dandelion. Tomato Ann's tomatoes are absolutely gorgeous and taste just as amazing. She also has beautiful bell peppers and eggplant.
I see chard a lot at the market, so I looked for an easy recipe. You'll need 1 bunch of rainbow chard (leaves & stems separated and chopped), 1 large onion chopped, a good olive oil, and 4 ounces of feta cheese crumbled. Preheat oven to 350º and grease a baking sheet with olive oil. Toss the chard stems and onions in a bowl with 1 tbsp olive oil. (I'll bet Spicy Lady has a unique herbed olive oil to make your dish special.) Season with salt and pepper to taste, and spread onto the prepared baking sheet. Bake until the chard stems have softened and the onion is starting to brown on the corners, about 15 minutes. Toss the chard leaves with 2 tbsp of olive oil, salt, and black pepper. Sprinkle the leaves over the stem mixture, then scatter the feta cheese over top. Return to the oven, and bake until the stems are tender, the leaves are beginning to crisp, and the feta is melted and golden, about 20 minutes. Nothing left to do but ENJOY!
Kristen is back with Vegan Eats. Enjoy a delightful, roasted carrot "dog" with all kinds of fixins' available. And, of course, you will find her signature almond, cashew, and hemp milks too. Set your clocks to delicious. You don't want to miss out!
Lots of love,
Charlene LeJeune
Abundant Life Kitchen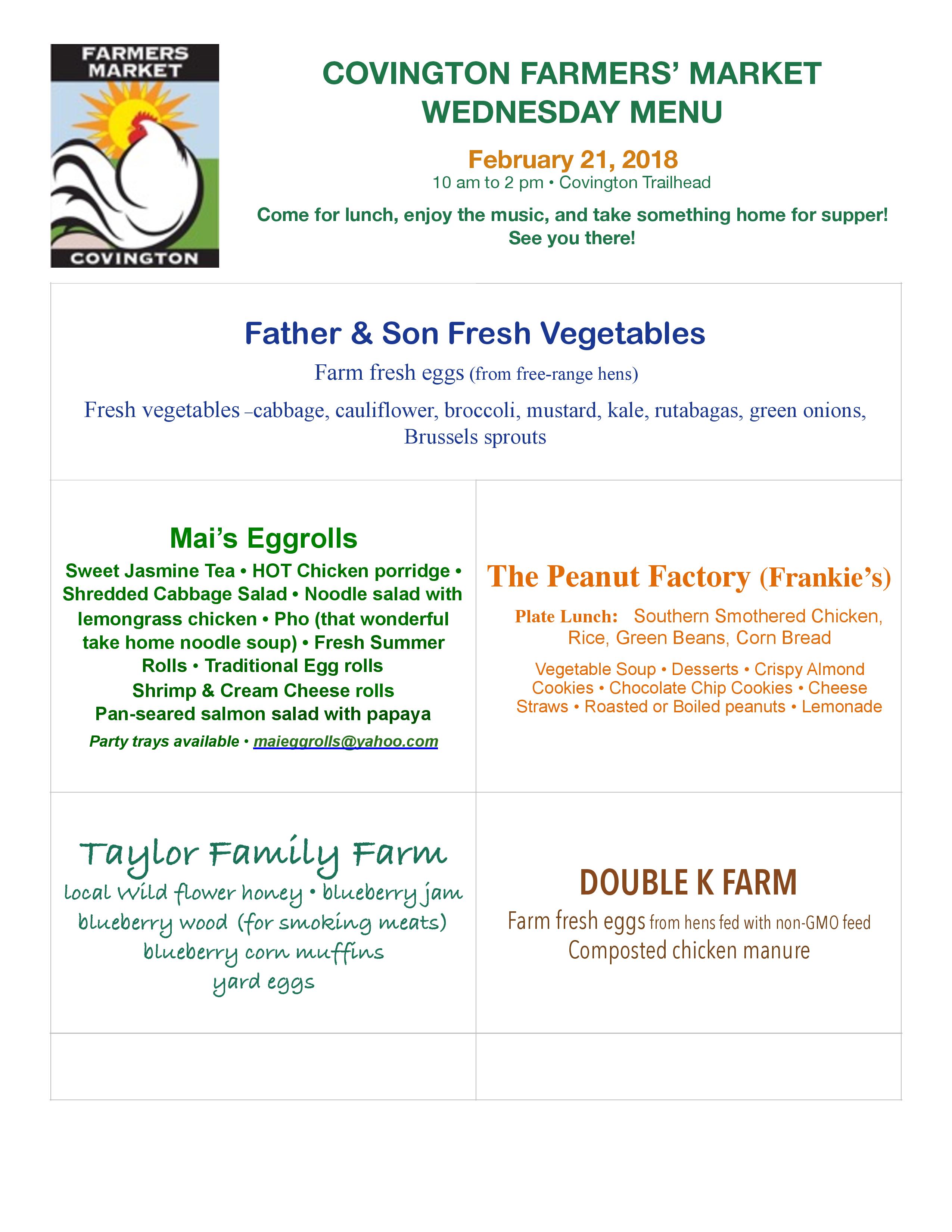 The Covington Farmers' Market is open each Wednesday, rain or shine, from 10 a.m. to 2 p.m. at the Covington Trailhead, 419 N. New Hampshire and every Saturday from 8a.m. to 12p.m. on the side lawn of the Covington Police Station, 609 N. Columbia St. Call (985) 892-1873 for information or visit www.covingtonfarmersmarket.org