Charlene LeJeune's newsletter goes out every Tuesday. The Covington Farmer's Market is held Wednesdays 10 am to 2 pm at the Covington Trailhead, Saturdays 8 am to 12 noon at the 600 Block of Columbia Street (Covington Police Department).
Heck of a Tuesday, friends! I hope you're all enjoying the glorious sunshine after that downpour this morning. Tomorrow promises a gentle, peaceful atmosphere designed to overcome the hurried pace of the rest of the week. Remember to get your veggies from Mr. Houston and your eggs from Double K and a spoonful of Jerry's jam will get you over that mid afternoon lull. Kandy's pho soup is a must when the weather is turning a bit nippy. So make sure you grab some for home while you enjoy your crunchy egg rolls for lunch.
Usher in your Saturday morning with a tasty bag of kettle corn while you enjoy the toe-tappin' sounds of the Necessary Gentlemen. Brighten up the day with a wonderful cup of coffee and take a stroll around the market! In the demo tent, Janine and Caleb Lagarringue of JSL Creations will sample and sell some of their scrumptious cinnamon buns and maybe even their muffalettas.
Norma Jean is back with a wonderful selection of vegan soups and salads, her newest creation being a Brussels sprout slaw with a lovely vinaigrette. OH! I almost forgot—vegan cilantro pesto. Check out the new "breakfast bar" at Bear Creek Road. Jennifer has filled it with danish, cinnamon rolls, and hash brown pie— simple fare with worlds of flavor! Spring is definitely in the air at Bear Creek with springtime soups and pastel macaroons.
Shamrocks are springing up all over Happy Flour Bakery — tasty shamrock shortbread cookies, that is. Don't forget about their lovely coffee cakes — cinnamon and lemon poppy! And over at Windfield Farms, there's a fresh pot of mushroom soup on the stove and yummy muffins everywhere — cranberry, blueberry, chocolate, morning glory — and pimento cheese (totally yummy in burgers).
Boba Tea girls are back with a healthy selection of teas and smoothies. I saw Hibiscus Rose and Taro Milk on the menu and they may even have some of their delightful lemon blondies! Strawberries are still coming — sweet, ripe, delicious. Greens are in — kale, dandelion, green onions, lettuces…. Tomatoes are in — green, brown, orange, yellow, red…
So make your stroll around the market a leisurely one. That way, you won't miss out on all the wonderful things our vendors have for you. So, when grab your traditional cup of coffee, change it up a little by adding a little music, a couple of squirts of laughter, and a heaping spoonful of good friends and there you have it – the perfect Farmers' Market day.
Lots of love,
Charlene LeJeune
Abundant Life Kitchen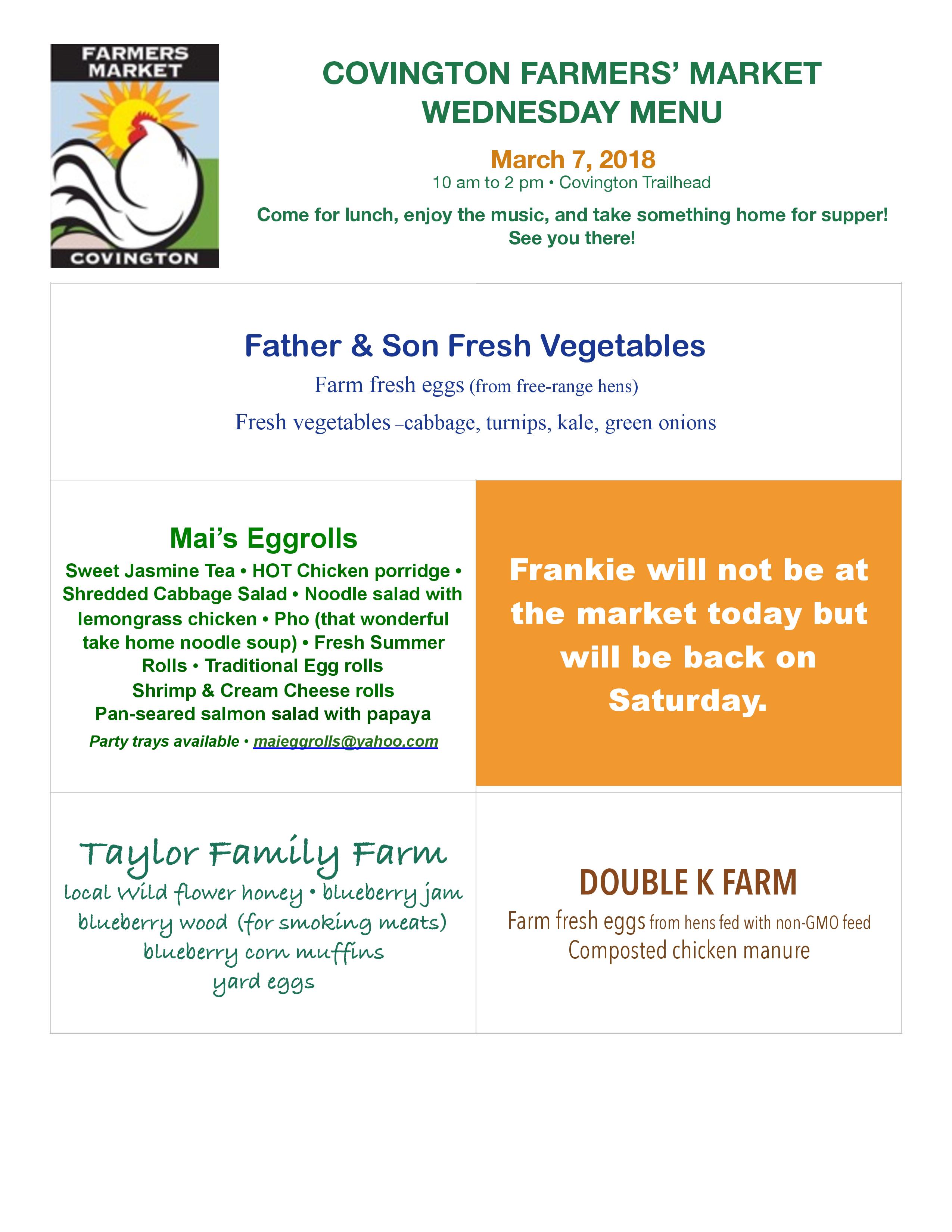 The Covington Farmers' Market is open each Wednesday, rain or shine, from 10 a.m. to 2 p.m. at the Covington Trailhead, 419 N. New Hampshire and every Saturday from 8a.m. to 12p.m. on the side lawn of the Covington Police Station, 609 N. Columbia St. Call (985) 892-1873 for information or visit www.covingtonfarmersmarket.org