The City of Covington contracted Cox / McLain Environmental
Consulting (CMEC) of Austin, Texas, to complete a historic
resources survey for the City. The Division of St. John
Historic District was listed on the National Register of
Historic Places (NRHP) in 1982 and represents the historic
core of the City of Covington. Historians from CMEC
conducted fieldwork for the survey in the fall of 2017.
The 2017 survey updated the existing inventory of
historic-age resources within the Division of St. John NRHP
District.
This effort included documenting resources that had become
historic age since the NRHP nomination was completed and
noting buildings that no longer exist. CMEC evaluated the
integrity of each historic-age building and assigned
contributing or noncontributing status to each resource.
CMEC historians also conducted a windshield survey of
select resources outside of the Division of St. John,
including properties in the Division of Spring.
As a result of the survey, CMEC recommends that the NRHP
nomination for the Division of St. John be formally updated
with the National Park Service and that the City establish
a local historic district in Spring. Amending the NRHP
nomination and establishing a local historic district in
Spring could extend benefits, such as tax credits and grant
opportunities, to property owners within these districts.
In addition to assessing the properties as they relate to
historic districts, CMEC evaluated eligibility for
individual listing in the NRHP. Nine historic-age resources
are recommended eligible for individual listing in the
NRHP.
On April 10, 2018, the results of the survey will be
presented at a Public Meeting at 6:30 p.m. The meeting will
be held in the City of Covington, Council Chambers located
at 222 Kirkland Street in Covington, LA.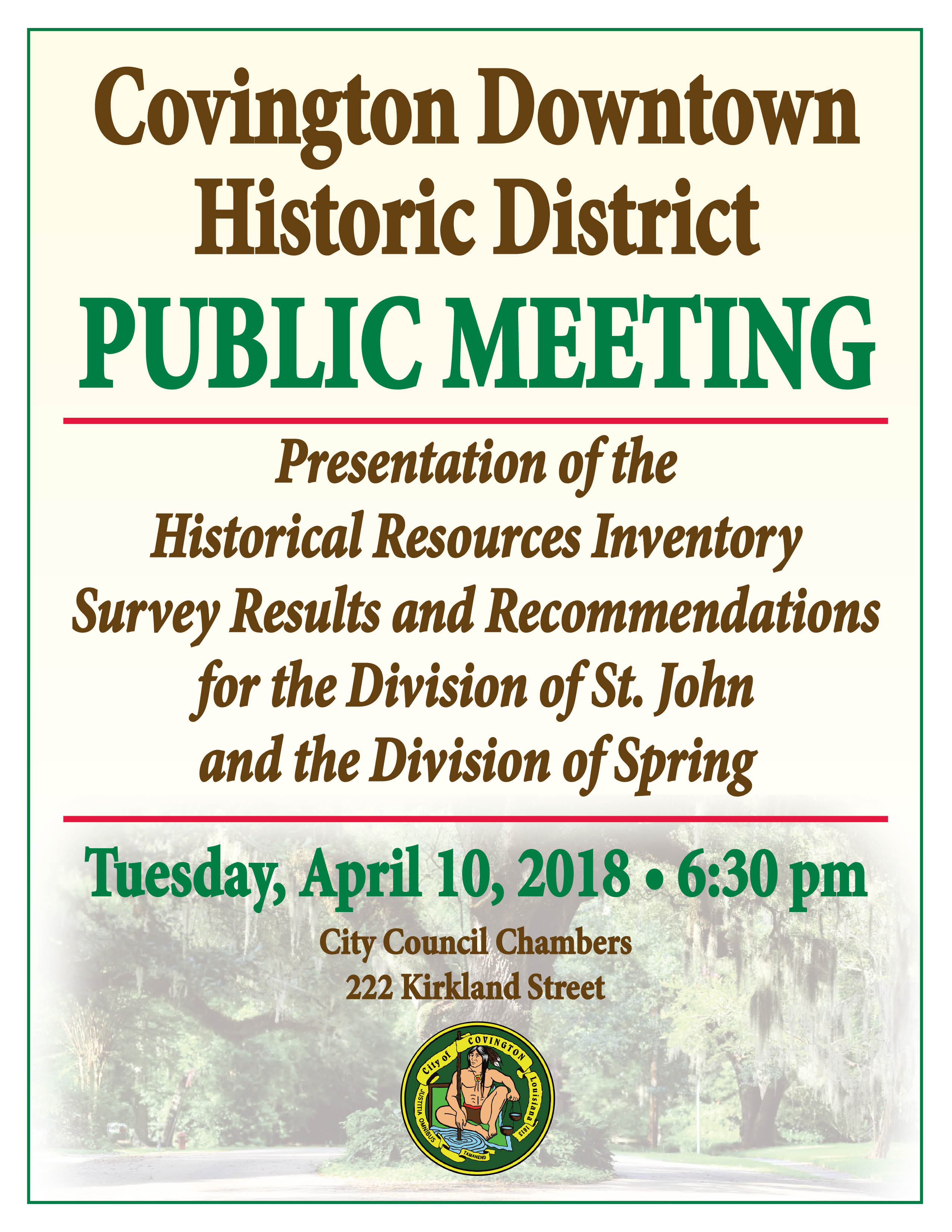 For additional information, contact Nahketah Bagby, City
Planner by email: nbagby@covla.com or by phone: (985) 867-1214
In accordance with the Americans with Disabilities Act, if
you need special assistance, please contact the ADA
Coordinator at (892-1811) Covington City Hall describing
the assistance that is necessary.