The Covington Farmer's Market weekly newsletter is provided by Charlene LeJeune of Abundant Life Kitchen every Tuesday.  The Covington Farmer's Market takes place at the Covington Trailhead every Wednesday from 10 a.m. to 2 p.m. and every Saturday at the 600 block of Columbia Street (at the Covington Police Department) from 8 a.m. to 12 noon.
Happy Tuesday, friends! You don't need an engraved invitation to join us for lunch at the Wednesday farmers' market. We're planning for a gorgeous day with lots of lovely breezes, blue skies, and music. Kandy will be back and she'll have some remarkable salads for your delight and enjoyment. Chop up a few leaves of kale and green onion from Mr. Houston, add to beaten eggs (Double K Farms), season, and pop in the oven for a delicious breakfast! Then chop the rest of the leaves (and even the green onion), place into ice cube tray, top with a little olive oil and freeze. When frozen, remove from the tray, place in a ziplock bag and you will have tasty little "drop-ins" for your soups or stews. Frankie is planning to bake chicken breasts and top them with Swiss cheese and a creamy chicken gravy. Rice will be involved plus carrot salad and corn bread. Can a Wednesday get any better?
We are gonna have a great time on Saturday. No rain in the forecast — finally — so we get to really enjoy the lively tunes of Joe & Julie Manuel springing forth from the gazebo. Due to the horrible weather we had last week, Nur postponed and will join us this weekend bringing some of her classic Turkish dishes that we have come to love.
Even though the rain threatened, we still got to enjoy Ms. Betty's gorgeous pink and yellow bougainvillea, as well as frilly asparagus and maidenhair ferns, lovely shamrocks, and more. Trudy was there with beautiful akelas with their variegated yellow leaves. She says the little white flowers are very fragrant and attractive to butterflies and bees and the leaves get so much lighter in color that the flowers almost get lost amongst them.
As you stroll around the market with your coffee, make it a point to stop by and chat with Emily about the benefits of her bone broth. I've been enjoying some of those benefits myself; it's amazing that you can get that much relief from something that doesn't contain chemicals.
With the weather so beautiful this week (and hopefully next), it's a great time to get outdoors and enjoy some grillin' time. James has had chicken breast and leg quarters that are just perfectly suited to the grill. Just a little salt and pepper is all you need until done; then coat with a delicious glaze made from Robin's Rockin' Pepper Jellies (she has recipes).
Jubilee Farms is another great place to shop for grilling meats — ground meat for burgers, pork chops, sausage… Mr. Two is well known for his enormous shrimp which, as luck would have it, are well suited to the pit. Not a fan of BBQ? Then a visit to Eric and Cooper at La Provence will be in order, too. Their precooked meats and sausages are delicious and very convenient. With all this goodness to be had, surely you're not considering sleeping in? I didn't think so.
Lots of love,
Charlene LeJeune
Abundant Life Kitchen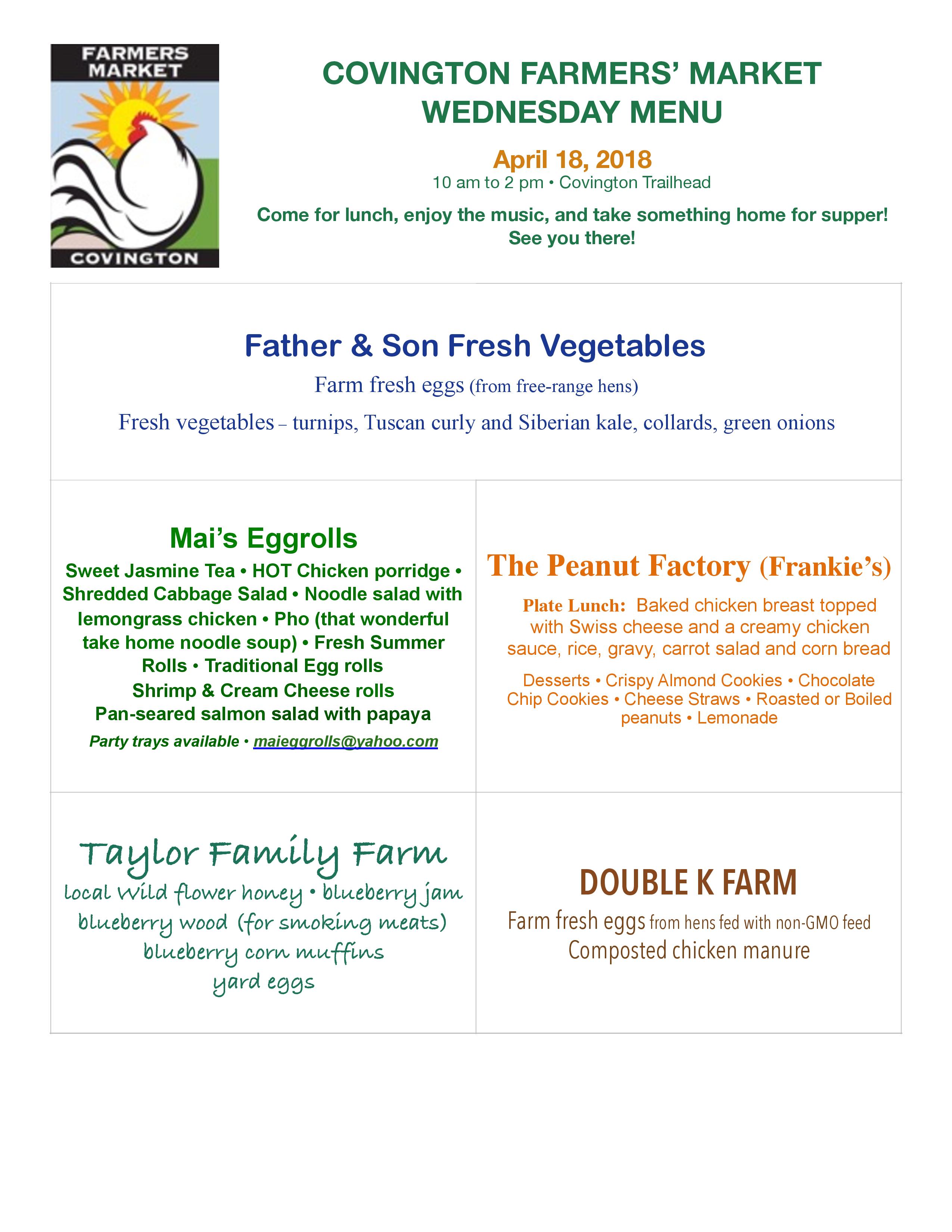 The Covington Farmers' Market is open each Wednesday, rain or shine, from 10 a.m. to 2 p.m. at the Covington Trailhead, 419 N. New Hampshire and every Saturday from 8a.m. to 12p.m. on the side lawn of the Covington Police Station, 609 N. Columbia St. Call (985) 892-1873 for information or visit www.covingtonfarmersmarket.org