Sheriff Randy Smith is excited to announce that a date has been set for National Night Out celebrations in St. Tammany Parish.
On Tuesday, October 15, the St. Tammany Parish Sheriff's Office will join other law enforcement agencies in southeast Louisiana by participating in National Night Out Against Crime.
If your neighborhood wishes to participate, and would like a deputy to attend, register your event on the St. Tammany Parish Sheriff website. Please register by Friday, October 4 to be included on the parish list.
National Night Out is a nationwide crime prevention event. Traditionally, the event is held during the month of August, but due to the extreme heat, some areas host National Night Out in the month of October. The night is designed to heighten crime prevention awareness, increase neighborhood support for anti-crime efforts, and unite our communities. It is a great opportunity to learn about crime prevention, while also celebrating your community and spending time with your neighbors and local law enforcement.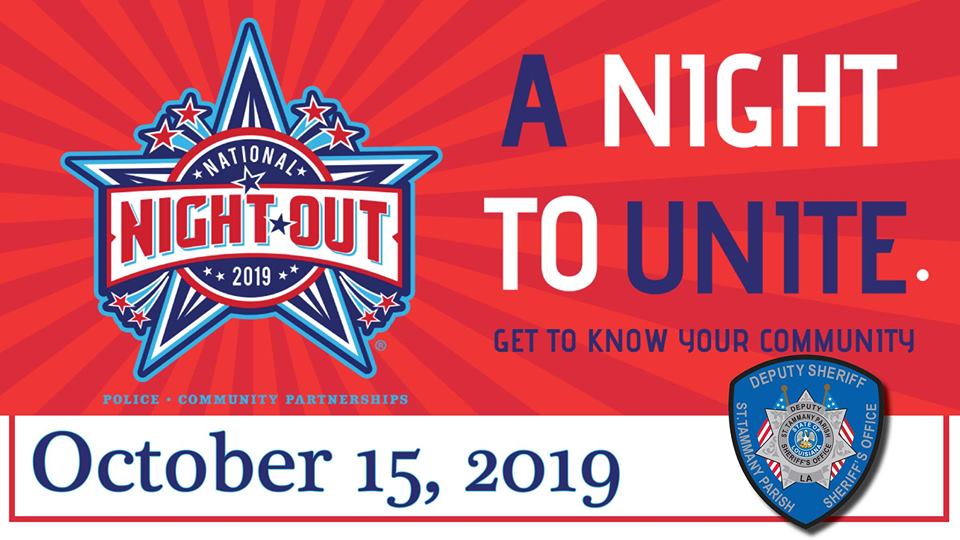 Representatives from all of the various divisions within the STPSO will be participating in this year's National Night Out Against Crime, and Sheriff Smith and his deputies will make an effort to attend as many parties as possible throughout the parish to meet residents and share crime prevention and awareness tips.
Sheriff Smith encourages everyone to come out on October 15 and get to know their neighbors.