Covington, La. – The Covington Rotary Club is thrilled to announce that U.S. Senator John Kennedy will be the distinguished guest speaker at its 2019 Feeding the Needy fundraising luncheon.
The 9th annual luncheon will be held on Friday, Nov. 22, from 11:30 a.m.-1 p.m. at the Briggs Assembly Center on the St. Paul's School campus. This is the first time that the luncheon will not be held on the Tuesday before Thanksgiving, a move that should minimize holiday week conflicts and allow even more supporters to attend.
Sen. Kennedy was elected to the U.S. Senate in 2016 after serving as the Louisiana state treasurer for five terms. He has built a distinguished career as a conservative champion for the people of Louisiana and a dedicated watchdog of taxpayer money.
Senator Kennedy serves on the Appropriations, Banking, Housing & Urban Affairs, Budget, Judiciary and Small Business & Entrepreneurship committees in the U.S. Senate, and serves as the chairman of the Appropriations Subcommittee on Financial Services and General Government. As state treasurer, he oversaw the state's multi-billion-dollar investment portfolios and oversaw local and state bond issues and returned millions of dollars in unclaimed property each year.
Sen. Kennedy also served as secretary of the Department of Revenue, special counsel to Gov. Roemer and secretary of Gov. Roemer's Cabinet. He was also an attorney and partner in the Baton Rouge and New Orleans law firm of Chaffe McCall.
Sen. Kennedy graduated magna cum laude in political science, philosophy and economics from Vanderbilt, was president of his senior class, and was elected to Phi Beta Kappa. He received his law degree from the University of Virginia School of Law, where he was an executive editor of the "Virginia Law Review" and was elected to the Order of the Coif. He earned a bachelor of civil law degree with first class honors from Oxford University (Magdalen College) in England, where he studied under Sir Rupert Cross and Sir John H. C. Morris. Sen. Kennedy served as an adjunct professor at LSU's Paul M. Hebert Law Center from 2002-2016. He also often volunteers as a substitute teacher for public schools.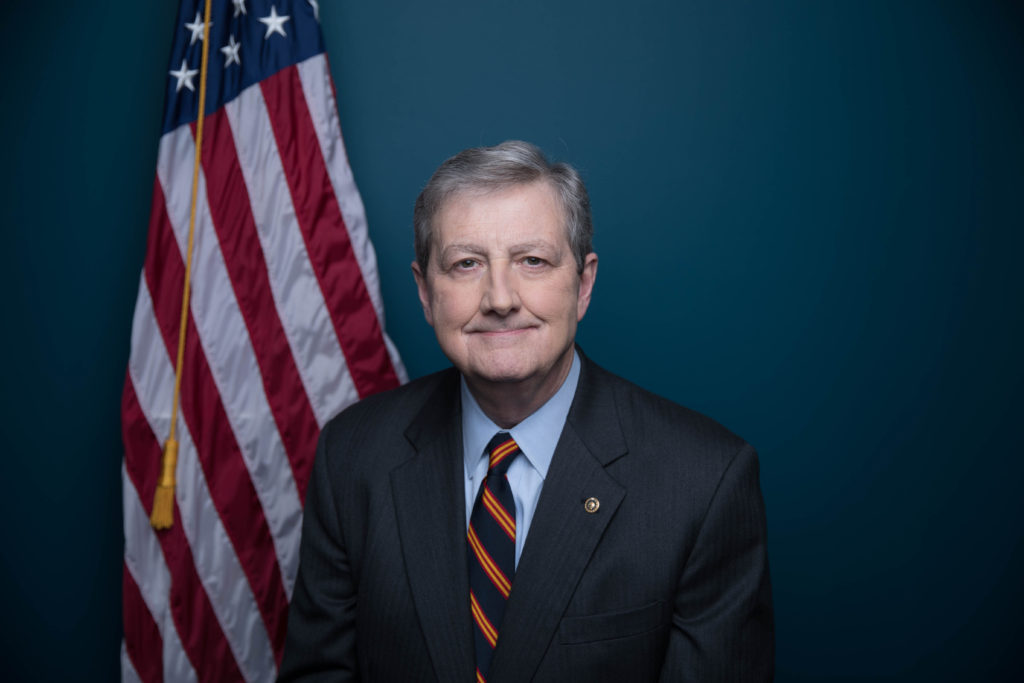 Sen. Kennedy resides in Madisonville with his wife, Becky, and their son, Preston. They are founding members of North Cross United Methodist Church.
"We are thrilled that Senator Kennedy has chosen to join us as the keynote speaker at this important event," Feeding the Needy co-founder and organizer John Baldwin said. "His contributions to the state of Louisiana and our country, as well as the fact that he calls the north shore home, make him the perfect choice to address our 2019 luncheon guests.
"This luncheon paves the way for Covington Rotary Club members and countless other volunteers to prepare and deliver more than 1,500 cooked turkeys with all the trimmings at Christmas," Baldwin said, adding that those deliveries feed thousands of area families in need each year.
Luncheon seating is limited, and tickets must be purchased online this year through the link at www.covrotary.org. In addition to individual tickets, tables of eight may be purchased and are a great way to gather family and friends together to kick off the Thanksgiving holiday with a delicious meal catered by The Lakehouse.
Sponsorships are also available and include the Platinum Presenting Sponsor ($10,000), Gold ($5,000) and Silver ($3,000) levels. For more information or to become a sponsor, contact Susan Sheehan at susan@dmtrace.com or 985.778.1797.
"Please purchase your tickets and sponsorships early, as we expect a sell-out crowd this year," Baldwin said. "Join us as we welcome Senator Kennedy and help make a difference in the lives of so many, especially the needy children, this Christmas."