Greetings of the season to you, friends! The gifts are piling up; the parties are in full swing, and it's time for a break! The weather outside will not be frightful and the food is soooo delightful and this is the place to go…goodness flows, let it flow, let it flow! Jerome will have his signature Ratatouille on Wednesday. His blend of vegetables is terrific on its own but, with the weather cooling off, I like to add it to my favorite broth for a fantastic soup! Now all you need to make that perfect is a slice of toast well covered with Jerry's blueberry jam—so thick and full of flavor (and not too much sugar). WOW! Is it Wednesday yet?
Ouzi is on the menu at Abeer's. This is a delicious combination of beef, rice, carrots, onions, almonds and spices wrapped in phyllo dough. Of course I will need chicken porridge from Kandy. There is nothing so warm and comforting for breakfast. She will also have that phaaa-bulous pho! Make your own pumpkin soup with Mr. Houston's pumpkins and green onions. The recipe is below. It includes turkey so you can use up all those leftovers —if there is anything left over. I think ham would also go great in this soup. Shrimp and grits or turkey salad, that's what Joy's fixin'. No need to choose; take some home. Mike (Leela's) will have Honduran sausage…yeah, I had to ask. He says it is made with pork, onions, bell pepper, garlic, Spanish spiced vinegar, cumin, salt, pepper, oregano, and laurel. I can't wait to try it!
What fun we'll be having on Saturday so why not join us and make sure you get all your holiday orders in! It'll be a great morning—the Lucky Dogs will be in the gazebo; Ed will be in the pavilion; Mr. Pete will be roasting chestnuts and our vendors will be all around—nothing says holiday like family and friends!
But the market is not just a great place for gifts. We come for the fresh produce. Oh, the broccoli, the kale, satsumas, lemons, chard, sweet potatoes, and persimmons! Nick has a unique variety of collards, called Creole, that is more tender and flavorful than the usual. Eddie has gorgeous radishes and mustard and kale. Ken is sure to have cauliflower as well as citrus. AND BEST YET…Johnadale's will be there with fresh strawberries, the first of the season!
Of course, Amanda is there with freshly squeezed orange juice (you can watch her do it!), mango juice and, yes, popsicles. Last week, James had fresh satsuma juice, all bottled and ready to take home. Surely, you won't miss the smorgasbord of mushrooms James has available as well!
A trip to Jubilee Farms for…..hmmmm….what'll you have this week, lamb chops, beef stew, pork loin??? You get get HUGE shrimp from Mr. Two or just the smaller ones, whatever your recipe calls for. Next stop…Norma Jean's Fal-Awfully Good falafel and how-to instructions for her festive falafel hor d'oeuvres with their little "hats" of green. A stop by Spanish R Us will bring you refried beans, tomato or avocado salsas, guacamole, all ready for your party. Tessier Gourmet's spinach artichoke dip is amazing but there are also some wonderful things for dinners, side dishes, or snacking. Check. It. Out.
Now if you are a soup person, you'll want to visit Norma Jean and Jennifer. Each week, they offer different soups that will warm your heart. A loaf of any of our artisan breads (Bear Creek, Windfield Farms, or Happy Flour) will add that special something to your meal.
The Covington Farmers' Market is a remarkable place to be on any morning. C'mon…. it's lovely weather to spend a market day together with you!
Lots of love,
Charlene LeJeune
Abundant Life Kitchen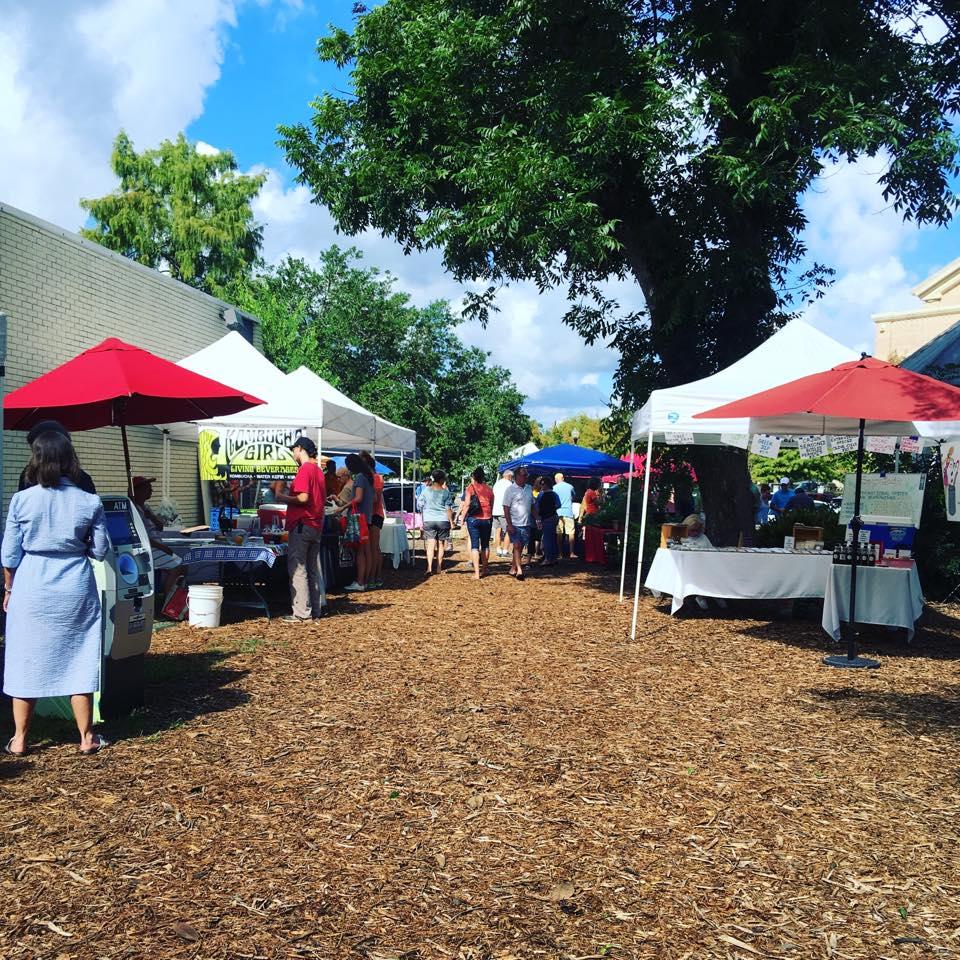 The Covington Farmers' Market is open each Wednesday, rain or shine, from 10 a.m. to 2 p.m. at the Covington Trailhead, 419 N. New Hampshire and every Saturday from 8a.m. to 12p.m. on the side lawn of the Covington Police Station, 609 N. Columbia St. Call (985) 892-1873 for information or visit www.covingtonfarmersmarket.org

To unsubscribe, please reply to this email.
Check out our Facebook page – facebook.com/thecovingtonlafarmersmarket
On Instagram — @covingtonlafarmersmarket

Slow Cooker Pumpkin Soup
2 tablespoons olive oil • 1 medium onion, chopped • 1 medium sweet yellow pepper, chopped
3 garlic cloves, minced • 2 cans (15 ounces each) black beans, rinsed and drained
1 pumpkin cut into chunks (roasting for 45 min makes it easier to peel)
1 can (14-1/2 ounces) diced tomatoes, undrained • 3 cups chicken or vegetable broth
2-1/2 cups cubed cooked turkey • 2 tsp dried parsley flakes
2 tsp chili powder • 1-1/2 tsp ground cumin • 1-1/2 tsp dried oregano • 1/2 tsp salt
Cubed avocado and thinly sliced green onions, optional
In a large skillet, heat oil over medium-high heat. Add onion and pepper; cook and stir until tender. Add garlic; cook 1 minute longer.Transfer to a 5-qt. slow cooker; stir in the next 10 ingredients. Cook, covered, on low 4-5 hours.
If desired, top with avocado and green onions.
Nutrition Facts
1 cup: 192 calories, 5g fat (1g saturated fat), 28mg cholesterol, 658mg sodium, 21g carbohydrate (5g sugars, 7g fiber), 16g protein. Diabetic Exchanges: 2 lean meat, 1-1/2 starch, 1/2 fat.