From a partridge in a pear tree to twelve drummers drumming, downtown Covington is aglow with holiday images this month as the City launches its inaugural lighted display, Covington's Twelve Days of Christmas.
The tableau features twelve lighted silhouettes depicting larger than life images from the traditional Old English Christmas Carol, exhibited at various locales in the downtown historic district. 
You are invited to stroll through the city to view "four calling birds, three French hens," and other familiar images from the well known Christmas carol. The images will be illuminated seven days a week from dusk to dawn now through January 6.
Come join the fun and share your Covington's Twelve Days of Christmas adventure to spread holiday cheer on social media, tagging the City of Covington Office of Cultural Arts & Events. This event is free. Maps are available at the Covington Trailhead Museum at 419 N New Hampshire Street. (see below for map)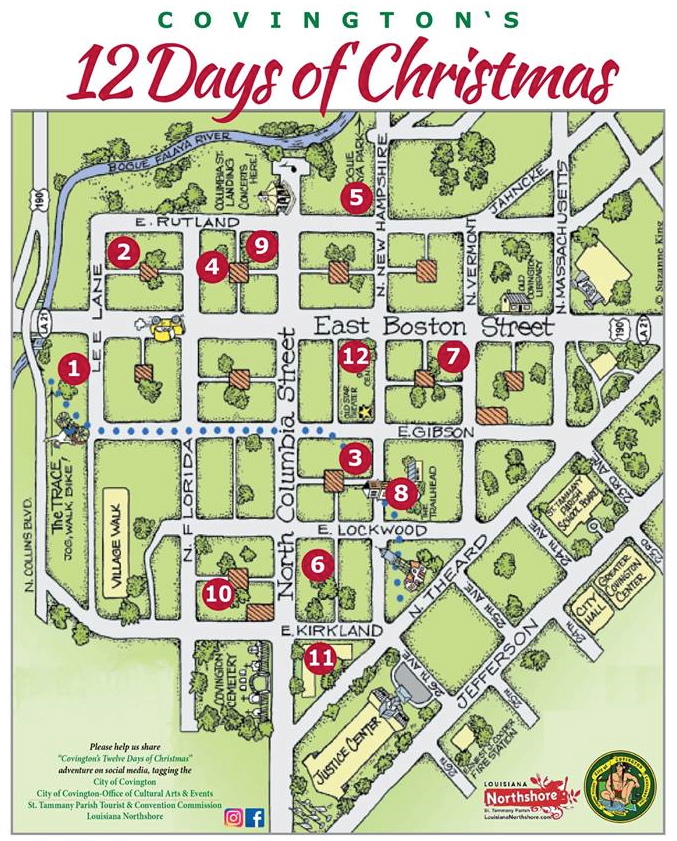 1. Partridge In A Pear Tree – 300 Block Lee Lane
2. Turtle Doves – 200 Block of Lee Lane
3. French Hens – Pocket Park, 400 Block Gibson
4. Calling Birds – 200 Block of Florida Street
5. Gold Rings – Rutland & New Hampshire
6. Geese A Laying – 500 Block Columbia Street
7. Swans A Swimming – 400 Block of Boston
8. Maids A Milking – 400 Block New Hampshire
9. Ladies Dancing – 200 Block Columbia Street
10. Lords A Leaping – 500 Block Florida Street
11. Pipers Piping – 600 Block of Columbia
12. Drummers Drumming – 500 Block Boston