Covington Farmer's Market Saturday Preview
Saturday, sweet Saturday, will be here before you know it. So grab your coffee from the pavilion, give Ed a big smile, and see what the market has to offer. Remember Norma Jean and Jennifer both have marvelous soups to see you through the chilly days ahead. Lots of tasty breakfasts available, too, including an egg salad croissant from Winfield Farms.
Now, if you haven't already placed your holiday orders with your favorite vendors, this is the time for it. The clock is winding down and you don't want to be caught without your favorites like cheese cake, or pies, cookies, cakes, breads, falafel, dips, pralines…
Barbara Cleckler is back with her incredible monkey pine wreaths. She'll also have those lovely pecans which are so necessary for pecan pie or sweet potato casserole. You'll find lots of sweet potatoes, too, in many varieties. Greens, cauliflower, turnips, green onions, persimmons, radishes, pak choi, lemons, grapefruit, and satsumas abound. Take home pre-made Veggie Pancake mix from Meme's; it makes for a very quick delicious meal after a hard day's work (or shopping). For you sourdough pancake fans, Patrick and Madeleine offer pre-made pancake mix all ready for the pan.
They won't be calling you Mr. Grinch when they receive favorite jams and jellies as a gift. Choose from Althee's fruity selection such as, Monkey Butter, strawberry, kumquat marmalade, Gummy Bear, and many more. On the spicier side, Stacey has tangy pepper jellies like Mango Pineapple Habanero, Cranberry Pepper Jelly, and Warm Cider Pepper Jelly. Her Spicy Asparagus, Mexican Radishes, and Lemony Cauliflower make exceptional party smacks. We're just jam-packed with great gift ideas… great food… great music..; great people – yourself included! Join us: it wouldn't be the same without you!
Lots of love, Charlene LeJeune, Abundant Life Kitchen
The City Covington and The English Tea Room invite you to Candlelight Caroling at the Covington Trailhead this Friday, December 13, 2019 beginning at 7 p.m. This is a Free Family Event with Crispin Schroeder. Drinks will be available for purchase.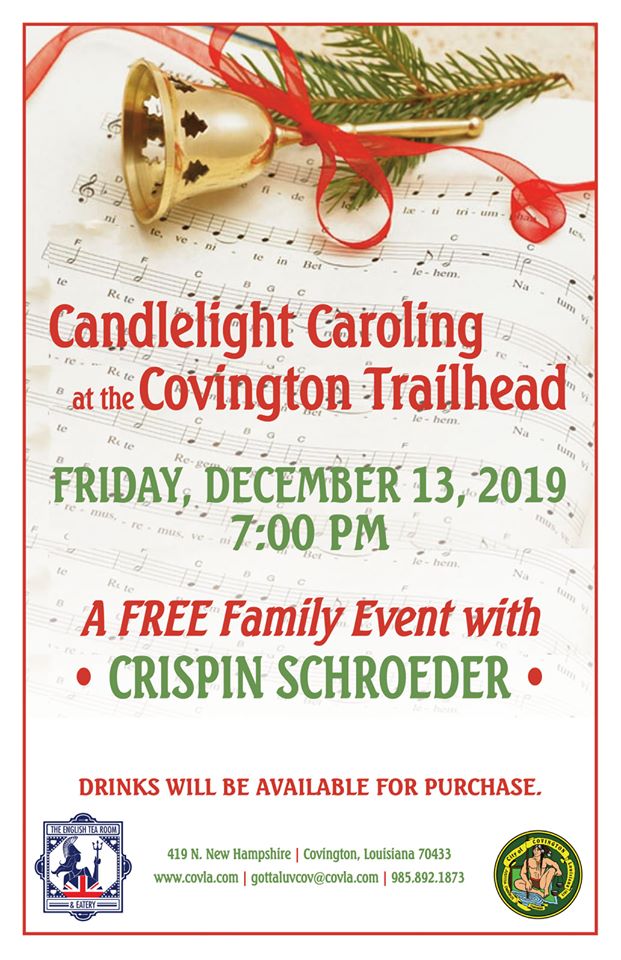 The Covington Trailhead is located at 419 N. New Hampshire in Historic Downtown Covington. For more information, call the City of Covington Office of Cultural Arts & Events: 985-892-1873.
Deck the Rails takes place this Saturday, December 14, 2019 from 4 – 7:30 p.m. at the Covington Trailhead. Featuring Holiday Entertainment, a Christmas Craft Activity, Santa's Arrival, plus an outdoor movie showing of "The Star." A free family holiday event brought to you by the City of Covington and Kiwanis of Covington.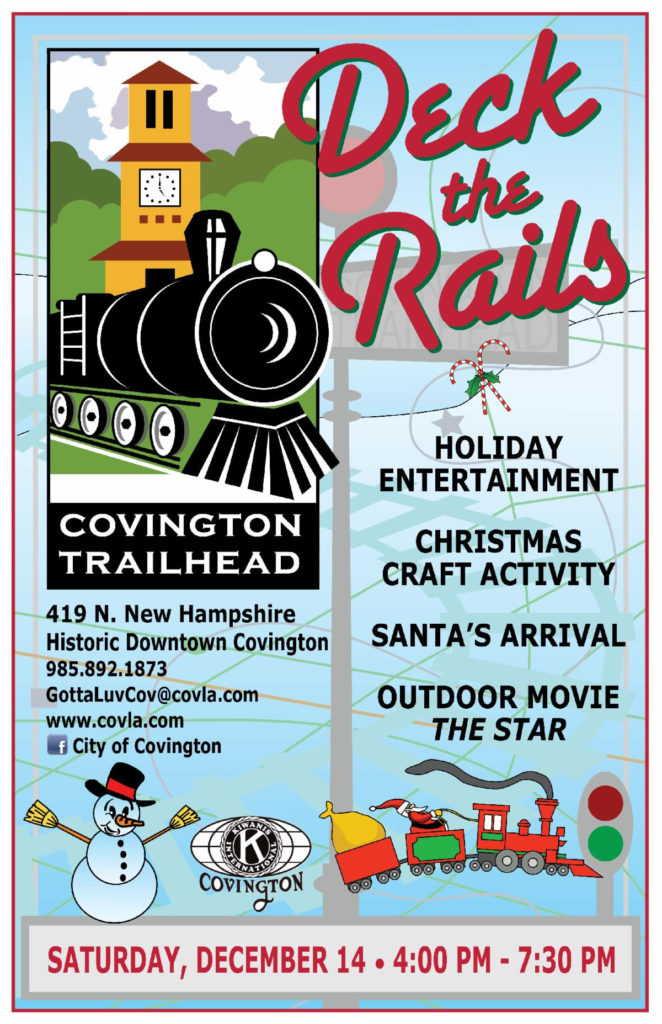 The City of Covington OnStage at the Fuhrmann series presents Celtic Angels Christmas with Celtic Knight Dancers and music provided by The Trinity Band Ensemble of Dublin. This show takes place Wednesday, December 18 at 7 p.m. at the Fuhrmann Auditorium, located at 317 N. Jefferson. Tickets on sale now! Call 985-892-1873 for more information.