The following is the Covington Farmer's Market weekly newsletter by Charlene LeJeune:
The Tuesdays just roll on by these days, don't they friends? Wednesday is almost here and Kandy will be at the market with her fabulous salads, and calming jasmine tea. She'll even have those amazing cream cheese shrimp rolls! Peppers and eggplant and squash and cucumbers will be on Mr. Houston's table and maybe some tomatoes. A lovely tomato-cucumber salad is always refreshing in summertime. WOW!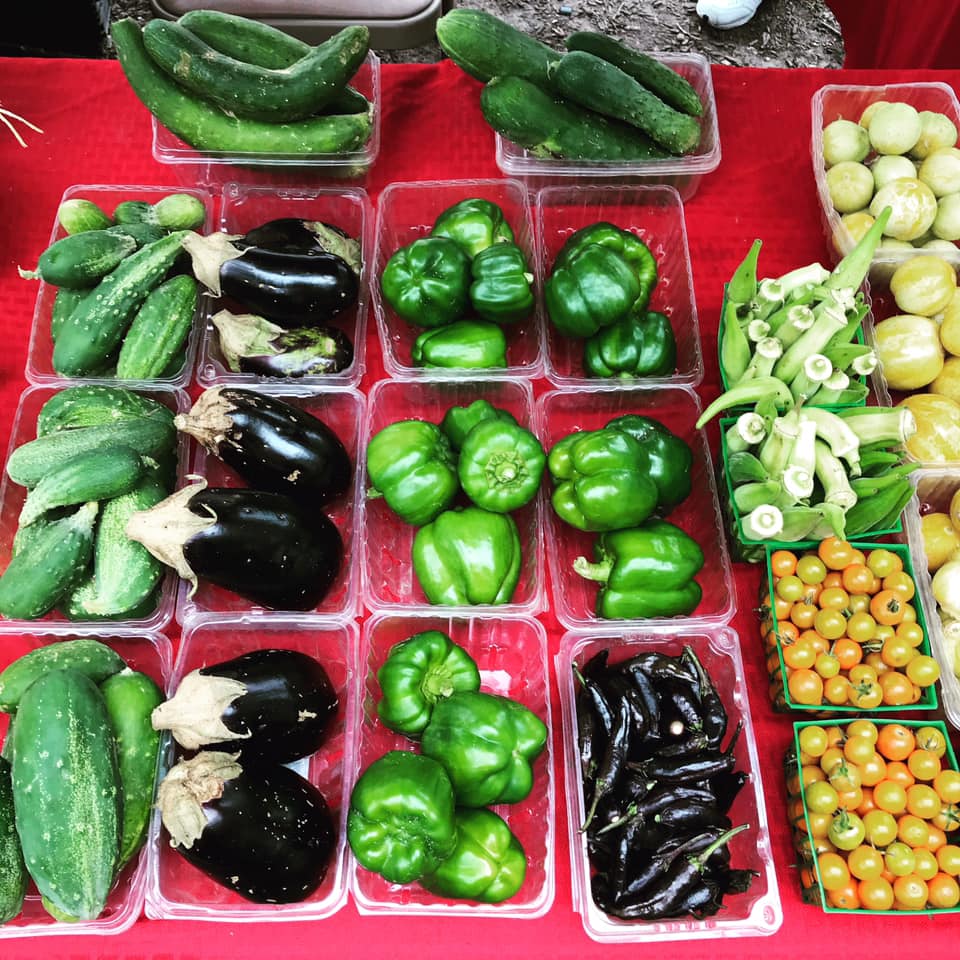 We have a few new vendors. Mignon of Golden Light is brewing a delicious coffee-replacing drink from adaptogenic roots and various mycelia (mushrooms). It truly is tasty. She also prepares Jun which is a kombucha sweetened with honey rather than sugar. Ya gotta check it out. Then there is Henderson Hearth where Amy prepares Celtic inspired soup mixes and baking mixes and jams. I tried the Henderson Soup Mix and enjoyed it very much. Most of her mixes do not contain salt so you can add it or not. Nut N Better, located at the same table, offers roasted almonds, cashews, peanuts, pecans, plus a mixed blend.
Bhakti Farms will have their famous beet & black bean burgers this week but they have so much more. They've developed all vegan desserts, like Bhakti Balls, perfect li'l orbs of chopped dates flavored with vanilla, cardamom, and rose waters covered in pistachios and cashews. Jerome will have his delicious little Madeleines and Spinach & Goat Cheese quiche. Happy Flour is back with all their artisan sourdough breads. Baked chicken and rice will head the menu at Abeer's table plus she'll have her delightful quinoa salad. Why not go out of the ordinary and try roasted duck breast? Ross will have the duck; you will need to do the cooking. Keep in mind that along with eggs, Double K also has figs.
Wake up to music from the Three Rivers Cooperative singing out from the gazebo come Saturday morning. I wonder what I will find today. Lots of great veggies, that's for sure! Most of the fixins' for mushroom ratatouille, you'll find at the market. Never heard of it? Well, let me enlighten you. You'll need 1 lb fresh mushrooms, 2 lg onions, 1 medium eggplant, 2 medium zucchini, 1 large sweet red bell pepper, 2 lg ripe tomatoes, 2 tbsp olive oil, 4 tsp finely chopped garlic, 1 tsp Italian seasoning, 3/4 tsp salt, 1/2 tsp ground black pepper. Cut mushrooms and onions in thick slices and eggplant, zucchini, red bell pepper and tomatoes in 1-inch cubes. Sauté onions and garlic in the oil until lightly browned, about 5 minutes. Stir in mushrooms, eggplant, zucchini, bell pepper, tomatoes, Italian seasoning, salt and black pepper. Cover and cook, stirring occasionally, just until the vegetables are tender, about 15 minutes. Yum!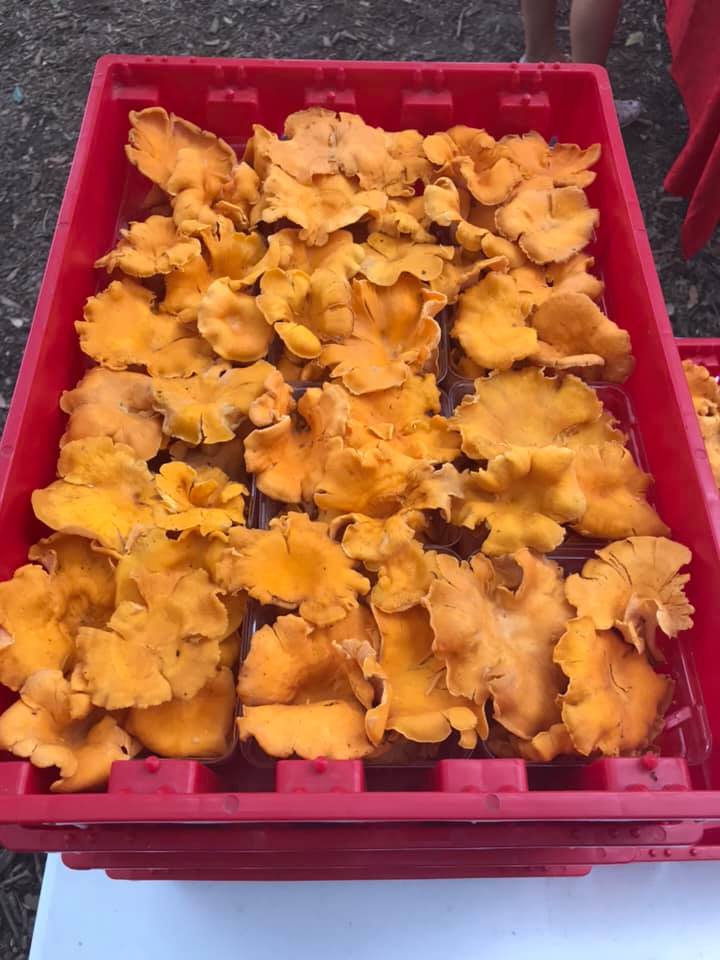 Don't forget your sprouts from Sam or fresh microgreens from Aminta. They make the most nutritious topping to any burger whether it's made with ground beef from Jubilee or beets & black beans from Bhakti Farms. Add a WOW factor by tossing sprouts or microgreens into your mushroom ratatouille after sautéing or into your tomato cucumber salad.
Amanda has some delightful juices like strawberry-pineapple-mango, ginger-lemonade, mango, and (naturally) orange juice. And her popsicles are superb, especially the avocado. Melons, melons, melons! Fleur de Lis Farms has 'em! Figs galore at the market as well. For a lovely breakfast, take a slice of artisan bread (Happy Flour & Bear Creek have wonderful selections), spread with Mauthe's cream cheese, top with sliced figs and pop into the oven for 10 minutes.
There's lots of wonderful to discover at the market so set your alarm clock for funtastic, 'cause if you sleep in, all you gonna do is dream about it!
Lots of love
Charlene LeJeune
Abundant Life Kitchen
The Covington Farmers' Market is open each Wednesday, rain or shine, from 10 a.m. to 2 p.m. at the Covington Trailhead, 419 N. New Hampshire and every Saturday from 8a.m. to 12p.m. on the side lawn of the Covington Police Station, 609 N. Columbia St. Call (985) 892-1873 for information or visit www.covingtonfarmersmarket.org