The following is the Covington Farmer's Market weekly newsletter by Charlene LeJeune.
Aaah Tuesday in August, my friends, and I'm looking forward to a lovely day at the market tomorrow. Where to start? Start with your eggs, Double K no less. Or maybe some figs. A lovely shredded cabbage salad with shrimp from Kandy and a cup of jasmine tea makes a refreshingly light but surprisingly filling lunch. A jar of honey from Jerry, peppers and okra from Mr. Houston, perhaps some seasoned nuts from Henderson's.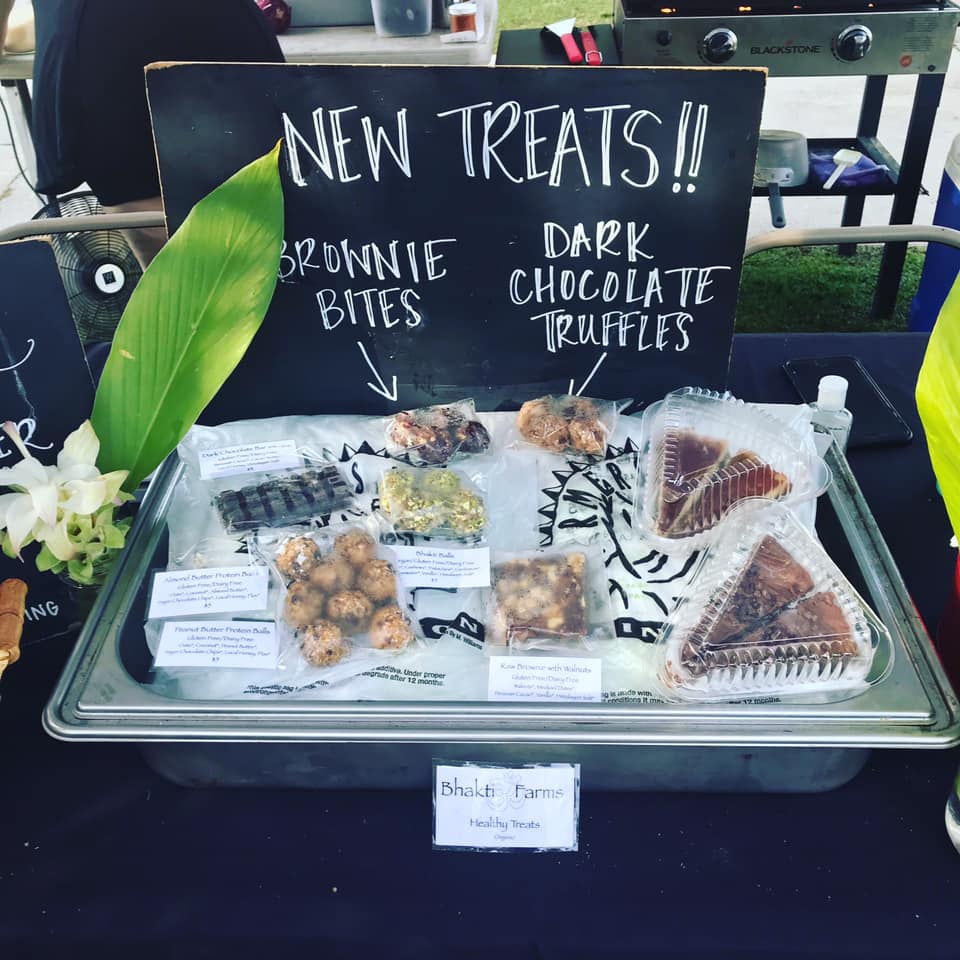 Another refreshing lunch is a slice of Tomato Tarte from Jerome. Plus he has chocolate cake for dessert. Green bean Moussaka is starring on Abeer's menu aannd, she has BAKLAVA! Dive into delish with a beet & black bean burger from Bhakti Farms. I don't know how he does it but that burger is awesome! More awsome in store with smoked ribs and German potato salad from Corey. He's prepared some of his smoked cornbread to go with. Mignon's strawberry kombucha is fizzy, delicious, and energizing. This week I think I'll try another Root-shroom brew. Tamales or boiled shrimp salad from Joy? Hmm? Tough choice…but the bread pudding isn't. Ross is sure to have duck broth and also that fabulous Rillettes.
Michaela Lauer will be delighting us with her melodic tunes from the gazebo on Saturday. So grab your coffee and enjoy a stroll around the market, maybe pick up one of Meme's delicious veggie pancakes along the way. Plus, there are still lots of lovely veggies just waiting for you — squashes, eggplant, peppers, okra…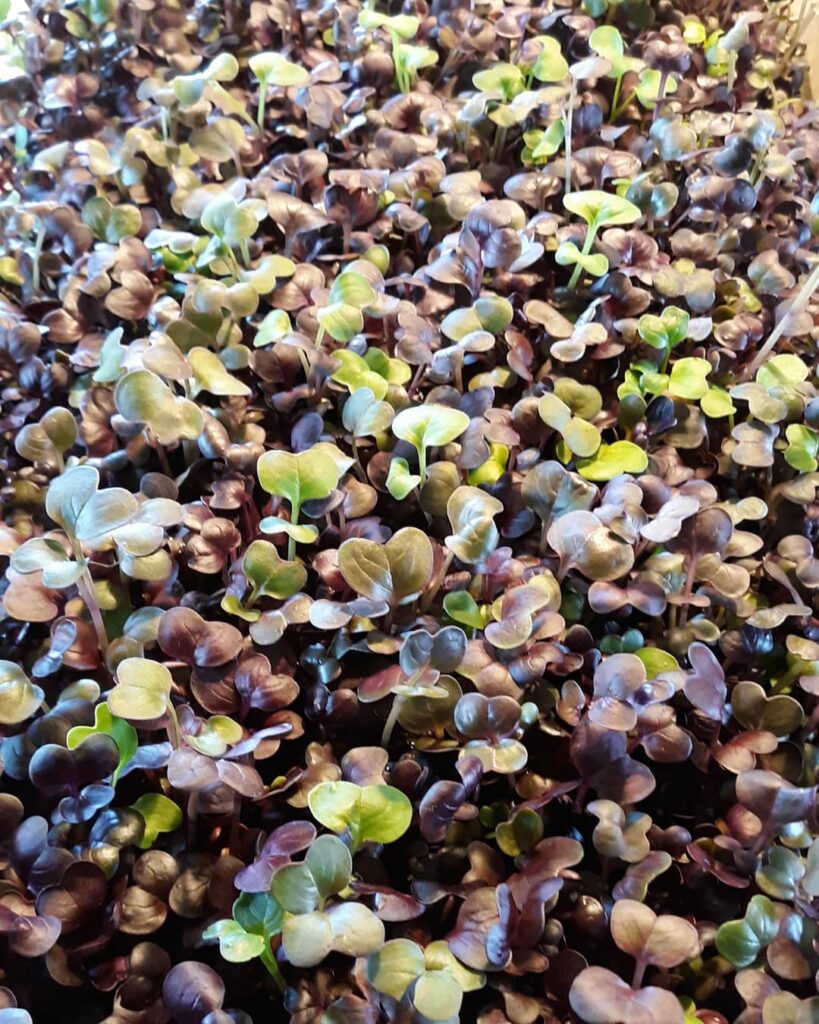 Whether you're grillin' or cooking in, trot on over to Jubilee Farms to check out their selection of sausages — green onion, Italian, Cajun, smoked, and hot! Paul & Liz also have pork chops, ribs, and ground meat for fantastic burgers. No matter which you choose, you will not be sorry with the results. Remember to grab sprouts from Sam or Aminta's microgreens for a most delicious nutritious garnish. Of course there are plenty of veggies for grilling too — squashes, eggplant, okra, peppers — there may even be some tomatoes.
I came across this unique recipe for okra. Usually okra's breaded and fried or stewed with tomatoes. This one is a sausage and okra stew and sounds amazing. I have the recipe below.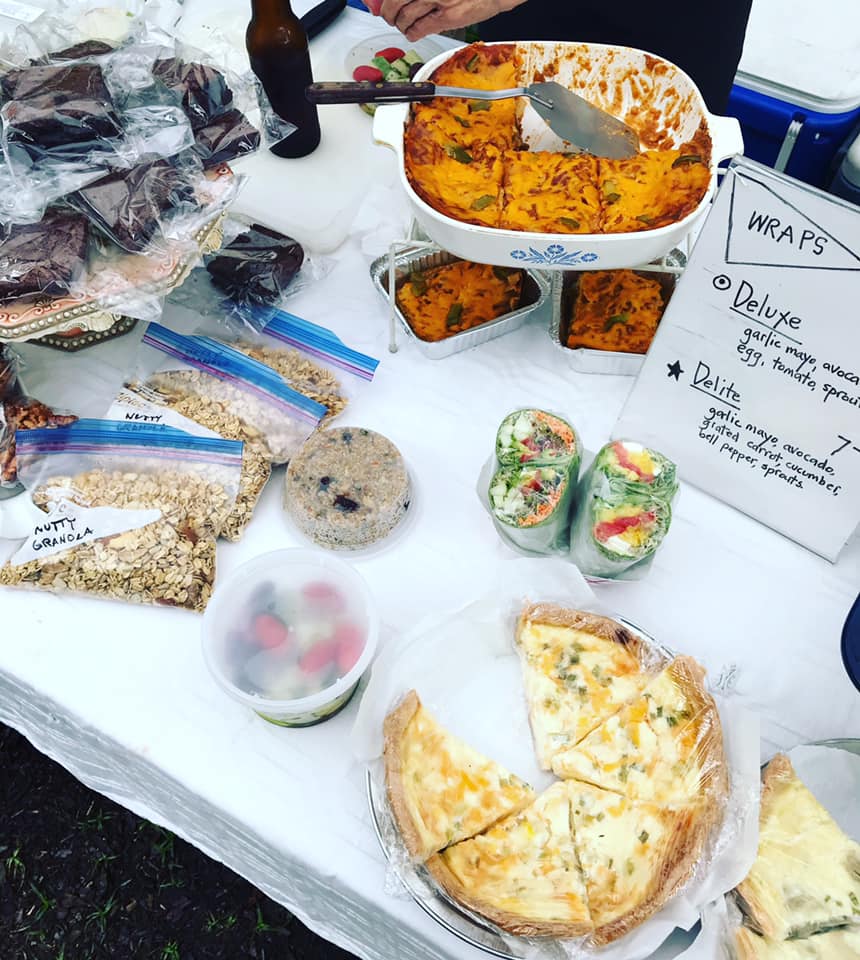 Norma's Nicoise Salad is on the table again along with another salad sure to please. This one is made with white beans, artichoke hearts, onions and an herb dressing. Each will be a wonderful accompaniment to any meal. Another magnificent use of various veg is Nancy's Cortido kraut — a raw ferment of cabbage, carrots, cilantro and peppers—a tasty way to get those good bacteria back into your body.
There is nothing better to start your morning than a cup of freshly-squeezed orange juice or mango juice. So a stop by Amanda's will really brighten your day and the popsicles are amazing! Need goat cheese? Huckleberry Fred's is the place for it. Try the cranberry and honey spread over a slice of Happy Flour's cinnamon raisin bread. WOW!
I've become addicted to Mauricio's vegan ginger divinity. Last week, I somehow managed to partially crush one of them. Well, can't eat it that way, can I? So I crushed 2 of them and stirred the powder into some of Mauthe's fabulous yogurt. O! M! G! Indescribable! And that's not the only stupendous thing at our market. Surely you won't sleep in; you can watch the back of your eyelids during the heat of the day. Why not join us?
Lots of love,
Charlene LeJeune
Abundant Life Kitchen
The Covington Farmers' Market is open each Wednesday, rain or shine, from 10 a.m. to 2 p.m. at the Covington Trailhead, 419 N. New Hampshire and every Saturday from 8a.m. to 12p.m. on the side lawn of the Covington Police Station, 609 N. Columbia St. Call (985) 892-1873 for information or visit www.covingtonfarmersmarket.org
Sausage & Okra Stew
1/2 lb okra thinly sliced
2 yukon gold potatoes chopped into small bite sized
1 onion chopped
3 cloves garlic minced
1/4 cup polenta
1 cup frozen corn
4 cups chicken broth
1 tsp salt
1/2 tsp pepper
1/4 tsp red pepper flakes
Start by browning the sausage over medium heat in a heavy bottom pan. Get a good sear on it – you want it to be well browned and broken up into little pieces.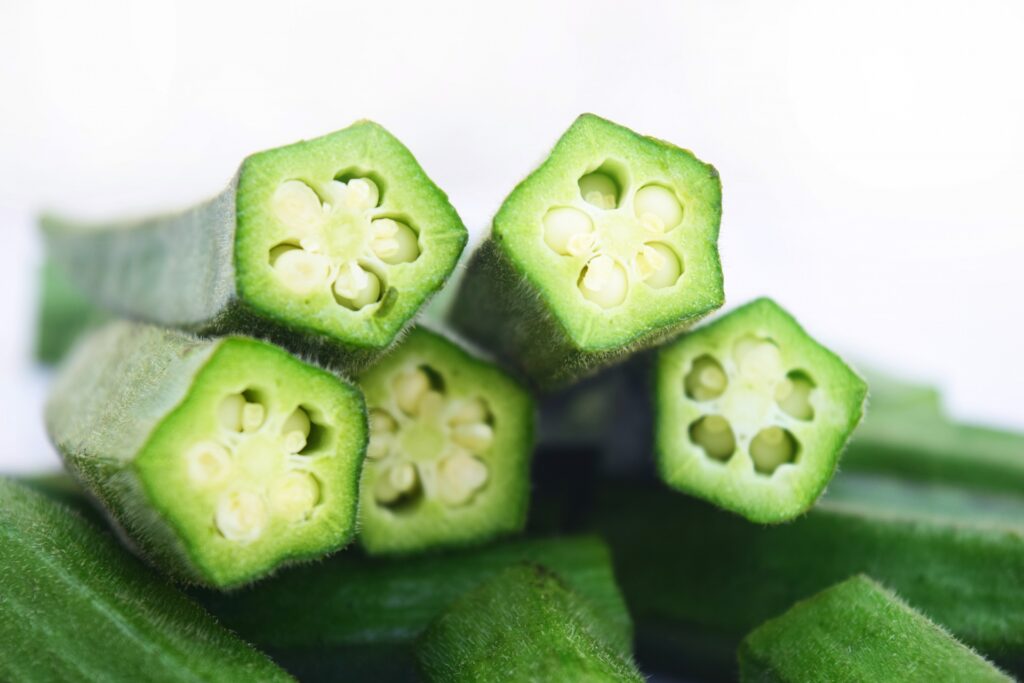 While the sausage is cooking, chop the okra, onions, potatoes and mince the garlic. Drain the excess oil from the sausage and add in the okra, potatoes & onions. Sauté for about 4 minutes and add the garlic and polenta. Mix well, seasoning with the salt, pepper and red pepper flakes.
Increase the heat to high and add the chicken broth, bring to a boil. Stir well scraping the brown bits from the bottom of the pan.
Reduce to simmer and cook for another 20 minutes stirring occasionally. Add in the frozen corn once the potatoes are cooked thru. The stew will thicken as it cooks. When the potatoes are fork tender, the stew is complete. Enjoy!
Check out our Facebook page – facebook.com/thecovingtonlafarmersmarket
On Instagram — @covingtonlafarmersmarket