Covington Farmers' Market weekly newsletter by Charlene LeJeune:
Hope you had a restful Labor Day, friends! I hope you're ready for a scrumptious Wednesday; I sure am! A refreshing glass of jasmine tea is so welcome on these last days of summer. But, don't stop there, a serving of Kandy's most awesome shrimp cream cheese rolls will make you smile all day long. Fresh eggs (Double K), fresh eggplant (Mr. Houston) Now what?? Simple. Finely chop 1 small yellow onion in 2 tbsp olive oil. Add 2 eggplant (or more if small), diced and seasoned with salt and pepper, then fry until golden brown. When almost done add a few dollops of goat cheese (Huckleberry Fred's has a wonderful selection. Hope you got some on Saturday.) Fry 4 eggs in a separate pan and serve on top of your eggplant. For added flavor, try a sprinkling of Johnny's Cajun Spice (Bhakti Farms).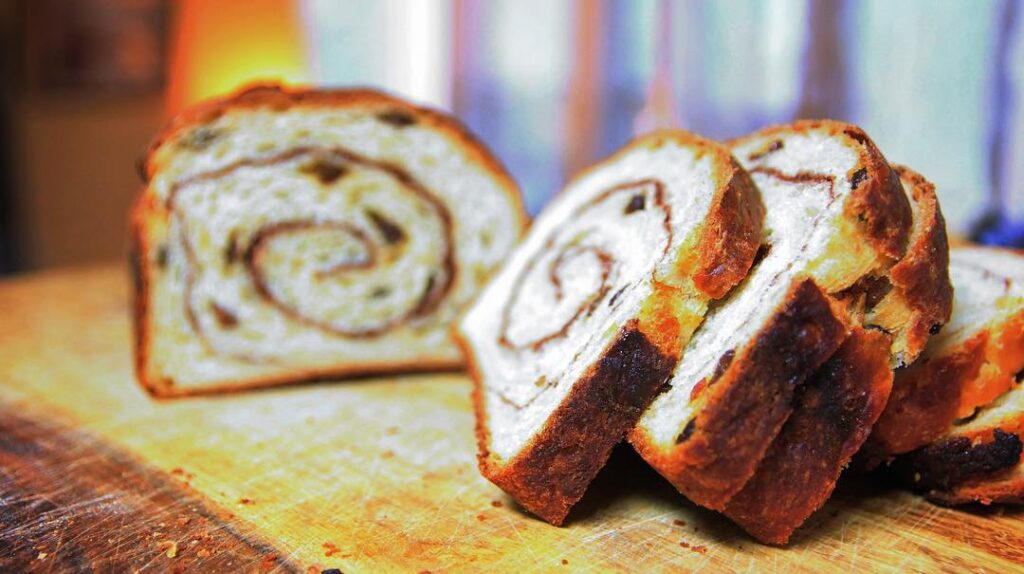 Corey is smoking chicken and ribs for this week and serving them with his wonderful cole slaw. Tomato tart will be on the table at the French Stall and Jerome is also preparing Ratatouille and the amazing Madeleines. Henderson's is not only a great place to find baking (you gotta try the shortbread) and soup mixes but they also offer roasted nuts — almonds, pecans, cashews, peanuts, lightly coated in cinnamon sugar and absolutely perfect for snacking.
The jammin' music of The Farmers' Market String Band will greet you from the gazebo as we slide into Saturday. Get out early, grab your coffee and take a stroll around the market. Lots of eggplant to be found, suitable for slicing, roasting, and topping with a bit of pasta sauce from Jennifer. Ross will be out there with duck meat and it occurs to me that I did not include that recipe last week. Oops! Sorry about that! I did include it this week.
As you stroll around the market, you'll see there are so many things to enjoy. I found some amazing baby corn pickles at Stacey's. She has them pickled with mustard seed, peppercorns, and celery seed —you know, the traditional stuff —but also "burled" in crab boil. Wow! That'll wake up any so-so dish! New to the market Jim's Low-Carb Sweets & Treats. He has some wonderful treats like peanut butter cups and chocolate coconut balls. He also makes a fabulous cauliflower crust. It would really make a nice pizza crust but I found it also makes a great sandwich whether you cut it into "slices" or use it as a wrap! I'll bet it would make amazing "crackers", just cut into small triangles or squares and bake until crisp. Then dip into some of Tessier Gourmet's Spinach Artichoke dip or Abeer's hummus (she will be at the Saturday market) or Norma Jean's walnut pâté or Happy Flour's basil pesto.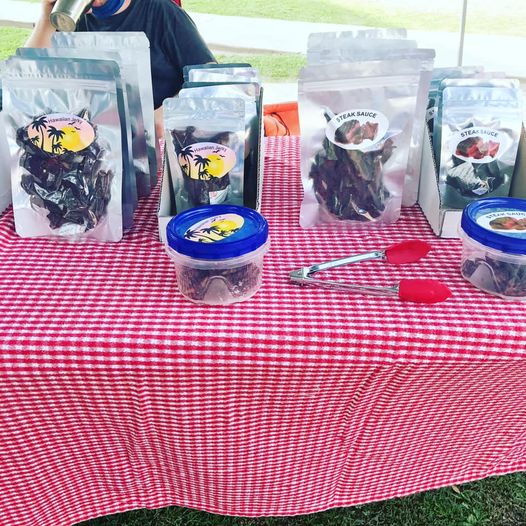 Gerard and Judy (Serenity Lane) have a delightful selection of essential oil blends. They also have some recipes that use a very high quality brand of CBD oil — great for inflammation! While you're over there, grab some sausage or chops or hamburger meat from Jubilee Farms. The weather has been cooling a bit so grilling some green onion or Italian sausage would be a treat! Sittin' outside…sippin' on a bottle of Nancy's kombucha or one of Amanda's fresh juices…sausage/burgers on the grill…some of Nancy's kraut or Aminta's microgreens waiting to top 'em off, sautéed mushrooms (James) on the side…I'm happy! And, for dessert, check out the wonderful pies and cobblers that Althee has been making or some of Rose's sweet pralines. Heaven! So you see, the Covington Farmers' Market is the place you need to be. See ya there!
Lots of love,
Charlene LeJeune
Abundant Life Kitchen
The Covington Farmers' Market is open each Wednesday, rain or shine, from 10 a.m. to 2 p.m. at the Covington Trailhead, 419 N. New Hampshire and every Saturday from 8a.m. to 12p.m. on the side lawn of the Covington Police Station, 609 N. Columbia St. Call (985) 892-1873 for information or visit www.covingtonfarmersmarket.org
Check out our Facebook page – facebook.com/thecovingtonlafarmersmarket
On Instagram — @covingtonlafarmersmarket
Roasted Duck Breast
1 tablespoon olive oil
1.8 lb duck breasts (4 duck breasts)
1/2 teaspoon salt, can use more, to taste
Preheat oven to 400 F.
Score the skin of duck breasts in parallel lines or in criss-cross pattern. Generously season both sides of duck breasts (and especially add more salt to the skin side!) with at least 1/2 tsp salt.
Use a large oven-proof cast iron pan, or use an oven-proof large stainless steel skillet (make sure that the pan you use has an oven-proof handle).
Heat 1 tbsp of olive oil in a large skillet on medium heat until the oil is hot. Add duck breasts to the skillet skin side down.
Cook the duck breasts, uncovered, for about 8 minutes on medium heat on the skin side, until the fat is released. I like to use a splatter screen to keep the oil from splattering (the splatter screen allows the heat to escape). After 8 minutes, remove the duck fat from the skillet, leaving just enough to cover the bottom of the skillet. Turn the duck breasts over to the other side (non-skin side) and cook for 2 more minutes on medium heat.
Place your oven proof skillet (with duck breasts in it) in the oven (preheated to 400 F) and let the duck breasts roast for about 5 minutes, until they are medium rare.
Remove the skillet from the oven (wearing oven-proof gloves to protect your hands, of course), and let the duck breasts rest for about 7 minutes before slicing them.