Covington Farmer's Market weekly e-newsletter provided by Charlene LeJeune
Welcome to Tuesday, friends, and what a wild Tuesday it is! Hurricane…no hurricane…Sally finally made up her mind. Our Wednesday market is still on and Abeer is planning to be there with her fabulous Mediterranean foods. Jerry is also planning to be there with both honey and blueberry spread. If she is able to pull things together quickly, Kandy and her amazing salads, spring rolls, and egg rolls will be there. Unfortunately, I can't be more specific than that since our vendors had no idea what the weather would end up like. Of course, nothing short of a city order stops our Farmers' Market band from tuning up and serving us with great music. Hope to see ya at the market!
Where is a better place to be on a Saturday morning than the Farmers' Market, especially after a storm? I don't know either, but I do know that this Saturday will begin with the delightful tunes of Aden Paul spilling out of the gazebo. So grab your coffee, juice, or 'booch' and a hearty breakfast and spend a little time taking in the wonderfulness that is the Covington Farmers' Market!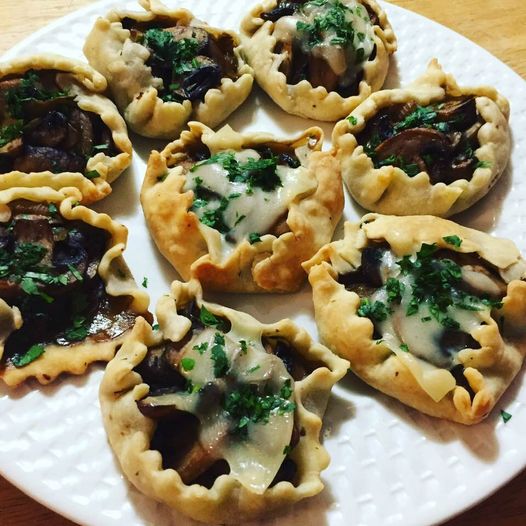 Those amazing veggie pancakes from Meme make a fantastic breakfast. Meme also makes a tangy Kimchi. Jennifer, at Bear Creek Road, has some tasty breakfast options, not to mention sweet treats, butter blends and an amazing assortment of breads and, yes, dinner rolls. Norma Jean's quiches and enchilada pie are legendary and an excellent source of morning nourishment. Althee's pies and quick breads are absolutely fabulous with a hot cuppa joe. You'll find some delicious muffins and apple tarts at Happy Flour and an unbelievable assortment of artisan sourdough breads.
Check out Jubilee Farms for your beef, lamb, and pork. Liz has some lovely roasts, chops, sausages and bone broth. Duck on the menu? Ross is the one to see. He has duck meat and duck products (fat, liver, pate, and maybe even broth).
Eggplant, peppers, and okra are the mainstay of veggies as produce transitions from summer to fall. Nevertheless, there is still lots of delicious to be found. Micah has a wonderful selection of low-sodium jerky. Try any one of his flavors—Teriyaki, Hawaiian, Habanero, Original. Burled Baby Corn, Lemony Cauliflower, Spicy Asparagus and more from Stacey is a most delightful way of enjoying your veggies.
No greens at the market yet? Oh yes, Sam has sprouts and some fresh basil. I know sometimes you look at the bundle and think, "what will I do with all that basil?" While I believe Sam will work with you on bundle size, remember that basil freezes well and would be a great addition to soup or sauce. Just throw a bunch in your food processor and let 'er whirl while drizzling in some olive oil. Then spoon into an old ice cube tray and freeze. Then, pop into a freezer bag and you'll have some for use throughout the winter. Peppers freeze nicely, too, with very little effort. Chop, spread on parchment covered cookie sheet, freeze. After an hour or so in the freezer, you can put them in a ziplock bag and freeze, ready for use through the winter and into the spring. Microgreens, Aminta-style, may be small but will add loads of green nutrition to all your dishes.
Now may just be the time to stock up on some honey. Blood River Honey has been a market favorite for many years has an amazing flavor. Several of our other vendors offer honey as well. Nick has a wonderful honey. And right next door, there is Naturally Well's Elderberry Syrup. There ya go, a fabulous (and tasty) one-two punch for flu season. Serenity Lane also has a raw unfiltered honey along with skin care products that will have you looking and feeling great, inside and out.
No matter what the storms of life bring, we hope that your Covington Farmers' Market can bring a modicum of relief. God bless and keep you!
Lots of love,
Charlene LeJeune
Abundant Life Kitchen
The Covington Farmers' Market is open each Wednesday, rain or shine, from 10 a.m. to 2 p.m. at the Covington Trailhead, 419 N. New Hampshire and every Saturday from 8a.m. to 12p.m. on the side lawn of the Covington Police Station, 609 N. Columbia St. Call (985) 892-1873 for information or visit www.covingtonfarmersmarket.org
Check out our Facebook page – facebook.com/thecovingtonlafarmersmarket
On Instagram — @covingtonlafarmersmarket