Covington Farmers' Market weekly newsletter by Charlene LeJeune: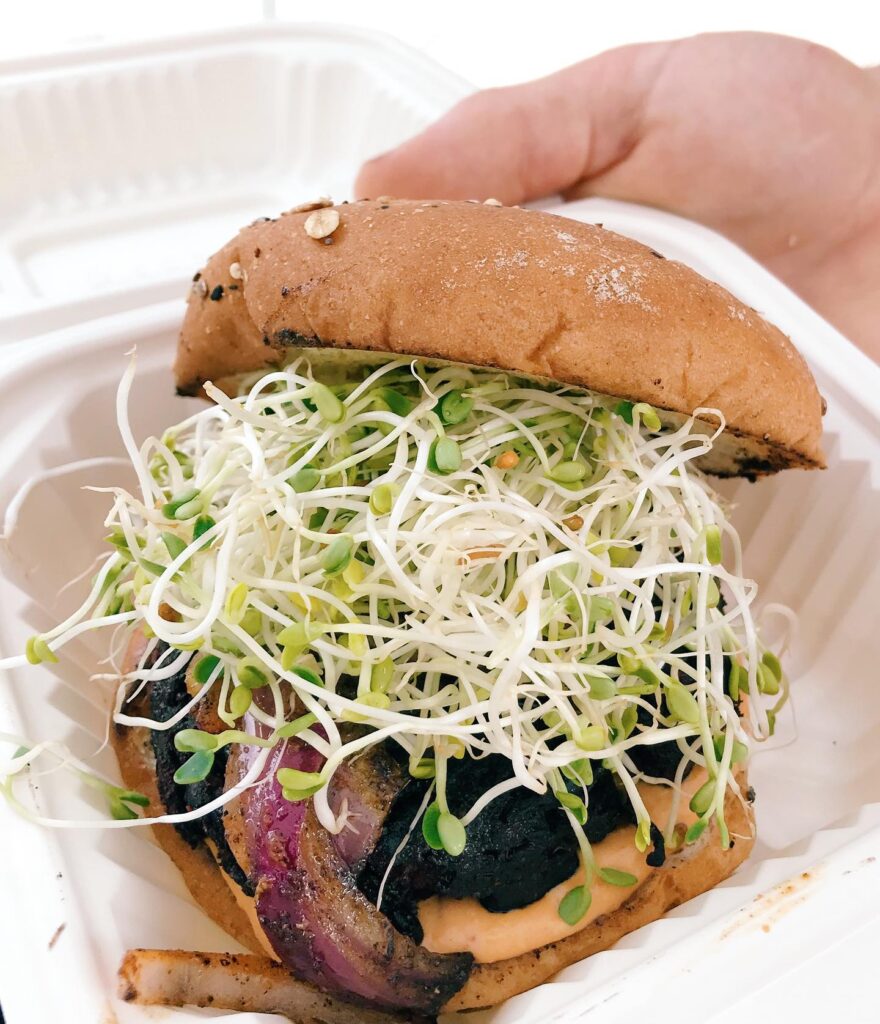 A wonderfully happy Tuesday to you, friends! We are hours away from a bodacious market! Come and enjoy the sweet breezes and fabulous music of our Farmers Market Band who faithfully show up each week to fill our market with song! Joy is back and bringing with her a plethora of fine foods for you to grab 'n go. But if you want a hot meal, she offers chicken burritos or tamales or boudin. Tasty, beautifully spiced, Jordanian foods fill Abeer's table. Don't neglect getting your eggs. The Double K hens have been busy just for you, just like Jerry's bees have been. The honey is flowing sweetly these days. Pho will once again be on Kandy's table. Ahh! Nourishing broth, mung beans, cilantro, noodles, and chicken — doesn't get better than that. Unless, of course, you get the creamy shrimp rolls.
Corey is busy smoking brisket and ribs for tomorrow and he will have more of his delicious cole slaw. Bhakti Farms is back as well. Johnny will be there with Bhakti Bowls (these are soooo delicious) and I'm sure he'll have plenty of photos, too. Have you tried the nuts over at Nut N Better (Henderson Hearth). They are really wonderful, coated in cinnamon sugar with just the right amount of sweetness. Indulge in a bag and then get the shortbread mix from Henderson's. You won't regret it and they are very easy to make. Get a taste of jun or one of Mignon's lovely tonics. Delightful! Jerome is making his 3 cheese quiche again; it must have been a big hit. There's chocolate cake, too, just in case your sweet tooth is calling.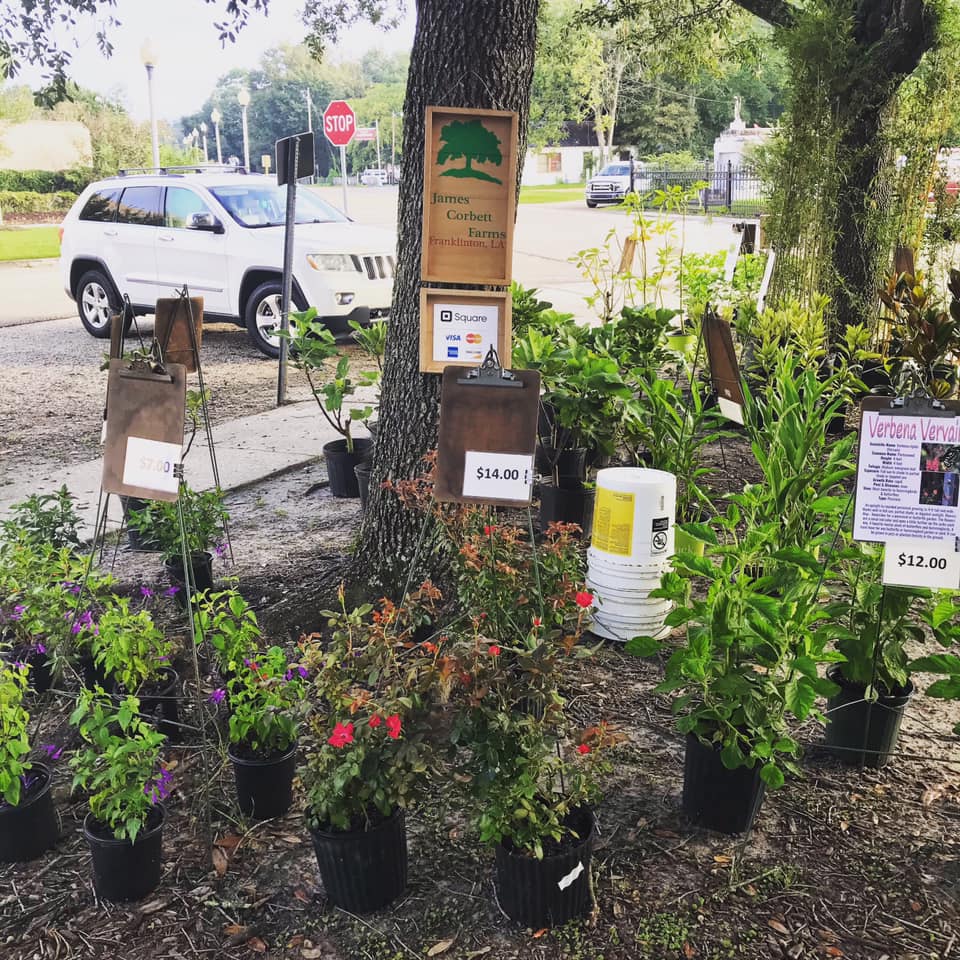 Saturday will soon arrive bringing the Dirty Rain Revelers into the gazebo. Let's hope they don't bring Hurricane Delta with them! I'm just gonna pretend she won't be joining us.
Nick says he will have arugula this week and maybe he'll have persimmons as well. Greg filled his table with pumpkins and honey last week. It is definitely October. I promised a recipe with pumpkin and this one is a doozy — Pumpkin Alfredo! See the recipe below. Now you will have to bake this pumpkin and puree the flesh 'cause you will need 1 cup for the recipe. If you have more, freeze it. This is sure to become a favorite. Remember to pick up some of Aminta's microgreens to sprinkle over the Pumpkin Alfredo just to give it that bit of flair!
Sam has lot of nutritious sprouts on the table and I believe he has ginger! Oh boy! Pumpkin Honey Beer Bread will headline on Jennifer's table but may be pushed out by her fabulous black pepper biscuit with grilled chicken, bacon, and spicy apricot marmalade. Apple Turnovers have been a definite hit at Happy Flour — probably because they are apple-icious! Walnut pate, enchilada pie, brownies, and those amazing quiches are what Norma is serving this week. And, of course, Amanda's fresh juices really hit the spot with delightful flavors like watermelon lime, peach lemonade, or her fabulous mango juice. Or just get one of her fruity popsicles and that will light up your face.
Check out Tessier Gourmet for incredible prepared meals such as Eggplant Parmesan, Chicken Andouille Gumbo, Shepherd's Pie, and more. So delicious, so easy. While you're there grab a bag of Mauricio's amazing vegan divinity or ginger cookies.
Sooo many wonderful things to enjoy. Whatta market! Stay safe, my friends!
Lots of love, 
Charlene LeJeune
Abundant Life Kitchen
The Covington Farmers' Market is open each Wednesday, rain or shine, from 10 a.m. to 2 p.m. at the Covington Trailhead, 419 N. New Hampshire and every Saturday from 8a.m. to 12p.m. on the side lawn of the Covington Police Station, 609 N. Columbia St. Call (985) 892-1873 for information or visit www.covingtonfarmersmarket.org
Check out our Facebook page – facebook.com/thecovingtonlafarmersmarket
On Instagram — @covingtonlafarmersmarket
Pumpkin Alfredo
1 pound fettuccine cooked to al dente, reserve 1 cup of pasta water (check with Jennifer to see what homemade pasta she has)
6 tablespoons butter (Mauthe's, naturally)
2 garlic cloves minced
1 cup pumpkin puree not pie filling (Greg)
1/8 teaspoon nutmeg
2/3 cup half & half (you can substitute Mauthe's heavy cream or you can also make your own half & half with a pint of cream and a pint of whole milk)
1/2 cup freshly grated Parmesan cheese off the block
1 tablespoon fresh chopped parsley (a plant from Alton should do, just leave it in a sunny window or plant it outside your back door for fresh parsley anytime)
Bring a stockpot of water to a boil over high heat. Add a teaspoon of salt to the boiling water, then add fettuccine. Cook until al dente (check package instructions). Reserve about 1 cup of the pasta water.
Meanwhile, melt butter over medium-low heat. Stir in garlic and cook for about a minute, careful not to burn. Stir in half & half, Parmesan, pumpkin and nutmeg. Stir until sauce is heated through and cheese is melted. Stir in pasta water, about 1/4 cup at a time, until sauce is desired consistency (I used about 1/2 a cup, and it was thick and creamy. For a thinner sauce, use more pasta water).
Add pasta and cook over medium-high heat until sauce is smooth and pasta is well coated; about 1-2 minutes.
Divide into bowls and garnish with fresh chopped parsley and fresh grated Parmesan, if desired.