Covington Farmers' Market weekly newsletter by Charlene LeJeune:
Does a day get any better that this, friends? Well, yes, it could be Wednesday and time for a fabulous lunch at the market! Still a bit of chill in the air and a perfect day to bring home Pho from Kandy. All those spices and veggies and chicken in a delightful broth. But wait! You certainly don't want to forget the chicken porridge—breakfast, lunch, dinner. Oh yes! If it's soup you're in the mood for, Joy has a few choices that will knock your socks off! She will also be serving baked trout this week!! A Bhakti Bowl from Johnny will certainly hit the spot — so tasty. It heats up nicely, too, just in case you want to stock up for the week. A choice of quiches from Jerome — spinach and goat cheese or Quiche Lorraine— Oh my goodness, what a lovely day it will be!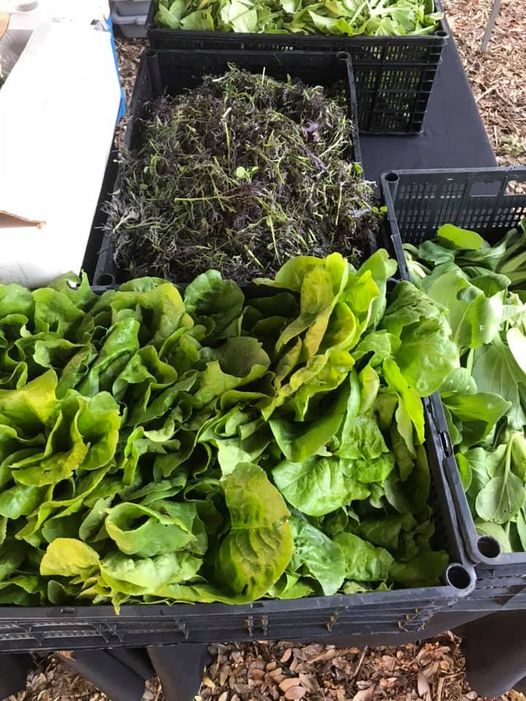 Mr. Houston's garden is blooomin' and he has turnips and green onions, and greens (mustard I think). But any greens are delicious, sautéed with some chopped green onions. Then scramble a Double K egg or two and pour 'em in and cook til done. Now that's a breakfast! Of course you'll need some of Jerry's blueberry jam for your biscuits and don't forget the satsumas. Abeer is making magic with her super hummus and grape leaves. I always bundle these two together 'cause I love to dip my grape leaves into the hummus. Hmmm. I'll bet her meat pies would be especially tasty dipped into some of her creamy tzatziki! Mignon will have more of her Sarsaparilla Tonic this week; great to get that immune system boosted.
The Lucky Dogs will be tuning up in the gazebo this Saturday, so NO SLEEPING IN! Shout out a loud "Mornin' Ed!" since he is part of the band and a hearty, "Howdy, Jose!" since this duo had been tag-team serving (pre-Covid) in the pavilion forever.
Norma has her terrific soups that you've come to know and love plus she always has her amazing breakfast quiches. Now you know that our fabulous bakers (Happy Flour and Bear Creek Road) have a fantastic variety of breads. This is important since bread pairs so wonderfully with lots of meals — soups, stews, a dish of Tessier Gourmet's incredible Eggplant Parmesan or Chicken Andouille Gumbo. It's also really tasty just spread with one of Althee or Stacey perfect jams and jellies drizzled with Blood River raw honey or toasted with scordalia from Vincent & Mauricio.
The veggies are pouring in; the greens they are a-comin'! Natalie boasts broccoli and Brussels sprouts. Sam has baby kale (so nice to chop up and add to any soup, especially if it came from a can.) Nick has his awesome sweet potatoes. I wait for them every fall; they are so flavorful. Gourmet salad mix, Bibb lettuce and fragrant herbs (sage, thyme, rosemary, winter savory, bronzing fennel, parsley, cilantro, and dill) from Northshore Greens, all ready for your holiday cooking. Mr. Houston has turnips, green onions, mustard greens and more. Mushrooms —sautéed, or sliced —they're a holiday treat and James has such a magnificent selection. Mushrooms are not only delicious but offer extraordinary health benefits plus they make a tasty substitute for meat.
Make sure you have your shopping list in order for Thanksgiving. A lovely pork or beef roast or leg of lamb from Jubilee Farms is a nice change of pace from traditional turkey. Duck breast and/or thighs from Ross is certainly a wonderful way to go. I'm not sure but if you talk to him, you may be able to pre-order a whole duck. Remember to pick up your shrimp from Mr. Two (can't make stuffed merliton or eggplant without). Goat cheese from Huckleberry Fred's (just because it spreads so nicely on bread, melts so nicely in casseroles, and just plain tastes delicious!)
Remember your eggs, butter, milk, and cream (can't make cakes and pies without). Of course, if you pre-order pies from Jennifer or Althee or Tessier Gourmet or Mauthe's (I hope I'm not forgetting someone), you won't have to do anything but pick it up. So you really don't want to sleep in. Can't get this in the grocery!
Lots of love, 
Charlene LeJeune
Abundant Life Kitchen
The Covington Farmers' Market is open each Wednesday, rain or shine, from 10 a.m. to 2 p.m. at the Covington Trailhead, 419 N. New Hampshire and every Saturday from 8a.m. to 12p.m. on the side lawn of the Covington Police Station, 609 N. Columbia St. Call (985) 892-1873 for information or visit www.covingtonfarmersmarket.org
Check out our Facebook page – facebook.com/thecovingtonlafarmersmarket
On Instagram — @covingtonlafarmersmarket