Covington Farmers' Market weekly newsletter by Charlene LeJeune:
Greetings of the season to you, friends! After a frenetic holiday week, it's time for a break and possibly some of Mignon's 7 flower herbal tonic. The day will be cool and crisp but lunch at the market is calling. The band will be there and so will lot of good food. Jerome will have his signature Ratatouille on Wednesday and is bringing back his fabulous sweet potato and carrot soup. And it won't matter if it's a bit nippy, Kandy has the cure in the form of chicken porridge. If you haven't had it yet, do yourself a favor and try it. Besides being absolutely delicious, it's the ideal comfort food for breakfast, lunch, or dinner. Talking about comfort, can you say "chicken n dumplins'"? Joy is preparing this iconic comfort food especially for our Wednesday market.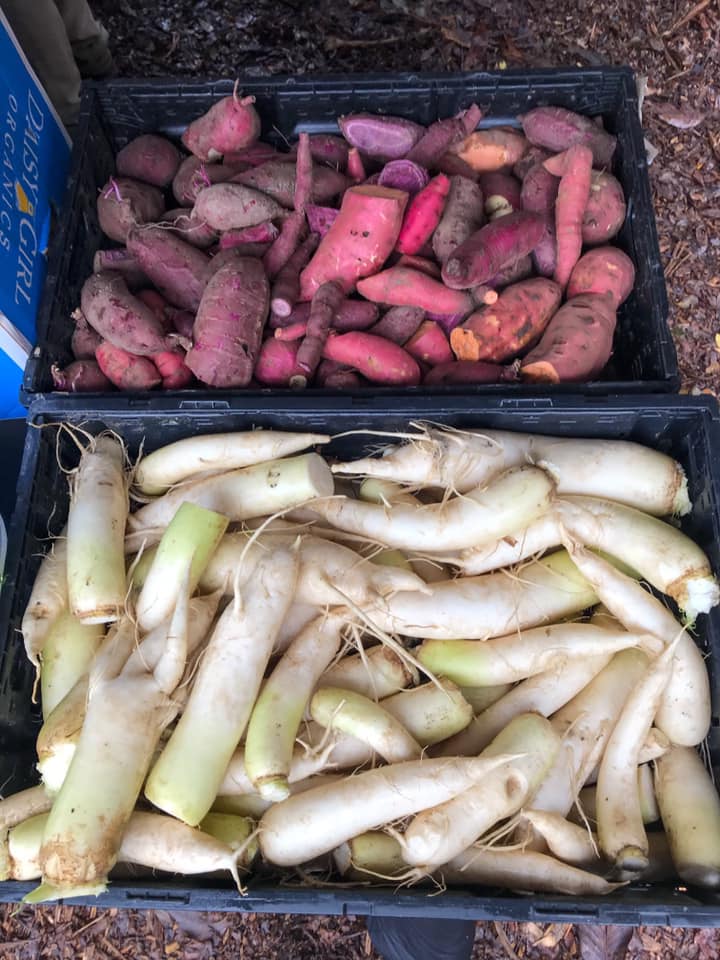 Eggplant Moussaka is on the menu at Abeer's and she is having baklava as well. Boy, this really is a week of comfort foods all designed to reduce the tension of holiday shopping and parties. Johnny will also be there with his mushroom burger and his Bhakti burger —always delicious. After a short hiatus, Corey is back with brisket and pulled pork sandwiches served with German style potato salad. Why go anywhere else?
Kristen will have eggs which are an absolute necessity in my humble opinion. And so is the sweet nectar of the bees from Jerry (and maybe even that fabulous blueberry jam he makes.) Whatta day! What a day!
We'll be having another fabulous day on Saturday, so why not join us and make sure you get all your holiday orders in! It'll be a great morning with the Jayna Morgan Holiday Jazz Duo swirling out jazzy melodies from the gazebo. Mr. Pete will be roasting chestnuts and our vendors will be all around—nothing says holiday like family and friends!
Fresh produce—that's what we come to the market for. Collards, kale, broccoli, cauliflower, radishes (oh so delicious when roasted), cherry tomatoes, arugula, eggplant, pumpkins, and sweet potatoes means something to fit everyones' tastes. You'll also find satsumas, grapefruit, navel oranges, and strawberries. A monkey pine wreath from Cleckler's will last until Christmas and beyond and smells amazing!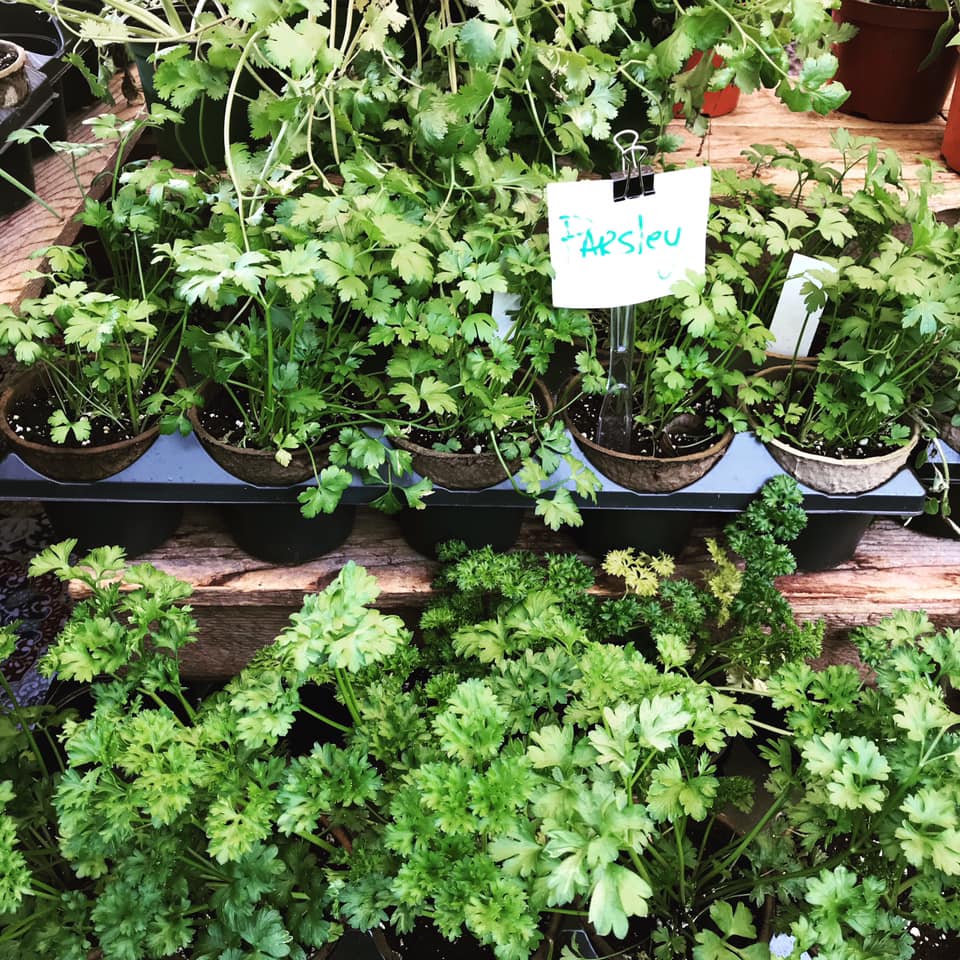 I have a recipe for eggplant toast with goat cheese that sounds phenomenal! You'll need a basket of mini eggplant from Nick, cut in 1/2 inch (1.25cm) thick slices, lengthwise, a half cup of goat cheese (any of Huckleberry Fred's savory blends will work), 1/3 cup chopped pecans (from Cleckler's naturally), 4-5 fresh thyme sprigs (Northshore Greens), salt and pepper, and a little olive oil for drizzling.
Place the eggplant slices in a strainer and toss with ½ tbsp salt. Let drain for 1 hour. After an hour, rinse off the eggplant slices and pat dry with paper towels. Preheat your oven to 400F with a rack in the middle. In a large frying pan, heat up the olive oil over medium heat. Cook the eggplant slices until soft and golden, about 3 minutes on each side. Then arrange them on a baking sheet lined with parchment paper. Season with salt and pepper. Sprinkle the goat cheese and chopped pecans evenly onto the eggplant slices. Top with a sprinkle of fresh thyme. Drizzle some olive oil over everything and bake until golden, about 12-13 minutes. For a little variety, try slicing tomatoes and/or chopping kale or parsley or Aminta's microgreens to put over the eggplant before you add the goat cheese.
Of course, Amanda is there with those lovely juice blends —Satsuma Orange, Ginger Lemonade, and a delightful Strawberry, Pineapple, Orange. Nancy offers kefir and kombucha, both powerhouses of probiotics and nutrition. And, to go with your juice, kombucha, or kefir or a tasty chocolate milk from Mauthe's, Bhakti Farms has a breakfast sandwich!! Johnny grills gluten-free English muffin in ghee, then tops it with a farm fresh over-easy egg, and avocado and a very satisfied smile.
The Covington Farmers' Market is a special place to be on any morning. We plan to be there…will you?
Lots of love, 
Charlene LeJeune
Abundant Life Kitchen
The Covington Farmers' Market is open each Wednesday, rain or shine, from 10 a.m. to 2 p.m. at the Covington Trailhead, 419 N. New Hampshire and every Saturday from 8a.m. to 12p.m. on the side lawn of the Covington Police Station, 609 N. Columbia St. Call (985) 892-1873 for information or visit www.covingtonfarmersmarket.org
Check out our Facebook page – facebook.com/thecovingtonlafarmersmarket
On Instagram — @covingtonlafarmersmarket