Covington Farmers' Market weekly newsletter by Charlene LeJeune:
Almost happy Wednesday, friends. That's right! Wednesday is just a ring ting tingle away and we'd be pleased to have you join us for lunch. Abeer is planning to have Ouzi, that scrumptious pastry filled with rice, ground beef, peas, carrots, almonds and pine nuts — and baklava! Fabulous pho is on Kandy's table and that will warm your insides and have you feeling all jovial inside. And then, there's her chicken porridge. Yep, I feeling real perky already! Chili is on Joy's menu for tomorrow and she'll have steamed broccoli and bread pudding to enjoy with that.
A jar of raw clover honey, fresh from Jerry's bees will make a wonderful teacher's gift, unless of course your child's teacher is a computer — then you're off the hook. Just enjoy that honey yourself. Can't go wrong with a mushroom burger from Bhakti Farms. Johnny just makes it amazing. Jerome will have his creamy quiches tomorrow. I usually opt for the Quiche Lorraine since I'm not a big fan of spinach. I bring it home usually for lunch on Thursday and it heats up beautifully. Remember your eggs from Double K; those little hens are working hard to fulfill the demand. Mr. Houston had carrots on Saturday. They are so delicious sprinkled with some chopped green onion and then roasted in a little butter.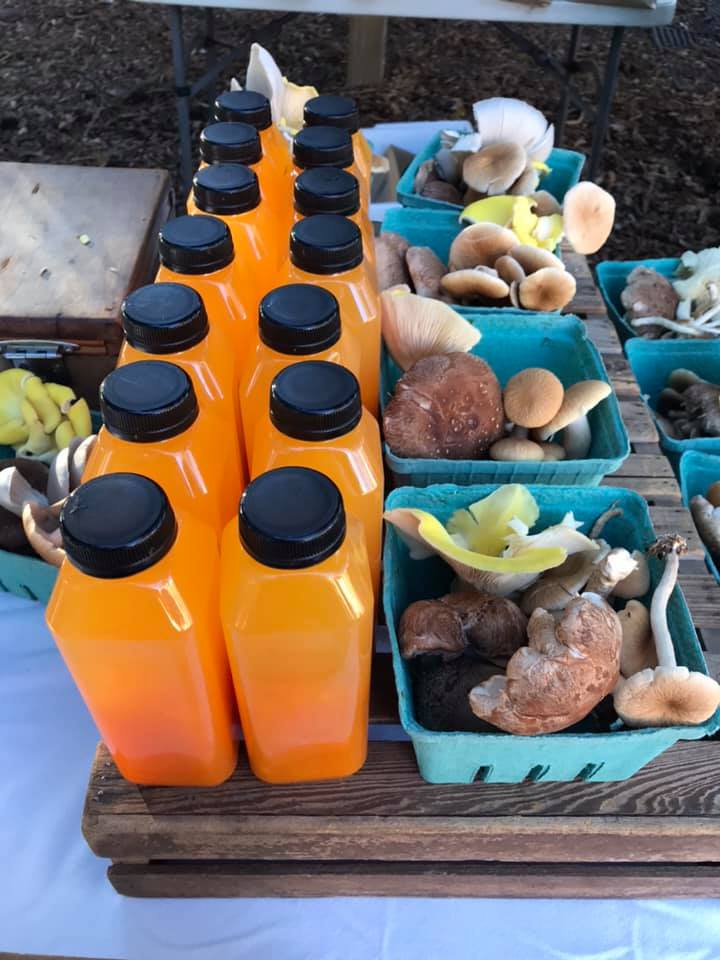 Here comes Saturday. Here comes Saturday Right down "Farmers' Market Lane." We're gonna bring you lot-sa goodness starting from the gazebo. Okay so that really doesn't rhyme but with Chris Talley and the Three Rivers Cooperative dashing out tunes, it will still be a merry day! So grab your coffee from the pavilion, give Kayleigh a big smile, and see what the market has to offer.
So by now you've got all your Christmas shopping done, right? NO??!! Well, then stop by Serenity Lane. Judy and Gerard have fantastic skin care products plus they have brought back their Cleopatra's Spa Treatment set, luxurious bath salts, and the Tub Teas, especially for gift giving. Their lip balms, hand and foot creams, make fabulous stocking stuffers. Credo Farms' elegant handmade soaps are beautifully wrapped for gift giving. Remember, she'll have chicken, too, and a marvelous Mineral Seasoning made with kelp, oregano, thyme, basil and several other spices.
A gift of golden raw honey from Blood River Honey or Nick is always much appreciated. Barbara's gorgeous monkey pine wreaths make a fabulous gift (even for yourself) and while you're there, indulge in a bag of whoppin' fat pecans. (Psst, they make a nice gift, too.)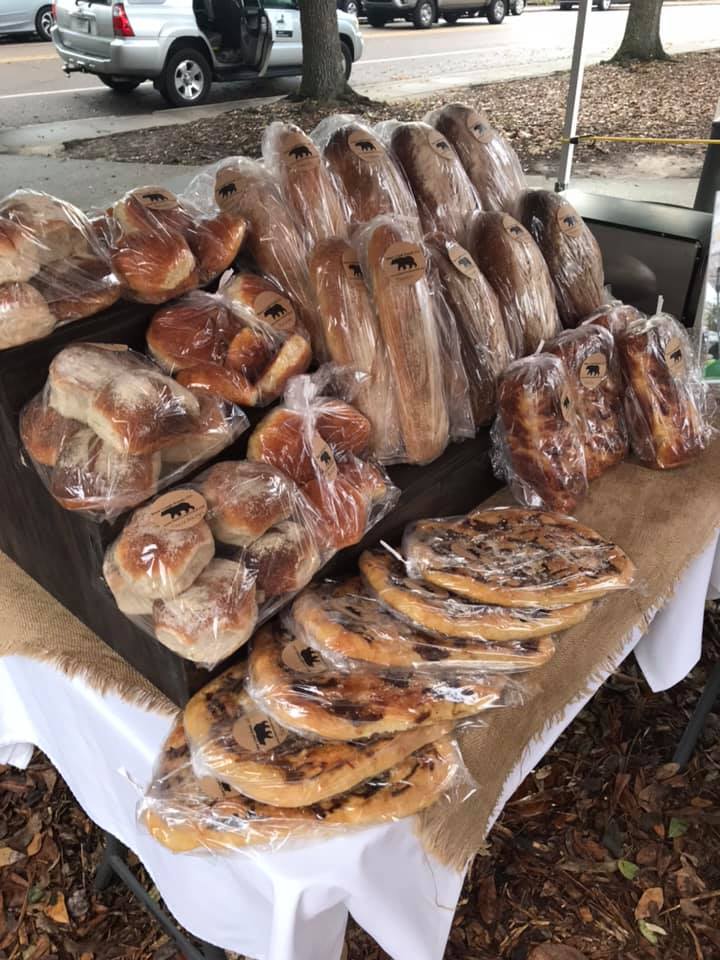 Can you imagine how delighted you would be to receive Happy Flour's shortbread cookies from Madeleine and Patrick? It's a gift that's sure to make you teacher's pet or mommy's favorite. Jennifer is making Stollen for the holiday season. It's a delicious holiday bread made with raisins, candied orange & lemon peel, and tasty spices. She has even created gift boxes with Christmas cookies and cocoa bombs! You'll be a friend for life after giving a package of 3 J's jerky. They have a delicious assortment of flavors. You won't need to bribe your four legged friends to love you, but why not treat them to a package of Tiger Bait jerky (not recommended for human consumption)?
We'll have more than just fabulous gifts; we'll have fabulous foods. Gorgeous fresh fruits and veggies in every corner of our market — greens, salad mixes, eggplant, cabbage, broccoli, cauliflower, and carrots, strawberries, oranges, satsumas, grapefruit and mushrooms. James even has satsuma juice! Jubilee Farms will have their wonderful sausages, including a smoked chorizo. Kefir, kombucha, sauerkraut, and more will be on Nancy's table. There will be delightful goat cheese blends at Huckleberry Fred's. Eggs available at Double K and Jubilee Farms. We're just jam-packed with great gift ideas…great food…great music…great people – yourself included! Join us; it wouldn't be the same without you!
Lots of love, 
Charlene LeJeune
Abundant Life Kitchen
The Covington Farmers' Market is open each Wednesday, rain or shine, from 10 a.m. to 2 p.m. at the Covington Trailhead, 419 N. New Hampshire and every Saturday from 8a.m. to 12p.m. on the side lawn of the Covington Police Station, 609 N. Columbia St. Call (985) 892-1873 for information or visit www.covingtonfarmersmarket.org
Check out our Facebook page – facebook.com/thecovingtonlafarmersmarket
On Instagram — @covingtonlafarmersmarket