from Covington Rotary Club: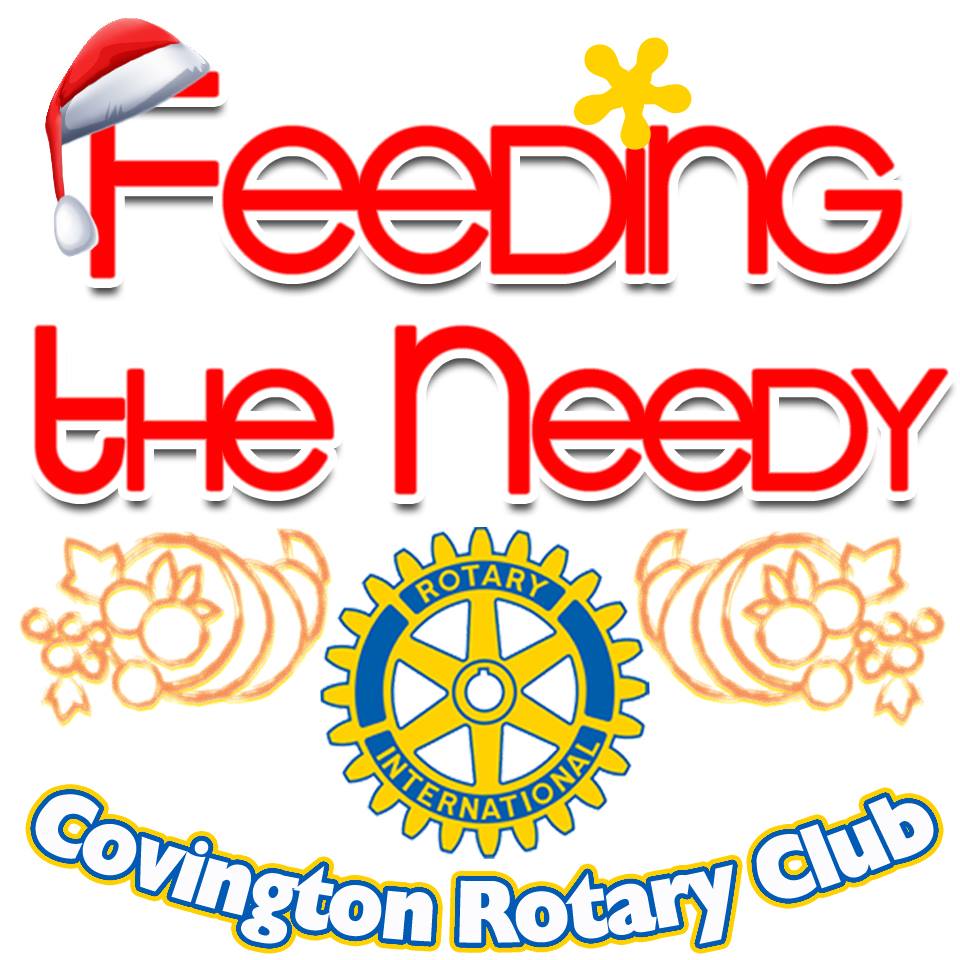 About Feeding The Needy
Feeding the Needy was founded in 2002 by John Baldwin and Craig Babylon to provide food on Christmas day for families in need on the Northshore. John and Craig shared the idea with Deacon Skip Graffinini, who was the executive director of The Covington Food Bank, which is now The Northshore Food Bank, and learned that The Food Bank was servicing sixty to sixty-five families at that time. A decision was made to move forward, and the project was named "Feeding the Needy". The Covington Rotary Club was approached for support and special focus was put on providing food for the school children who, during the holidays, do not receive the meals they receive at school and depend on as their main source of nutrition.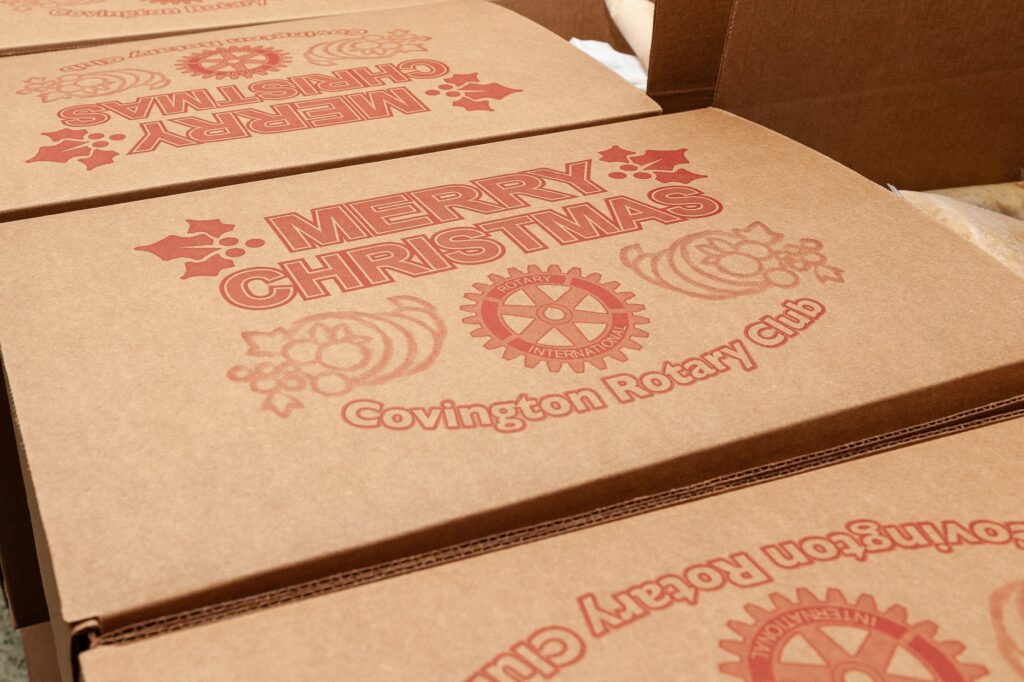 Each year on December 23 and 24, volunteers from all over the area come together to prepare Christmas boxes that include a 14-to-16-pound cooked turkey with numerous side dishes and dessert.  Each box has enough food to feed a family of four to five with larger families receiving additional boxes. Deliveries are made to families throughout the Northshore area including St. Tammany, Washington, and Tangipahoa parishes. On Christmas morning, Rotarians and other community volunteers hand deliver the boxes to the homes of the identified families. Each family only needs to heat the food and it is ready to serve as a substantial Christmas Day meal and have leftovers to help on the days leading up to school reopening.
This year, due to COVID things will be a little different for FTN. We will have fewer volunteer opportunities and will be offering pick up locations instead of home deliveries.
Meal Pick Up Locations –
First Come, First Served Basis
Franklinton
Saturday, December 19th
9am – 12 pm
East Fairgrounds
Behind Rodeo Arena
Bogalusa
Saturday, December 19th
1pm – 4pm
Northshore Charter School
111 Walker Street, Bogalusa
Covington
Tuesday, December 22nd
9:30am- 2:30pm
St. Tammany Parish Fairgrounds
1304 N. Columbia Street, Covington
Monetary Donations
FTN relies heavily on financial donations. Because of the support from so many generous volunteers and strong partnerships, FTN is able to operate with minimal administrative costs.  Donations for FTN are accepted year-round and can be made below.
To Mail a Check: Checks can be made payable to The Covington Rotary Foundation, which is a 501(c)3 foundation with the corresponding tax status. Please mail checks to The Covington Rotary Club, PO Box 541 Covington, LA 70433.   Checks can also be dropped off at Baldwin Motors, 1730 N Hwy 190, in Covington.
To Donate On-line: CLICK HERE to make an online donation.
Please read the message below from our Chairman and Fundraising Coordinator: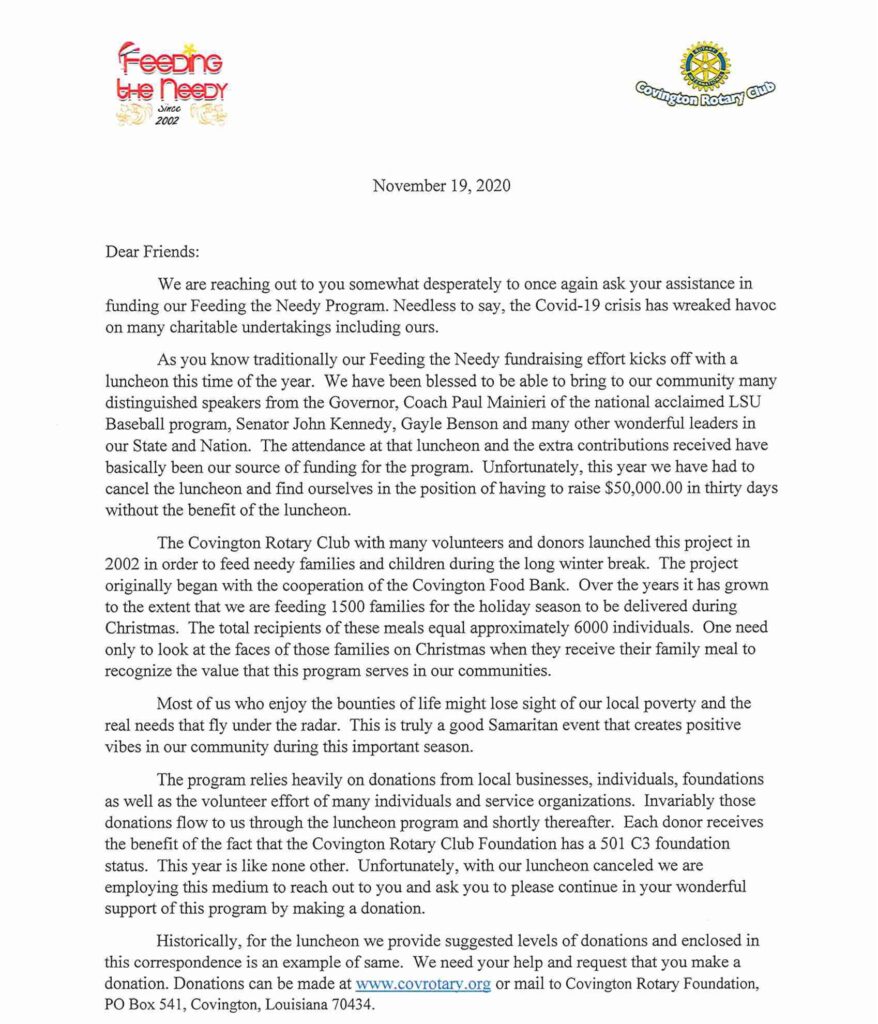 Volunteers  
Unfortunately, we will not be utilizing community volunteers this year due to COVID. If you have any questions, please contact Jill via email at jilly2134@gmail.com or by phone at 985-502-6575.  
Learn more at the Covington Rotary Club website.