Covington Farmers' Market weekly newsletter by Charlene LeJeune: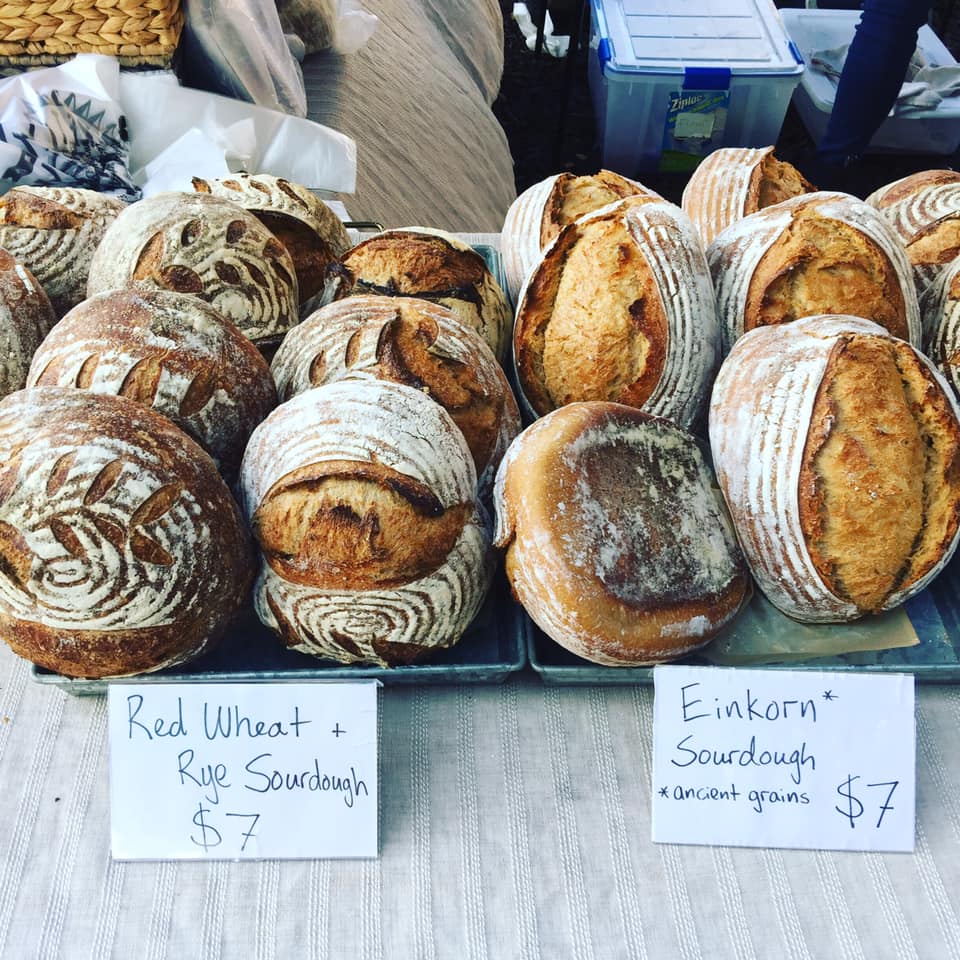 Glad tidings of great joy, friends! Are you all ready for the big day? Presents all (or mostly) purchased or made? Are they all wrapped, or is waiting until Christmas Eve to wrap a family tradition? One thing you won't need to worry about is what's for lunch. Probably a good idea to grab extras and give yourself extra time shopping. Joy is preparing tasty Stuffed Chicken Breast for tomorrow. She'll also have her delicious Grab N Goes which are perfect to take home. They are frozen; just defrost and serve, or keep frozen for another time you are just too pooped to cook. Abeer will have Baba Ghanoush this week, such a lovely dip for parties as does her hummus. She'll also have Green Bean Moussaka. Bhakti Farms has several amazing choices — mushroom burger and the every-popular beet & black bean burger and their Bhakti Bowls are wonderful!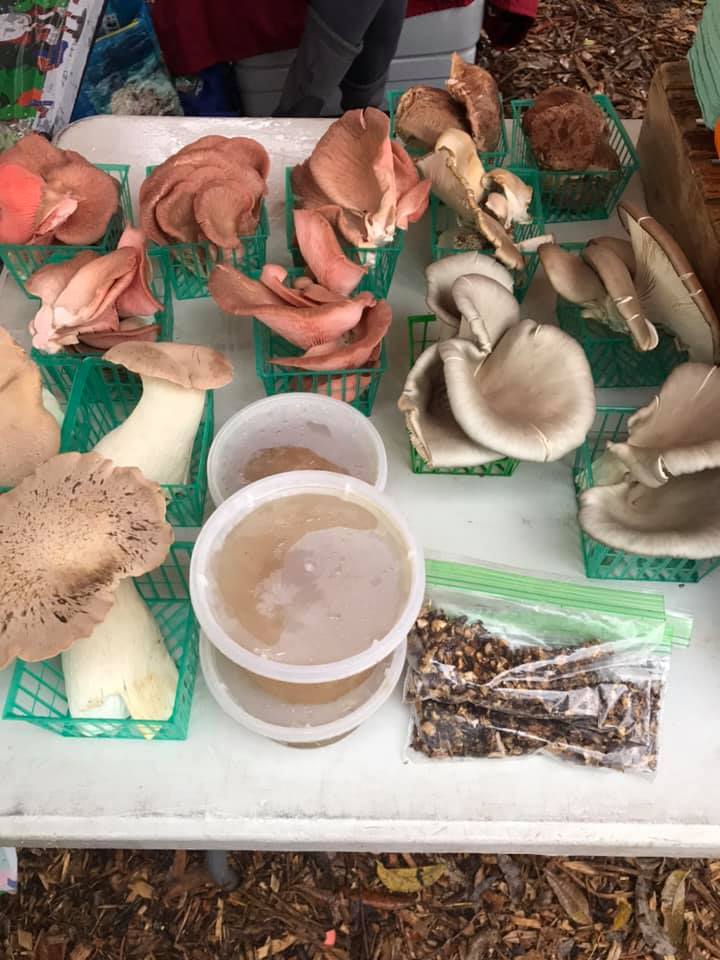 Do not forget eggs from Kristen. I find I always need extra around the holidays for baking and special meals. Sweet, raw honey from Jerry makes a lovely gift, especially if the receiver is yourself. Perfect on pancakes, biscuits, toast, corn muffins… Check out Golden Light's goodies for the week. Mignon has some fabulous tonics to help your immune system through the season. She has made some beautiful beeswax (locally sourced) candles.
Before you know it, though, it will be the day after and the market will be open. Michaela Lauer's sweet voice drifts from the gazebo bringing joy to the world! So begin at the pavilion with a warm cup of coffee, then make your way around the market. We have so many wonderful vendors with fabulous products. Of course, the place to start is breakfast. Meme's veggie pancakes have always been a market favorite. Norma's amazing quiches are delicious as are her brownies!! (Yes! Brownies do make a wonderful breakfast!)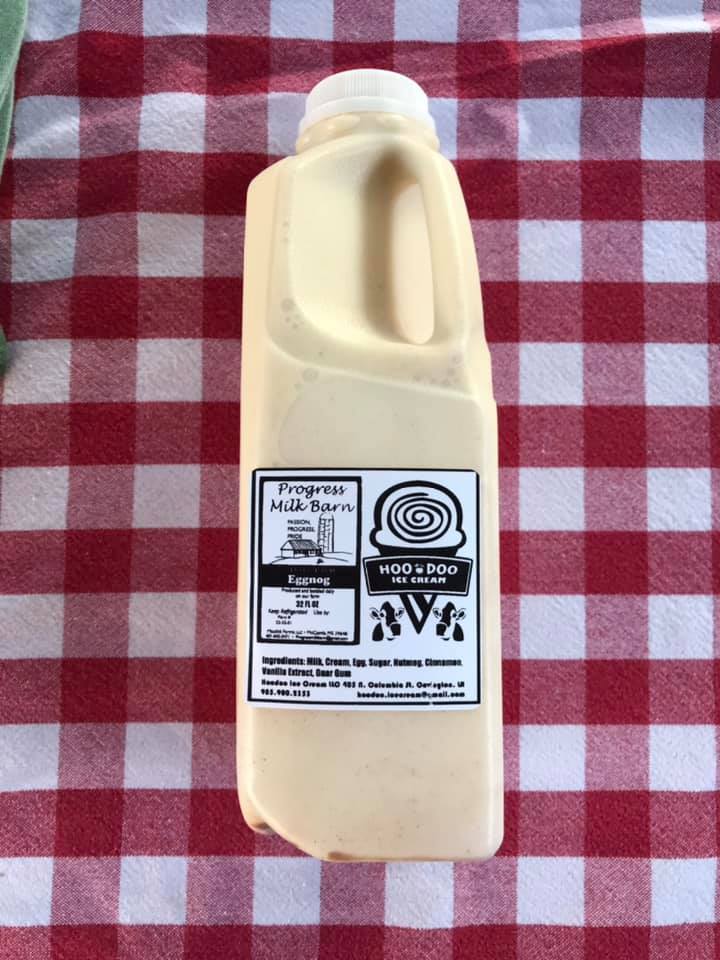 Veggies abound — kale, lettuces, broccoli, Brussels sprouts, cauliflower, sweet potatoes — Oh, the joys of the season! The strawberries are sooo sweet this year. Wouldn't they make a tasty addition to your holiday fare? Mauthe's had egg nog last week and I'm hoping they will again this week. It was born of a collaboration with Billy, of HooDoo Ice Cream fame, so you know it's gotta be good.
As I said, lotsa great offerings on our vendors' tables. Good time to get your sweets and treats for game days (and there are many of them) and the upcoming New Year celebration. It's been a difficult year, friends, and we thank you for your consistent patronage. I hope that our market has brought some measure of comfort throughout this year. I pray that the blessings of this season follow you into the new year. Hopefully, you will join us.
Lots of love, 
Charlene LeJeune
Abundant Life Kitchen
The Covington Farmers' Market is open each Wednesday, rain or shine, from 10 a.m. to 2 p.m. at the Covington Trailhead, 419 N. New Hampshire and every Saturday from 8a.m. to 12p.m. on the side lawn of the Covington Police Station, 609 N. Columbia St. Call (985) 892-1873 for information or visit www.covingtonfarmersmarket.org
Check out our Facebook page – facebook.com/thecovingtonlafarmersmarket
On Instagram — @covingtonlafarmersmarket