Covington Farmers' Market weekly newsletter by Charlene LeJeune:
Heartfelt salutations, dear friends! Market Day is almost upon us…you can feel that tingling way down in your toes as you consider the lunch possibilities. First, you'll need your Double K eggs. Those hens are really so diligent in keeping us supplied. Hopefully, Jerry will have satsumas and he always has rich, sweet honey! Croque Monsieur is on Jerome's menu— a delicious grilled sandwich with ham, a sauce made with gruyere cheese and more cheese. oooh! la! la! Apricot cake, too! Welcome back, Abeer! Now we can enjoy her delicious hummus and baklava again. She'll have both green bean and eggplant moussaka as well.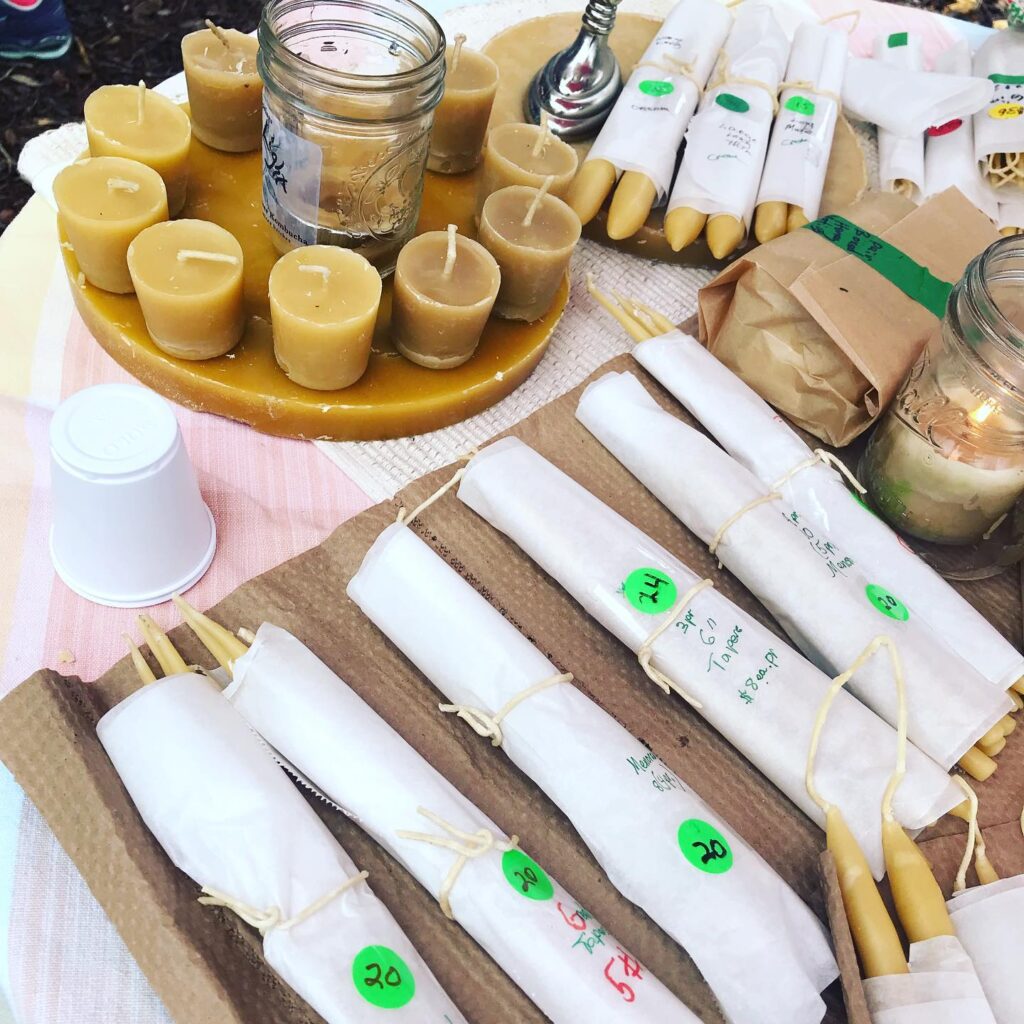 Tomorrow may just be the time for you to try Johnny's veggie Bhakti Bowl, a truly delicious, warming bowl with rice and squash and flavor, lots of flavor. Mignon will have her fabulous "chics" and jun. Her handmade beeswax candles are fast becoming quite the item around the market. Chicken pasta, empanadas, and boudin balls are the stars on Joy's table. Kandy's salads are always a treat and it's hard to choose just one but the good thing is that they are just as good the next day. So, while you may not be able to decide what's for lunch on Wednesday, you can can enjoy any of these lunches on Thursday or Friday and they make great suppers, too!
Last Chance Bluegrass Band will be coming to you from the gazebo as Saturday marches in! So grab yourself a hot cuppa coffee (or tea) from the pavilion to enjoy while you're making groceries. Huckleberry Fred's will be there every other week for the next month or so. They will be there this week and along with goat milk and cheese blends. Plus, they are now offering yellow grits and cornmeal (ground with their own little hands, I think). Cow's milk is available each week from Mauthe's. You'll also find buttermilk, heavy cream and, Mr. Wonderful's and the grandkids favorite, chocolate milk.
Credo Farms will be at the market on Saturday so you can stock up on chicken or even try some of her lovely fragranced, homemade soaps. She's generally there on the 2nd and 4th weeks each month. And right next door is James of the amazing mushrooms fame. These are not the little button mushrooms available in any grocery store, these are gourmet types like Lion's Mane, Chestnut, Oyster, Shiitake, jam packed with micronutrients!
Sweet potatoes are soooo delicious but most of the recipes you find are filled with sugar. Why not try something different, like Garlic Parmesan Sweet Potatoes. What you'll need is a container of sweet potatoes (Nick). This will work with any of the varieties that he has. Peel and cut them into similarly sized pieces or slice them. In a bowl, combine 2 tbsp melted butter (Mauthe's), 1 tbsp olive oil, 2 tsp minced garlic, 4 tbsp grated Parmesan cheese, 1/2 tsp Italian seasoning, and a bit of fresh thyme (Northshore Greens). Add your sweet potatoes and toss to coat. Bake at 400F for 30-35 minutes. Enjoy! Hmmm. That recipe may work just as well with cauliflower or broccoli (Ken, Eddie).
I noticed that Sam had lots of daikon radish last week so I went searching for recipes and came across Daikon Radish Pancakes. Whaaat! Yes, you heard me right and they sound so delicious and a lovely accompaniment to any meal or (if you make them a little smaller) the perfect hor d'oeuvre. You'll need 1 cup grated daikon (squeezed dry), 1/2 cup all-purpose flour, 1/4 cup room temp water, 2 tbsp black sesame seeds, pinch white pepper, 1/2 tsp salt and 1 green onion (Ken, Eddie). For the complete recipe, see below.
Johnadale has plenty of strawberries. I'd try to find a recipe but, let's face it, they really don't last long enough to make it into a recipe since they are delightful without any fanfare. But if you wanted to enjoy your berries in a "recipe" stroll on over to Succotash Ferments. Nancy makes an exquisite kefir with them.
Stay a while, enjoy the music, shop around to find something different; we've got pralines, we've got sprouts and mircogreens, we've got jams and jellies; we've got honey, we've got divinity; we've got amazing pickled veggies; we've even got chewy puppy treats! Don't even think about sleeping in!
Lots of love,
Charlene LeJeune
Abundant Life Kitchen
The Covington Farmers' Market is open each Wednesday, rain or shine, from 10 a.m. to 2 p.m. at the Covington Trailhead, 419 N. New Hampshire and every Saturday from 8a.m. to 12p.m. on the side lawn of the Covington Police Station, 609 N. Columbia St. Call (985) 892-1873 for information or visit www.covingtonfarmersmarket.org
Check out our Facebook page – facebook.com/thecovingtonlafarmersmarket
On Instagram — @covingtonlafarmersmarket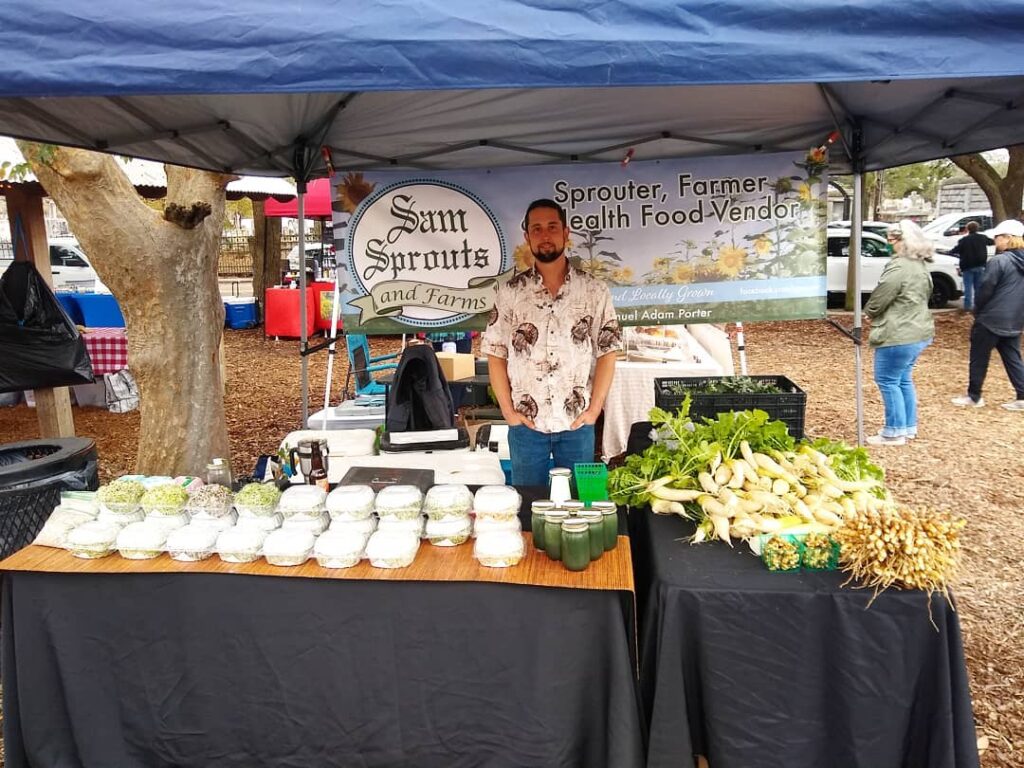 Daikon Radish Pancakes
Pancakes
1 cup daikon radish, grated and squeezed dry
1/2 cup all-purpose flour
1/4 cup room temp water
2 tablespoons black sesame seeds
1 pinch white pepper
1/2 tsp salt, for drawing out moisture
1 scallion, chopped (optional)
Dipping Sauce
1 tablespoon soy sauce 
1 teaspoon wasabi 
DIRECTIONS
Prepare the Daikon Radish. You will need around 400 grams (14 oz or just under a pound) of raw, unpeeled Daikon radish for this recipe. Start by peeling the radish, then finely grate it with a grater or finely chop it with a knife. Add the salt, mix well to combine, and let stand for 15 minutes. After 15 minutes, take handfuls of the grated daikon and squeeze out as much liquid as possible; transfer the squeezed daikon into another bowl.
Prepare the Batter. Add the all purpose flour in two batches, stirring in between additions. Follow that with room temperature water and mix well until a batter forms.
Fry the Pancakes. In a non-stick pan, heat up a touch of oil on medium-high heat. Once the pan is hot, spoon the batter on and shape them into round disks. Sprinkle on some black sesame seeds on the uncooked side of each pancake, and when the bottom becomes golden-brown, carefully flip them and fry until both sides are golden-brown. Remove them from the pan and let drain on a paper towel.
Prepare the sauce. Make the sauce by simply mixing soy sauce and wasabi.