From St. Tammany Parish Government: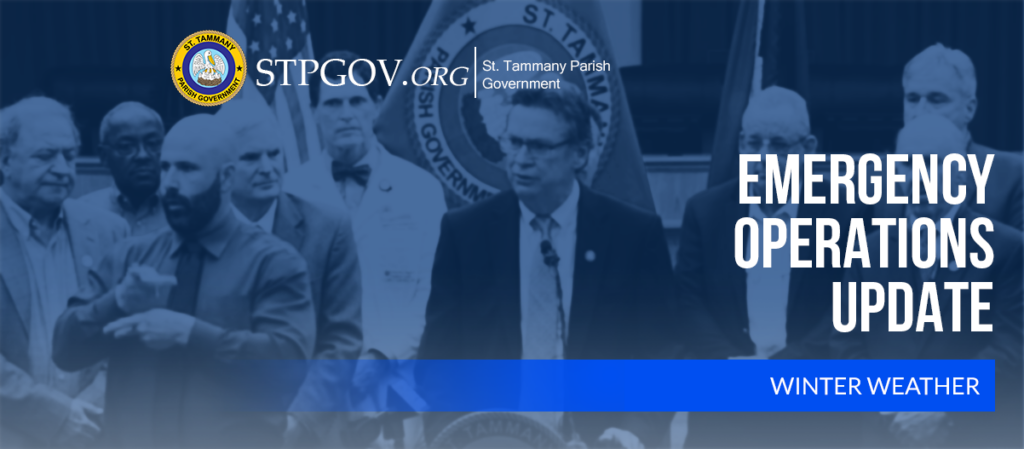 With predictions from the National Weather Service of sustained freezing temperatures early next week, St. Tammany Parish Government has instituted its severe cold weather protocol.
"Citizens should prepare now for freezing temperatures early next week. Plan to protect your pets, pipes and plants, and ensure elderly neighbors and family members have a safe and effective way to heat their homes," said Mike Cooper, St. Tammany Parish President. "Citizens should stay tuned to local weather and monitor road conditions as the temperatures drop."
The National Weather Service forecast indicates the coldest temperatures in our region will occur early Tuesday and could drop into the low twenties. Wintry precipitation remains in the forecast for late Sunday for areas in the state north of St. Tammany, but forecasters remain uncertain as to whether or not it will reach our area.
The Office of Homeland Security and Emergency Preparedness is in close contact with the National Weather Service and is continuing to monitor the situation. Tammany Utilities advises that in the event of a Hard Freeze Warning, all residents should take the necessary precautions, like wrapping their pipes to prevent pipes from freezing and potentially bursting. The Parish's Department of Public Works has placed designated employees on notice for activation if the weather dictates, and it becomes necessary to prep roads for freezing conditions.
Residents with elderly individuals in their families are asked to make certain they have a safe and effective way to heat their residences. Residents who know of at-risk families or neighbors that could fall victim to severe cold weather should plan to check on them during the duration of the predicted winter weather to confirm their safety.
The Department of Animal Services asks pet and livestock owners to take precautions to safeguard the wellbeing of animals in their care, including bringing pets indoors and preventing water sources from freezing over for livestock.