Covington Farmers' Market weekly newsletter by vendor Charlene LeJeune:
Hope you're staying dry today, friends! Tomorrow promises to be much better and a trip to the market is the medicine of the day. Unfortunately, Eddie will not be there for the next month or so because he is busy planting a spring crop for us. Don't quote me on this, but I believe squash and zucchini will be on the table soon. Remember to get your eggs from Kristen and honey from Jerry. Last week he had creamed honey, both plain and cinnamon and perfectly spreadable on your biscuits or toast or pancakes, etc. Joy is bringing back her Salmon Plate from last week and boy, did that look delicious! She'll also have bread pudding and crunchy boudin balls. Abeer is preparing Ouzi this week but you may want to also grab some green bean Moussaka or Mujadara for later in the week.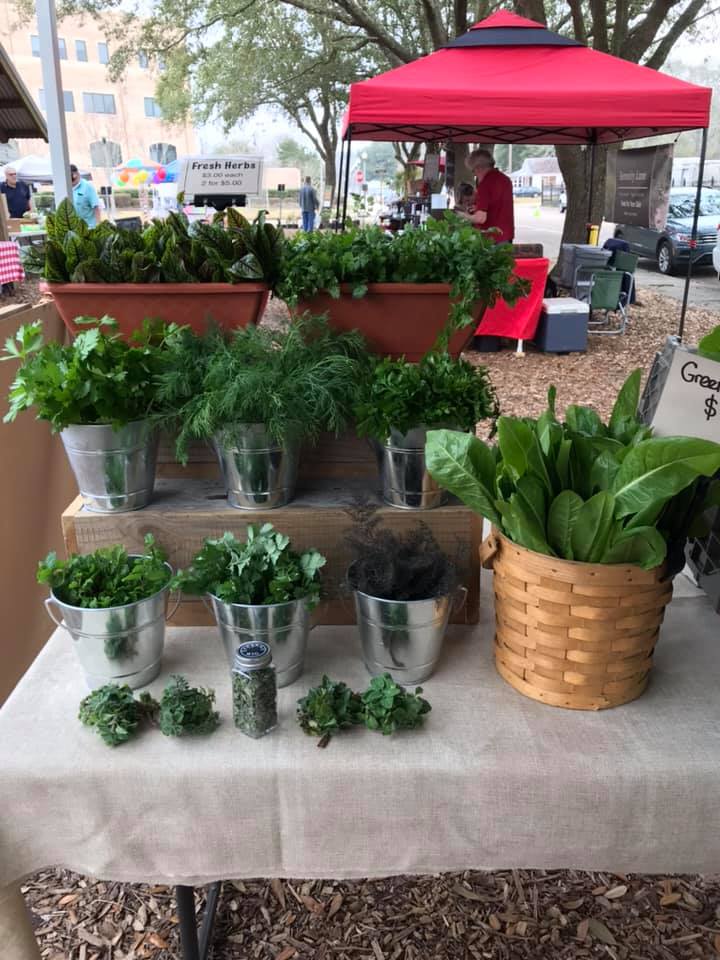 Kandy is whipping up some of her amazing cream cheese and shrimp rolls — oh, man, those are so good. Her delightful, refreshing salads are always on the menu. Aside from the lovely mushroom or beet & bean burgers Johnny fixes, he also has Chickpea Salad and a Ginger Quinoa Salad to tickle your taste buds. Jerome's crepes are super! Delicious! And you have a choice of fillings. Treat yourself to a warm sarsaparilla tonic from Mignon. She also serves it cold. See—I told you a trip to the market was good medicine.
You will never guess who is in the gazebo this coming Saturday! Go on, guess. No….no…ok, I'll tell you — our very own Madeleine from Happy Flour and her sister, Violet! Now, don't go thinking there won't be bread 'cause Patrick is on the job and I hear they are planning a lovely sourdough made with some of Cameron's black garlic. I just love how our vendors use each other's products in their own. Norma Jean has been preparing her vegan wraps with Sam's Sprouts from quite some time now and Bhakti Farm's burgers are always topped with them.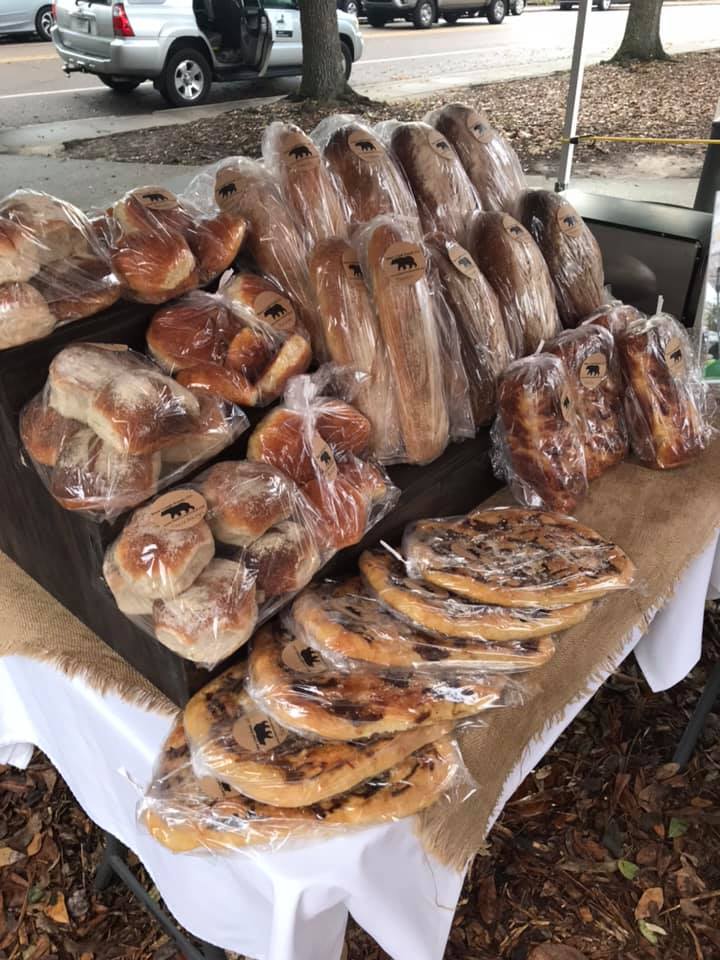 Celery has been a main attraction at Northshore Greens. Of course, they also have a wonderful selection of salad greens and herbs. Nick's store of sweet potatoes doesn't seem to be dwindling and the carrots he has don't last in our house. I barely have time to cook them but when I do, the easiest way is to sauté them in Mauthe's butter with some chopped onions. Soooo good! I see that Vincent (Ken) has some turnips and greens on the table and you may as well take advantage of the citrus. Don't know how much longer it will be available.
I know you're all excited to get your gardens started in the weeks ahead as the temperatures start to get milder. Check out Alton's tables for some herbs to get you started. Before long, he will have veggies galore from which to choose. Make your next stop at Double K; Kristen always has that garden gold manure available. Veggies and herbs love the stuff! Usually that just-getting-back-into-gardening is followed by oh-my-goodness-what-was-I-thinking muscle aches. No worries. Serenity Lane has you covered with Grandpa's Liniment (this stuff really works!)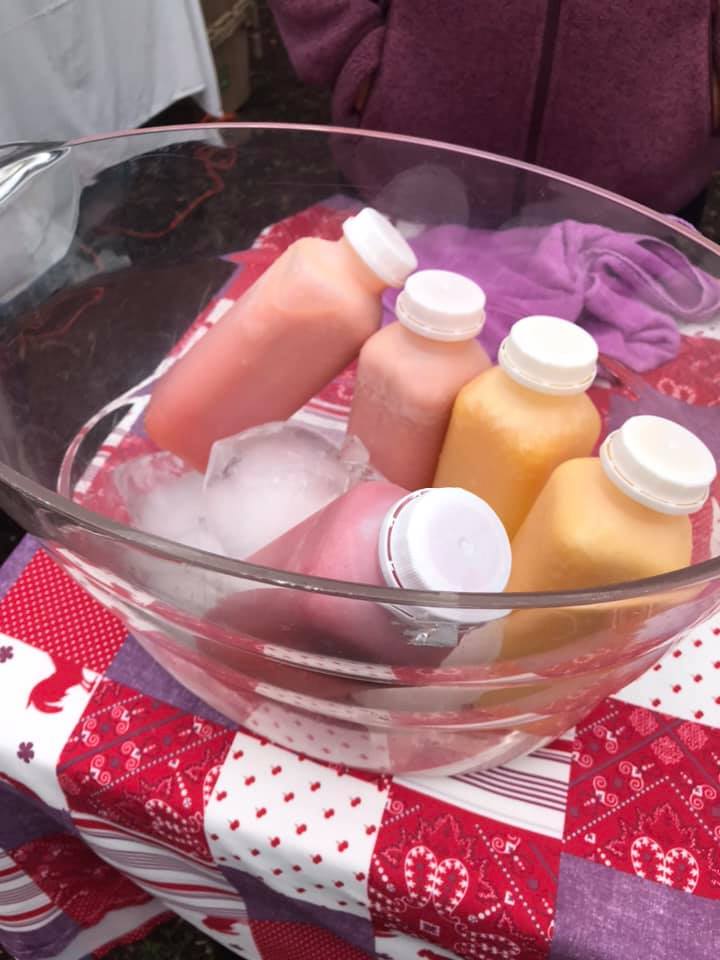 Althee has lots of delicious fruits—all in jars—and just as tasty as you can want. You'll also find yummy pies and quick breads on her table. Stacey is the queen of pickled veggies but her real gift is in the combinations she creates. Whether you're looking for eggs or veggies or milk or honey or bread, there's lots of goodness to find at the Covington Farmers' Market! See ya there!
Lots of love,
Charlene LeJeune
Abundant Life Kitchen

The Covington Farmers' Market is open each Wednesday, rain or shine, from 10 a.m. to 2 p.m. at the Covington Trailhead, 419 N. New Hampshire and every Saturday from 8a.m. to 12p.m. on the side lawn of the Covington Police Station, 609 N. Columbia St. Call (985) 892-1873 for information or visit www.covingtonfarmersmarket.org
Check out our Facebook page – facebook.com/thecovingtonlafarmersmarket
On Instagram — @covingtonlafarmersmarket