March 31, 2021
What a lovely day outside, my friends. Now, I don't care what the weather says I''m believing for sunny skies —or at least dry ones—or tomorrow. So, come on out and help us bid goodbye to March and hello to April! Abeer is preparing that fabulous Mediterranean dish, Ouzi, for tomorrow — a delightful pastry filled with rice, ground beef, peas, carrots, almonds and pine nuts! Tsatziki, hummus, and Baba Ghanoush will also be on her table. Bring your knives and scissors for David to sharpen and while you wait, sharpen your taste buds on one of Jerome's amazing crepes and chocolate cake.
A scrumptious array of vegetarian burgers and goodies are waiting to astound you at Bhakti Farms. Stop by Mignon's to find her latest tonics and Jun. She always has something tasty and loaded with health benefits. One of Kandy's delicious salads or spring rolls is always a great choice and, of course, a glass of calming jasmine tea. But, if you want decadence, go for the shrimp and cream cheese rolls. Remember to pick up your Double K eggs (it is Easter week, after all) and some of Jerry's sweet honey. Fingers crossed that we'll be seeing Eddie and some wonderful veggies in the next few weeks.
Manuel's Hot Tamales will be firing up the gazebo this Easter Saturday and before you know it their music will fill the market. So grab a hot coffee or cold tea from the pavilion and get shoppin'!
Have you started on your garden yet? Well, no worries, Alton has lots of starter plants all ready for you — tomato, mirliton, herbs — with more coming as the weeks go by. Now that you have your veggie plants sorted, what about the front garden…the patio…the backyard? Maiden hair fern, stag horn fern, and beautiful bougainvillea can be found at Ms. Betty's. And just down the "road" in either direction, you'll find amazing plants at Trudy's and Dennis'. Beautify your home inside and out!
Our artisan bakers have some wonderful things in store for you. Jennifer at Bear Creek Road will have Italian Easter Bread—gorgeous little rounds, similar in appearance to king cakes, with a colored egg in the center. Casatiella, a bread made with salami and gruyere cheese, and Easter French macaroons and Jewish Challah loaves will also be available.
Scottish shortbread cookies and decorated sugar cookies will be the stars at Happy Flour. Patrick tells me he and Madeleine are also creating a black garlic and black sesame sourdough bread that will accompany any Easter meal. And don't forget to check out the cartoon character parade of sugar cookies that Vincent and Mauricio create!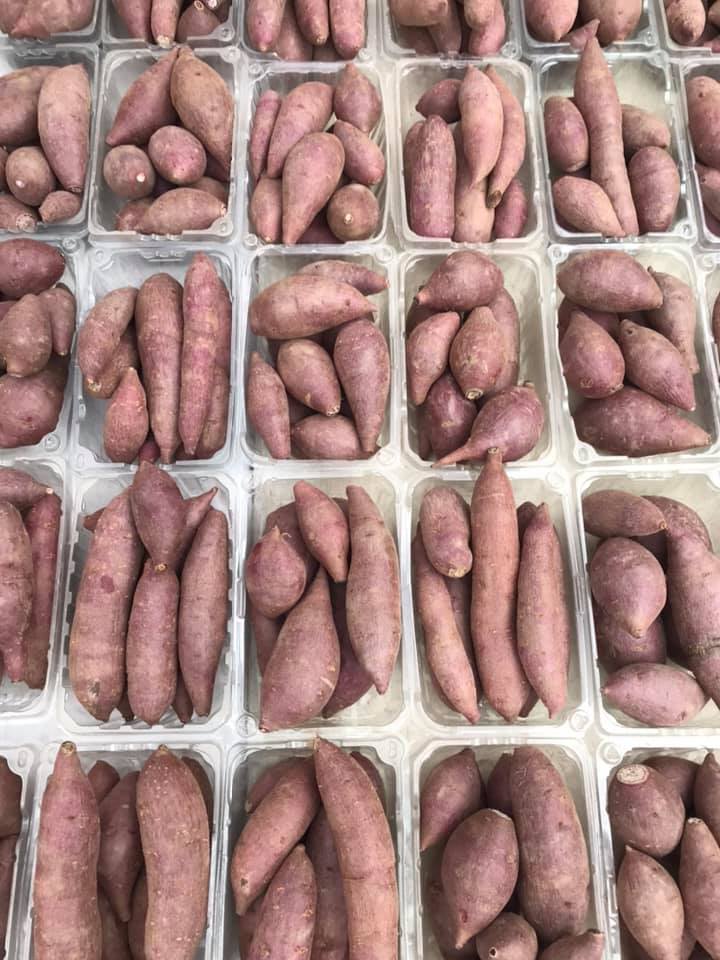 Veggies galore fill the grounds — cabbages, cauliflower, sweet potatoes, broccolini flowers, pea shoots, microgreens, sprouts, salad mixes, Brussels sprouts, not to mention strawberries and satsumas. And that's not all you'll find. There's raw honey, kombucha, fresh juices, kefir, milk, goat cheeses, cheesecake, and more. So whether you're celebrating the Resurrection or the Easter Bunny, the place to be is here at our Covington Farmers' Market! See you there!
Lots of love,
Charlene LeJeune
Abundant Life Kitchen
The Covington Farmers' Market is open each Wednesday, rain or shine, from 10 a.m. to 2 p.m. at the Covington Trailhead, 419 N. New Hampshire and every Saturday from 8a.m. to 12p.m. on the side lawn of the Covington Police Station, 609 N. Columbia St. Call (985) 892-1873 for information or visit www.covingtonfarmersmarket.org