Joy and happiness to you, my friends! The pollen and the rain have been monstrous the past few weeks but we have a cure in store…or at least at the trailhead. Fresh Double K eggs —boil 'em, roast 'em, stick 'em in a stew—they're just packed full of nutrition plus they're delicious. Bhakti Farms has several wonderful sandwiches from which to chose and I believe Johnny's special sauce has panacean properties. Of course, the sprouts add lots of nutrition. I don't think I need to extol the benefits of Jerry's raw honey and isn't it just sooo delish on pancakes, toast, ice cream…?
Abeer is preparing tabouli for tomorrow and she'll have grape leaves but the piéce de resistance is her baklava. I know, now you're gonna have that thought roaming around in your mind until you can get some tomorrow. Shredded cabbage salad is an amazing pick-me-up no matter what the day brings. But then, so is Kandy's lemongrass chicken salad, and, let's face it, her shrimp cream cheese rolls can cure just about anything. Mignon has you covered with several tonics —a pineapple ginger coco-bucha fizz (just saying that makes you feel good) and a multi-floral probiotic tonic fizz.
Zac Maras will headline in the gazebo this week so prepare for some great music wafting throughout the market. Norma always has her fabulous quiche slices, perfect to bring home for a hearty brunch or Sunday breakfast. Grab a brownie or two while you're there; you won't regret it.
Northshore Greens still has celery and plenty of salad greens. Becky also makes sure to have fresh herbs to make your dishes delightful. Kale and chard were on Nick's table this past weekend and there were plenty of carrots and lettuce. Vince says he will have broccoli soon but the yellow squash and zucchini were in abundance. Roasted veggies go so beautifully with roast chicken (Credo Farms) or grilled sausage (Jubilee) and so easy to fix. Just cut squash in slices, florets from cauliflower, and just leave the carrots whole (perfect size). Toss with a little olive oil and seasoning or use one of Jennifer's butter blends (melted). Cover and roast until almost done, then remove the covering and finish cooking. While you're getting your beautiful butter, check out Jennifer's spring flavors of macaroons—salted caramel, strawberry shortcake, and lavender. For breakfast, she's added a hash brown and egg pie and orange morning buns (oh my, doesn't that sound delicious?)
With the temps getting milder, I'm sure you're all ready to get outside so dust the cobwebs off your grill and pick up some of Jubilee Farm's sausages. With choices like green onion, Italian, hot, chorizo, and Cajun, ya can't go wrong! Liz and Paul have such a variety of beef, pork, and lamb products that you can surely find the perfect meat for the grill, unless you're vegetarian but then, those veggies are really tasty grilled, too. Credo Farms has all cuts of chicken, ready for you to season and pop on the grill, in the oven, or into a stew.
You may wish to dust the cobwebs off your gardening tools as well and check out what starter plants Alton has to offer — yellow squash, zucchini, cucumber, tomato, and definitely herbs. There's nothing like having an herb garden to snip fresh herbs for your meals.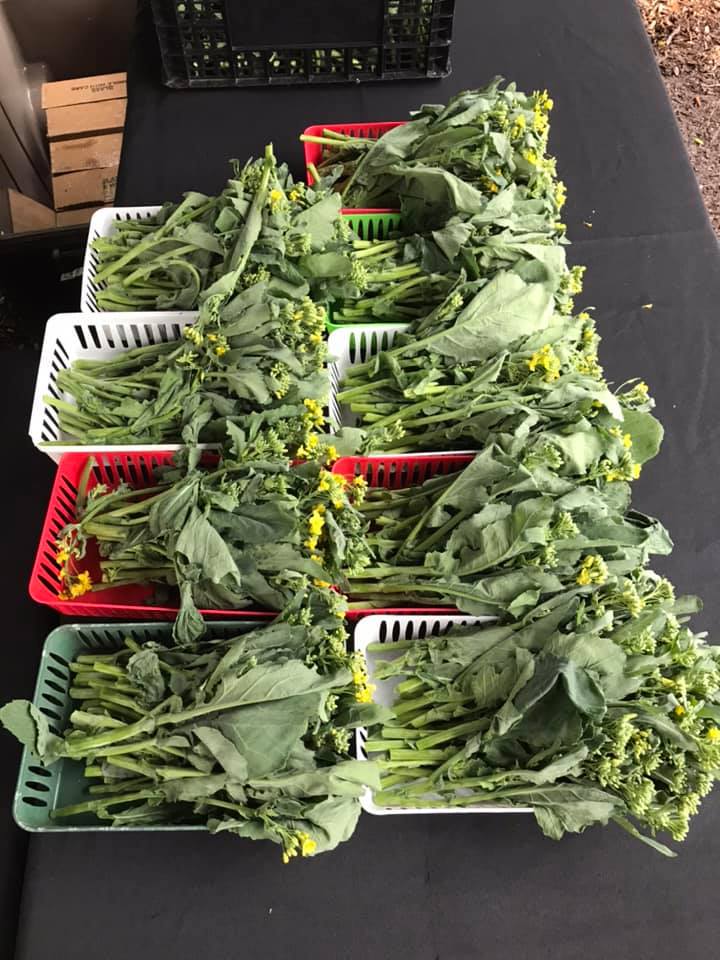 There's more to discover at your Covington Farmers' Market but ya have to be here to discover them all.
Lots of love,
Charlene LeJeune
Abundant Life Kitchen