Welcome to June, my friends! Wednesday's almost here and the s for a great lunch? Start with a serving of Kandy's amazing shrimp and cream cheese rolls. Oh man, that plus a glass of jasmine tea will really get you through the day! While you're there, get a jar of Jerry's raw, organic clover honey.
Remember to grab your Double K eggs (those hens have been very busy). Johnny's mushroom burger is always a great choice for lunch. He also has a fabulous assortment of raw goodies — protein balls, Bhakti balls, and Black Forest Chocolate Cheesecake. Don't forget your knives and scissors; Dave will be there to sharpen them up.
Jake and the Oldies occupy the gazebo this Saturday morning with lots of great music, getting our morning off to a fine start. Meme's veggie pancakes will be another great addition to your morning as you stroll around the market grounds investigating all our vendors have to offer.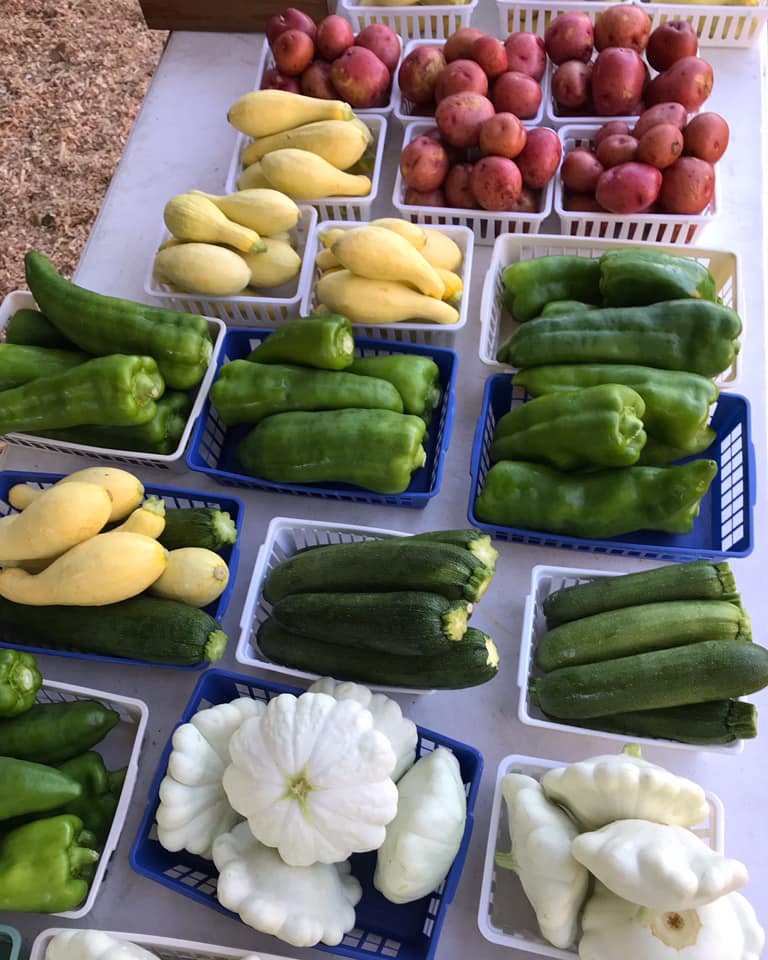 Our produce tables are beginning to groan with lots of lovely squashes and zucchini. Zucchini fritters are a delicious way to use those lovely veg. The recipe calls for zucchini but yellow squash will work just fine.
Grate 3 medium zucchini (about 3 cups) into a colander, salt and leave for 30 mins or up to an hour to drain in the sink. Then squeeze out extra moisture either by wringing the mixture with your hands and placing in a clean bowl OR by putting into a clean tea towel and wringing it. Mix 2 eggs (James, Jubilee, Double K), grated zucchini, 2 thinly sliced green onions, 1 minced garlic clove, 1 tbsp finely chopped dill (Northshore), 1/2 cup feta (Huckleberry Fred), salt and pepper together in a large mixing bowl. Sprinkle 1/2 cup wholewheat flour plus 1/2 tsp baking powder over the top (around the entire bowl, not in one spot) then mix until just combined but don't over mix. Heat a small amount of olive oil in frying pan on medium heat. Place a tablespoon of the mixture in the pan and flatten with the back of the spatula. Cook for 3-4 minutes each side until golden and crispy. Transfer to a plate lined with paper towel. Enjoy! Makes a wonderful side dish, snack, or hor d'oeuvre.
That fritter mixture also makes a very nice stuffing for peppers, squash, or squash blossoms which our produce vendors offer. You can "beef" it up, so to speak, by adding chopped shrimp (Mr. Two), ground beef, lamb, or pork (Jubilee) or add another level of flavor by using Jubilee Italian sausage. OR roll the mix into balls instead of patties (you may need a little more flour), then into some breadcrumbs or flour before browning in oil to make excellent "meatballs" to go with Jennifer's classic tomato sauce and homemade wholewheat sourdough or egg pasta. WOW!
Delicious abounds over at Norma's table 'cause you know she has a delightful assortment of goodies from enchilada pie to vegan wraps to chocolatey brownies. Happy Flour has found a way to twist zucchini into a pastry with their Zucchini Feta Danish. They'll have peach and strawberry danish as well.
Strawberry Kefir is always a treat and you'll be able to get that from Succotash Ferments for the next few weeks. Now that you can enjoy the outdoors more, be sure to stop by Serenity Lane. Talk to Judy and Gerard about their skin care products to help you keep a healthy glow.
Our Covington Farmers' Market is certainly special. You'll just have to come out and see for yourself. I can't wait to find out what's new this week!
Lots of love,
Charlene LeJeune
Abundant Life Kitchen
The Covington Farmers' Market is open each Wednesday, rain or shine, from 10 a.m. to 2 p.m. at the Covington Trailhead, 419 N. New Hampshire and every Saturday from 8a.m. to 12p.m. on the side lawn of the Covington Police Station, 609 N. Columbia St. Call (985) 892-1873 for information or visit www.covingtonfarmersmarket.org